Lentil soup is a comforting and nourishing meal during the colder months of the year.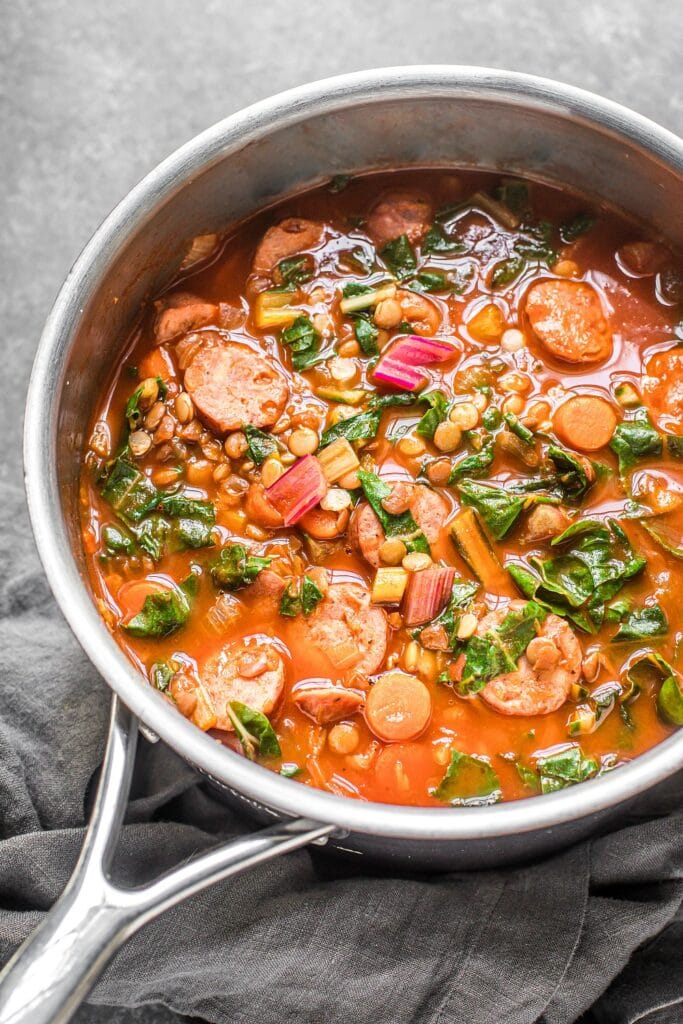 Lentils contain physic acid, so they need to soak the night before making the soup. It can sound like a difficult process, but it actually takes about 1-2 minutes of hands-on work.
You'll also notice that I cook the chard before adding it to the soup. I do this because dark leafy greens, like chard, contain goitrogens. Goitrogens can inhibit the uptake of iodine into the thyroid, so it's best to cook these kinds of vegetables before adding them to your soups or stews.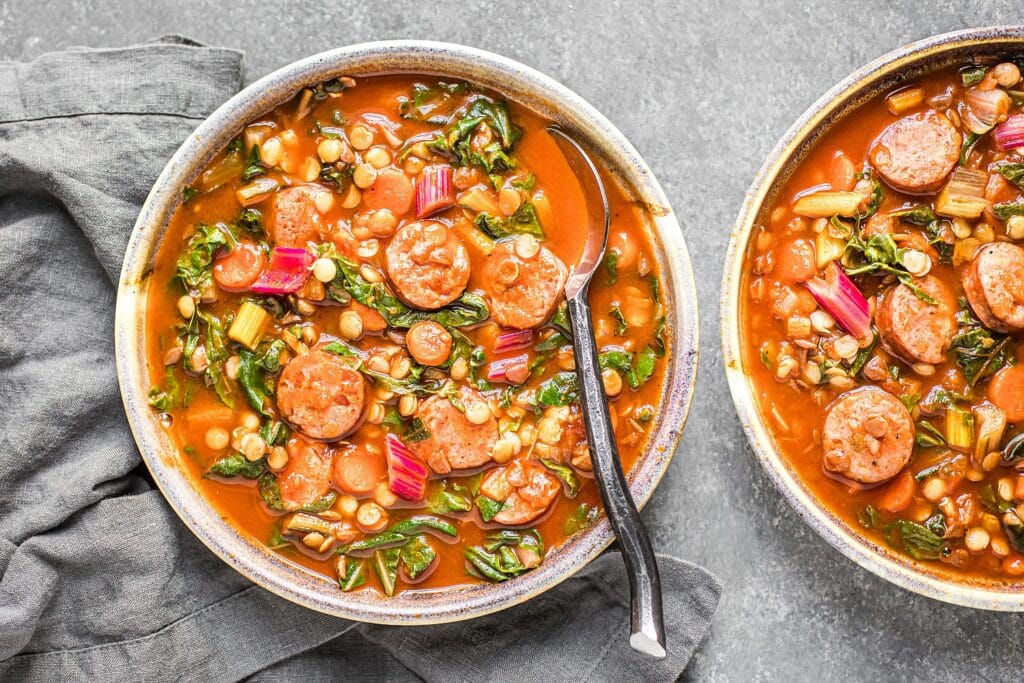 This soup makes enough to feed a crowd, so I like to make it when friends or family are coming over. I love serving the soup with some grain-free "white" dinner rolls – they make the perfect accompaniment!
Print
Lentil Soup with Swiss Chard and Sausage
Prep Time:

10 minutes

Cook Time:

50 minutes

Total Time:

1 hour

Category:

Main Dish

Diet:

Gluten Free
4 tablespoons

unsalted butter

1

yellow onion, chopped

4

carrots, chopped

4

stalks celery, chopped

3

bunches Swiss chard

2 teaspoons

Celtic sea salt

1/4

cup

tomato paste (I prefer Eden Organic)

2

cups

dry lentils, soaked overnight and drained (After they've soaked, you will have about 4-5 cups of lentils. Use all of these lentils in the soup.)

1

(24 ounce) jar crushed tomatoes (I prefer Eden Organic)

6

cups

homemade chicken stock

2

pounds

pastured sausage links, cut into 1/4-inch thick coins
Freshly ground black pepper
Instructions
Melt butter in a large pot over medium heat. Stir in onion, carrots and celery. Turn heat to low, cover pot with lid and let cook for 30 minutes.
Meanwhile, bring another pot of water to boil. Add the Swiss chard to the boiling water and cook for 8 minutes. Drain.
Remove the lid that contains the vegetables, stir in the sea salt and tomato paste, and increase heat to medium. Add the drained lentils. Cook the lentils, stirring frequently, until some begin to turn golden brown on the edges, about 8 minutes. Add the tomatoes, stock and sausage. Increase heat to medium-high and bring to a boil, about 8-10 minutes.
When lentils are tender, stir in the cooked chard. Season with ground black pepper and adjust sea salt to taste. Serve.
Nutrition
Serving Size:

Serves 8-10
Keywords: lentil soup with Swiss chard and sausage