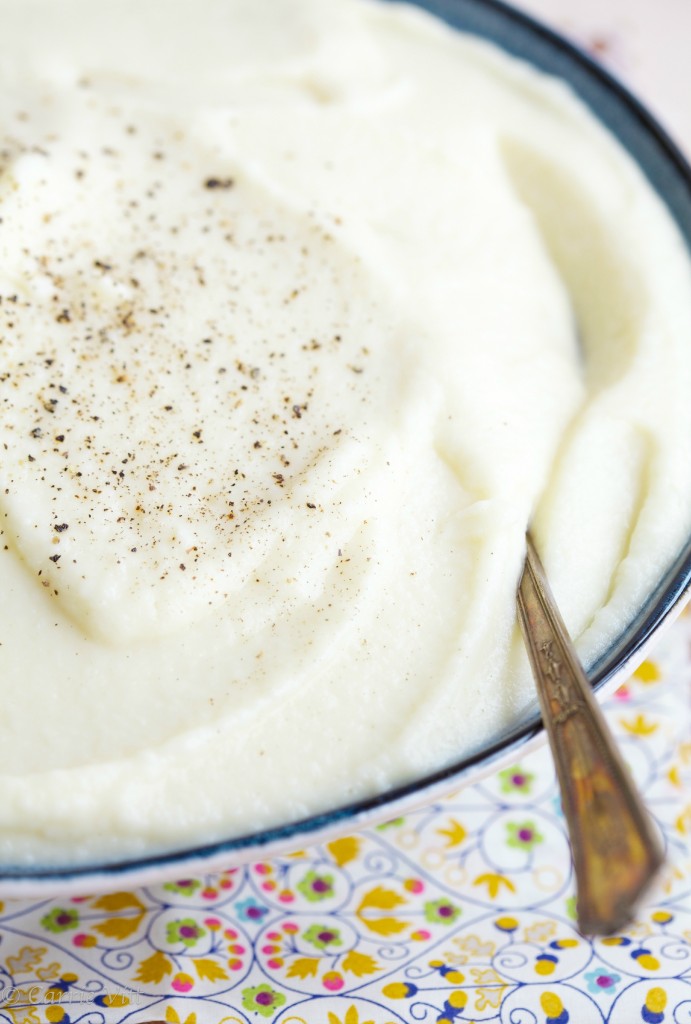 Maybe not a fancy dish, but a welcome one. Creamy and buttery, but without all the carbs. Of course, Thanksgiving comes with indulgences, but if you want to save your indulgence for another dish, creamy mashed cauliflower makes the perfect stand-in for mashed potatoes. Have you ever had potatoes turn "gluey"? That doesn't happen with cauliflower, so you can simmer it to death, or mix it in the mixer too long and it will still be smooth and creamy. It's always nice to work with a forgiving ingredient. You can really jazz these up with herbs, cheese, bacon – you name it, or you can keep it simple.
Creamy Mashed Cauliflower (Grain Free, Gaps, Primal)
I discovered that the longer the mashed cauliflower sits, the more flavor it has. If you'd like to save a little time on Thanksgiving, make the mashed cauliflower the day before, store in an airtight container in the refrigerator, and heat in the oven or on the stove top the following day. I put it in an 8x8-inch casserole dish , sprinkled it with some raw cheddar and baked it. It was fabulous!
Ingredients
For the cauliflower:

1 large head cauliflower, cut into bite-size pieces (about 6 cups)
8 tablespoons unsalted butter (you can substitute with 2-3 tablespoons of palm shortening for a dairy-free alternative)
2 tablespoons whole milk or almond milk
1/2 teaspoon Celtic sea salt
1/8 teaspoon freshly ground black pepper
Instructions
Place cauliflower in a large pot and cover with water. Bring to a boil, lower heat, and simmer until tender, about 15 minutes. Drain. Pour cauliflower into the bowl of a food processor or blender. Add butter, milk, salt and pepper to the food processor and blend until smooth. Serve.
7.8.1.2
3445
https://deliciouslyorganic.net/mashed-cauliflower-paleo-gaps-primal/
Copyright 2016 Deliciously Organic