Making your own homemade ranch dressing is an easy way to cut costs when on a budget. It's also a healthier alternative to store-bought!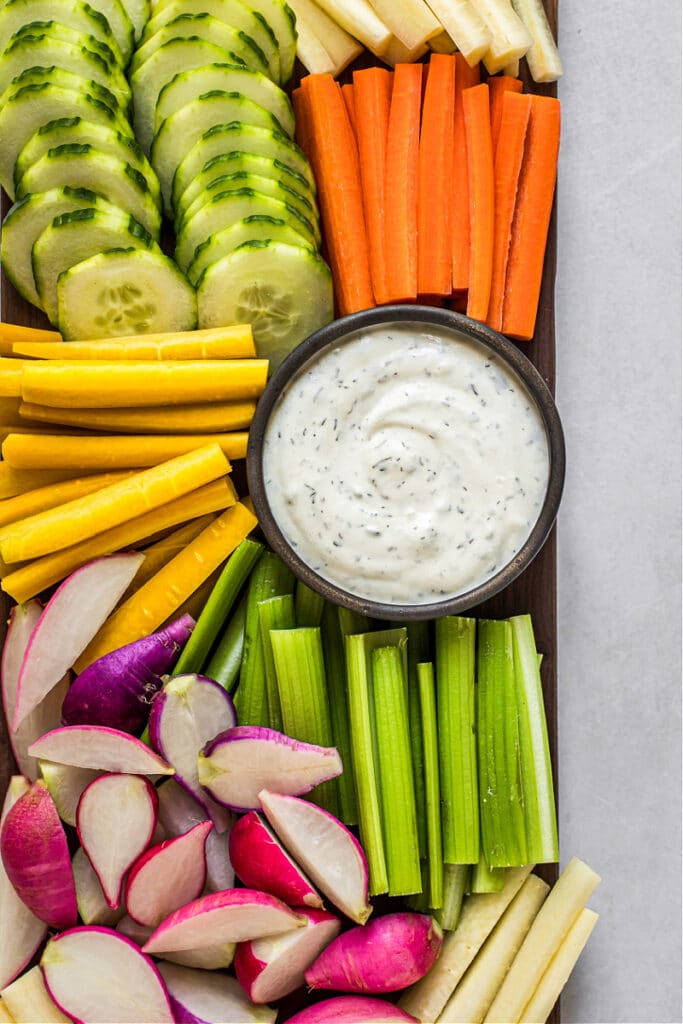 This spring, I received numerous emails asking, "How do you make organic food affordable?". Many readers want to make changes, but need some help obtaining organic, real food, without breaking the bank.
I've spent the last several years finding ways to cut costs and make organic food more affordable for my family and I want to share my ideas with you. All my posts this summer will be devoted to "Organic, Real Food – On a Budget". I'll share recipes, tips, tricks, and everything I know to reduce costs without compromising.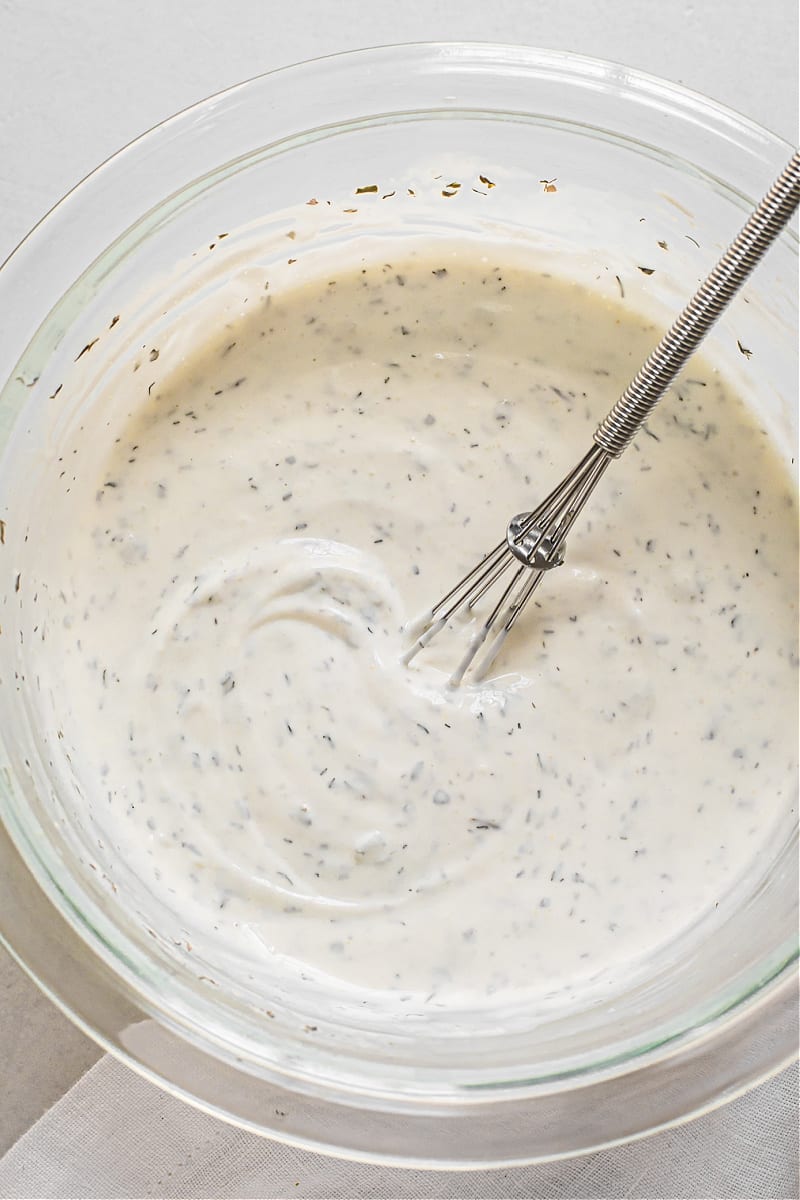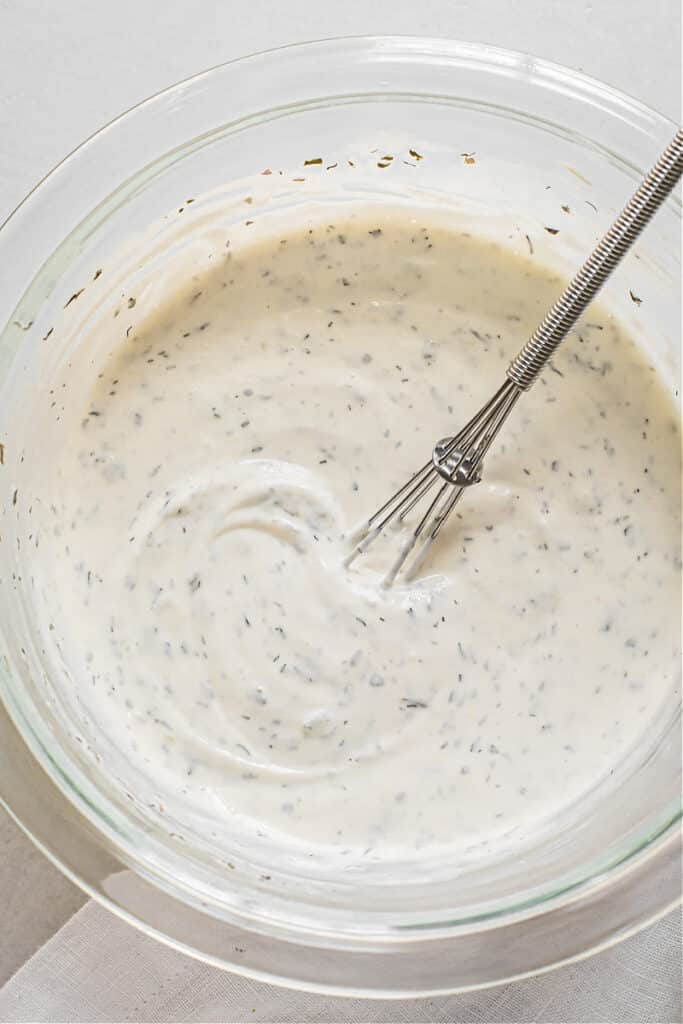 My first tip is to stop buying so many packaged foods and start buying whole foods instead. Packaging costs money. Why pay for cardboard and plastic when you could use that money to buy food? Most American pantries and refrigerators overflow with pre-made packaged foods. Even if the packaged food is organic, you're still paying more than if you made it yourself. Take salad dressing for an example. Honestly, we don't need to buy bottles and bottles of salad dressing. Most bottled dressing at the store contains preservatives, stabilizers, emulsifiers, and oils that don't nourish. Homemade salad dressing takes minutes to prepare and will keep in the fridge for a week or two. It costs less, and you get the added bonus of knowing all the ingredients.
My everyday dressing consists of lemon juice, a little olive oil, salt and pepper. I actually squeeze the juice, drizzle the oil, and season directly over the lettuce. No need for another bowl. I toss the greens at least 15-20 times, taste, and adjust according to my whim.
We also enjoy making Ranch dressing, especially since you can use it for salad, or as a dip for chicken nuggets and vegetables (I even like it on my mashed potatoes occasionally). My version takes a few minutes to prepare, uses dried herbs to keep the cost down, and keeps in the fridge for about a week. Make it and you're well on your way to making Organic, Real Food – On a Budget!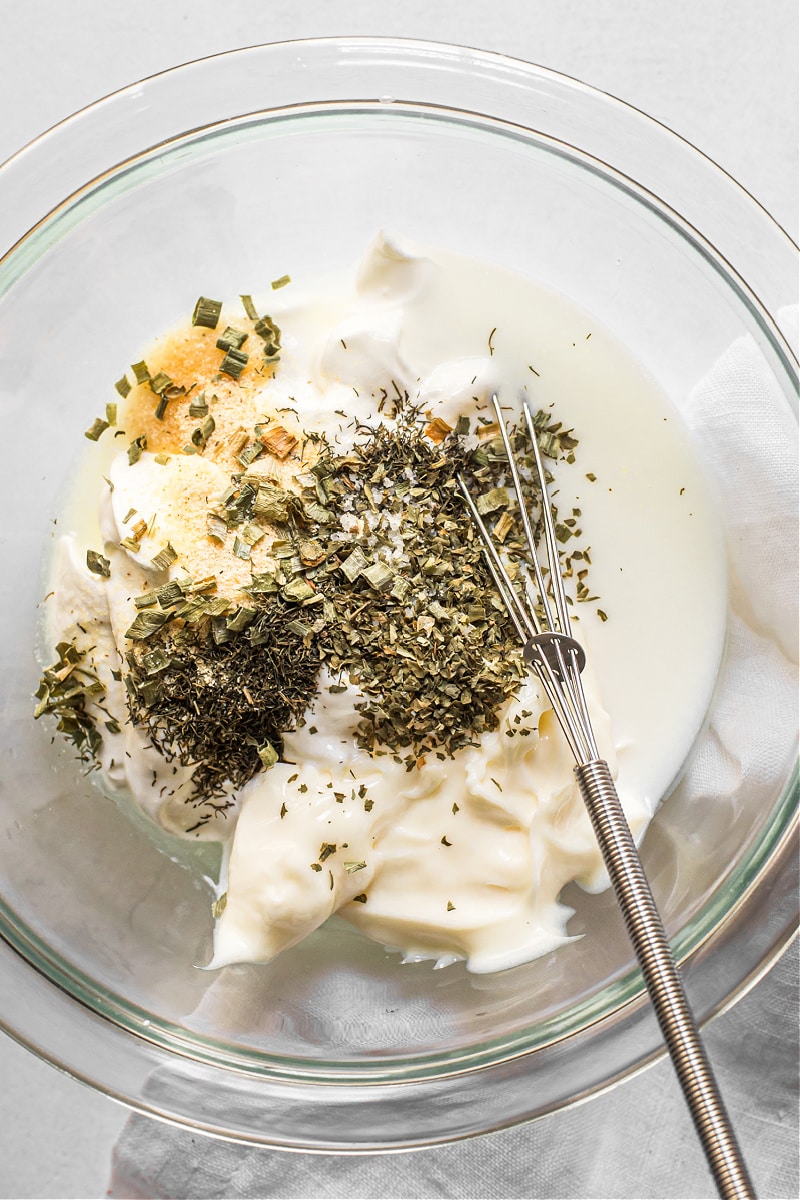 Here are some other great homemade salad dressing recipes:
Apricot Salad Dressing from Elena's Pantry
Tamari Tahini Sauce from Letty's Kitchen
Kombucha Vinaigrette from Mother Earth Living
Homemade Ranch Dressing
If you don't have buttermilk on hand, you can combine 3 1/2 tablespoons of milk and 1 1/2 teaspoons of lemon juice in a small bowl. Let it stand for 5 minutes until it curdles. That's it!
10 minPrep Time
10 minTotal Time
Ingredients
For Dressing:

1/4 cup buttermilk
1/2 cup mayonnaise
1/2 cup sour cream
1/2 teaspoon dried dill
1/2 teaspoon dried parsley
1/2 teaspoon dried chives
1 teaspoon garlic powder
1 teaspoon lemon juice
1/4 teaspoon sea salt
Instructions
Whisk all ingredients in a small bowl. Adjust seasonings to taste.
7.8.1.2
3495
https://deliciouslyorganic.net/organic-real-food-on-a-budget-homemade-ranch-dressing-recipe/
Copyright 2016 Deliciously Organic
SaveSave