The clean, fresh flavors of Green Goddess dressing make for one of the more perfect condiments. It's smooth and bright and pairs well with all the summer produce in abundance right now. I also love drizzling it over grilled chicken or shrimp. If you make it a bit more thick by adding a bit of extra sour cream, you can use it as a dip for vegetables.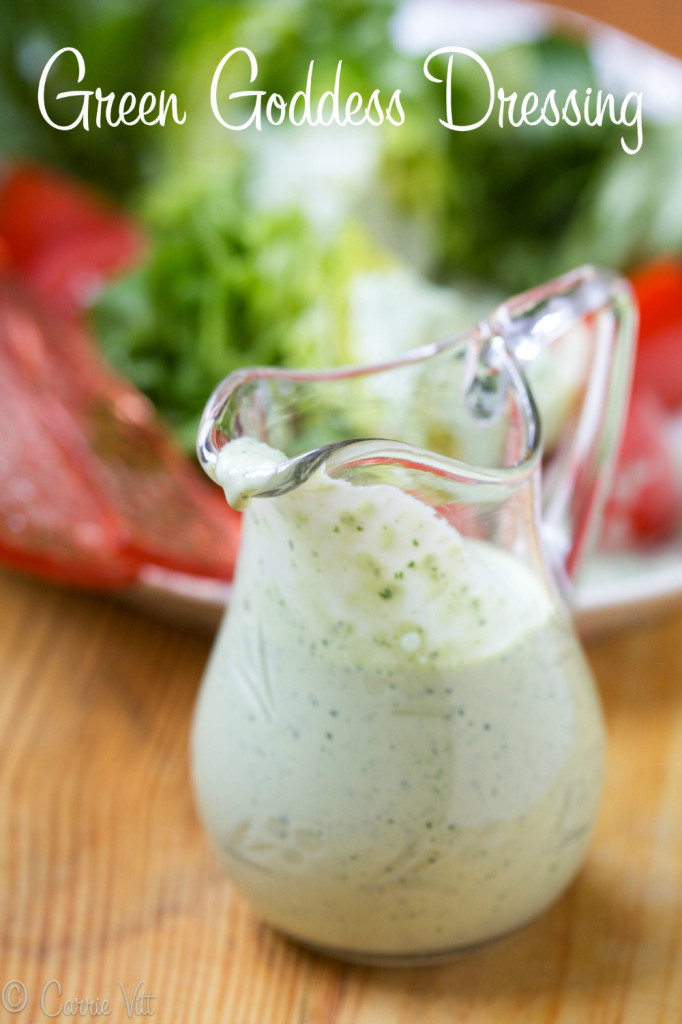 Every once in a while, I like to touch on the importance of eating fat with vegetables and fruits. Fruits and vegetables contain fat soluble vitamins (A, D, E and K) that are better utilized by the body when accompanied by fat. A recent study of over 1,700 Swedish men indicates that consumption of fruits and vegetables was associated with a decreased risk of heart disease, but only when combined with full-fat dairy consumption.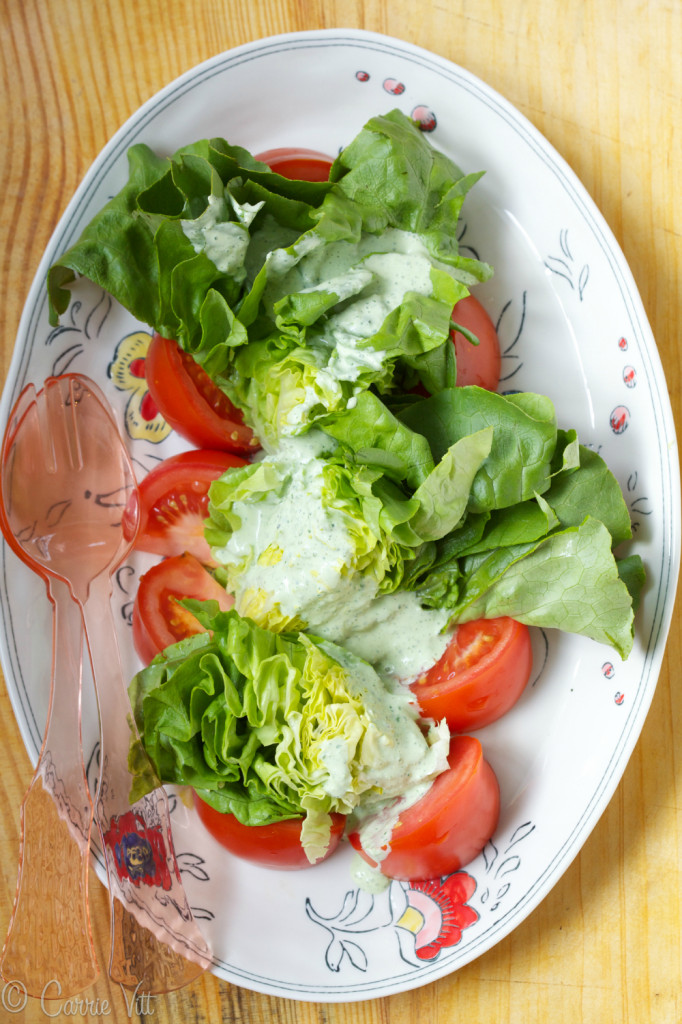 So if you make a salad it's a good idea to add some full-fat dairy, whether it's sour cream, yogurt or cheese. If you steam vegetables, drizzle some butter or ghee overtop before serving. The food will taste better and your body will thank you for it!
Here are some more salad recipes that you might enjoy:
Simple Homemade Salad Dressing
Spinach Salad with Roasted Butternut Squash
Chopped Waldorf Salad
Broccoli Salad with Bacon and Raisins
Homemade Ranch Dressing
Print
Green Goddess Dressing
The anchovies in this recipe gives the dressing a nice kick. Don't worry – the dressing won't taste fishy. I served the dressing over bib lettuce and beefsteak tomatoes in the photo above.
Adapted from Back to Basics
Cook Time:

10 minutes

Total Time:

10 minutes

Category:

Side Dish

Diet:

Gluten Free
For the Dressing:
1

cup

whole milk yogurt (I prefer Straus, Organic Valley or Trader Joe's or you can make your own using a culture)

1

cup

chopped green onion, white and green parts

1

cup

chopped fresh basil leaves

1/4

cup

freshly squeezed lemon juice

2

cloves garlic, chopped

2

anchovy fillets or

2 teaspoons

anchovy paste

1 teaspoon

Celtic sea salt

1 teaspoon

freshly ground black pepper
Instructions
Place all ingredients in a blender and blend until smooth. Season to taste with sea salt. Store in an airtight container in the refrigerator for up to 1 week.
Nutrition
Serving Size:

Makes about 2 1/2 cups
Keywords: green goddess dressing
I've included the cooking times for each recipe. The cooking time will include cooking, prep and baking times. For instance, a soup will cook for 1 1/2 hours, and that will be included in the cooking time, even though this isn't time you are working on dinner.