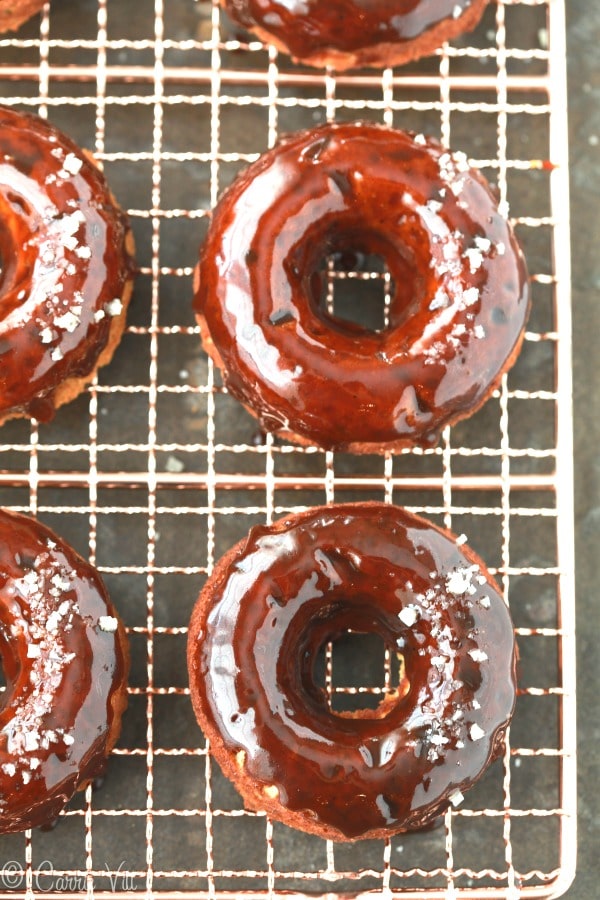 I haven't posted a dessert recipe in quite a while, so I thought it would be fun to celebrate the official start of fall by sharing Pumpkin Spice Donuts with Salted Caramel. These donuts start with a simple cake batter you can even mix in a blender or food processor to make things easier.
The caramel features just three ingredients – coconut sugar, coconut milk and vanilla. The two simmer on the stove for 20 to 25 minutes and become the most wonderful dairy-free caramel! Try using the caramel for apples, over sundaes, or drizzled over apple crisp for a little extra indulgence.
A little Celtic sea salt sprinkled on top of these pumpkin spice donuts produces a delightful salty-sweet combo. Happy Fall!
Pumpkin Spice Donuts with Salted Caramel (Grain-Free)
Ingredients
Instructions
Preheat oven to 350ºF and adjust rack to middle position. Place all of the donut ingredients in a
large bowl and whisk until smooth. Spoon the batter into a buttered donut baking pan. Bake for
18-20 minutes until just turning golden brown on the edges. Cool completely.
Place the coconut sugar and coconut milk in a medium saucepan and whisk until combined. Heat over medium-high until boiling and then turn down to medium-low and simmer for 20-25 minutes until reduced and mixture has thickened. Cool for about 30 minutes.
To glaze the donuts: Pick up a donut and dip the top half in the cooled caramel and then place
on a cooling rack. Repeat with remaining donuts. Sprinkle with Celtic sea salt. Serve.
Notes
I only test the recipes on my site with the listed ingredients and measurements. If you would like to try a substitution, you are welcome to share what you used and how it turned out in the comments below. Thanks!
7.8.1.2
4438
https://deliciouslyorganic.net/pumpkin-spice-donuts-salted-caramel-grain-free/
Copyright 2016 Deliciously Organic