Fourth of July is right around the corner, so I've got a fun recipe for Red, White and Blue Cheesecake bars for you. They are grain-free, gluten-free and super festive!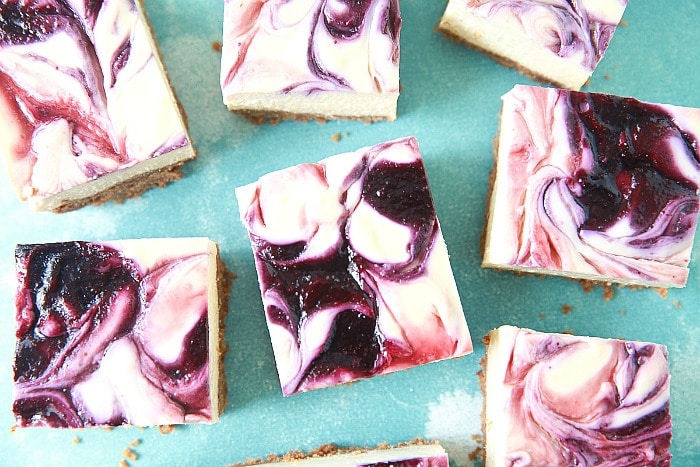 Whenever I post something with cream cheese I get asked if it's healthy for you. The short answer is "yes!" If it comes from a good source. The key is you want to avoid cream cheese that contains fillers and preservatives and, if you prefer, you can even make it homemade.
When I make cheesecake (which isn't very often) I'll purchase an organic cream cheese without fillers. I recently found a lactose-free cream cheese from Green Valley that tastes fabulous and is a good choice if you need to avoid lactose. And, if you need to avoid dairy completely, I recommend making my dairy-free cheesecake from The Grain-Free Family Table, and swirling in the berry syrups to get that fun red, white and blue effect. 
When I tested this recipe, I really wanted the red to be a stronger color, so I did add a touch of all-natural food coloring to the strawberry syrup, but this is something you can omit if you prefer. Just keep in mind the red will look a bit more pink in color. 
Here are some additional 4th of July recipes you might enjoy!
Corn Dog Muffins (fun for the kids!)
Pulled Pork with "Cornbread" Topping
Tomato, Blueberry and Burrata Salad
Fermented Salsa
Homemade Firecracker Pops
Smore Bars
Grain-Free Hamburger Buns
Grilled Hamburgers with Sour Cream and Herbs
Carrie Vitt
Red, White and Blue Cheesecake Bars (Grain-Free, Gluten-Free)
Ingredients
For the crust:

1 recipe grain-free graham crackers or 2 boxes of Simple Mills Pecan Cookies
6 tablespoons unsalted butter or 4 tablespoons coconut oil

For the cheesecake:

1 cup strawberries
2 teaspoons honey , divided
1 cup blueberries
1/4 teaspoon all-natural red food coloring (optional - see above post for info)
3 (8-ounce) packages organic cream cheese, room temperature
2/3 cup maple sugar (if you prefer a cheesecake recipe with honey as the sweetener, see my cheesecake recipe in my cookbook )
2 large eggs, room temperature
1/4 teaspoon Celtic sea salt
1/4 cup sour cream
2 tablespoons fresh lemon juice
1 tablespoon vanilla extract
Instructions
Preheat the oven to 350ºF and adjust the rack to the middle position. Line an 8x8" baking pan with parchment paper. Place the graham crackers in the bowl of a food processor and process until finely ground. Add the butter and pulse until all of the crumbs are moist. Pour the crumb mixture into the pan and press evenly. Bake for 12 minutes.
Meanwhile, place the strawberries and 1 teaspoon of honey in a small saucepan and place the blueberries and 1 teaspoon of honey in another saucepan. Heat each over medium heat until bubbling and simmer, pressing the berries with the back of a fork to release the juice, for 5-6 minutes until both berry mixtures are thick. Pour the strawberry mixture through a fine mesh sieve , pressing on the solids to release any additional juice. Repeat with the blueberries. Set aside.
Place the cream cheese and sugar in a mixing bowl and beat for 1-2 minutes until creamy and there are no lumps remaining. With the mixer on low, add each egg, one at a time. Combine the salt, sour cream, lemon juice and vanilla in a small measuring cup and slowly mix into the cream cheese mixture.
Pour the cream cheese mixture on top of the cookie crust. Then, pour small dots of both berry syrups on the top of the cheesecake mixture. Using a paring knife, swirl the berry syrups on top. Bake for 25-28 minutes until set on the edges, but when you gently shake it, the middle jiggles a bit. Cool completely, cover and then chill for 6-8 hours. Cut into squares and serve cold.
7.8.1.2
4596
https://deliciouslyorganic.net/red-white-and-blue-cheesecake-bars-grain-free/
Copyright 2016 Deliciously Organic