I made sesame crusted salmon this week and didn't even miss the breading!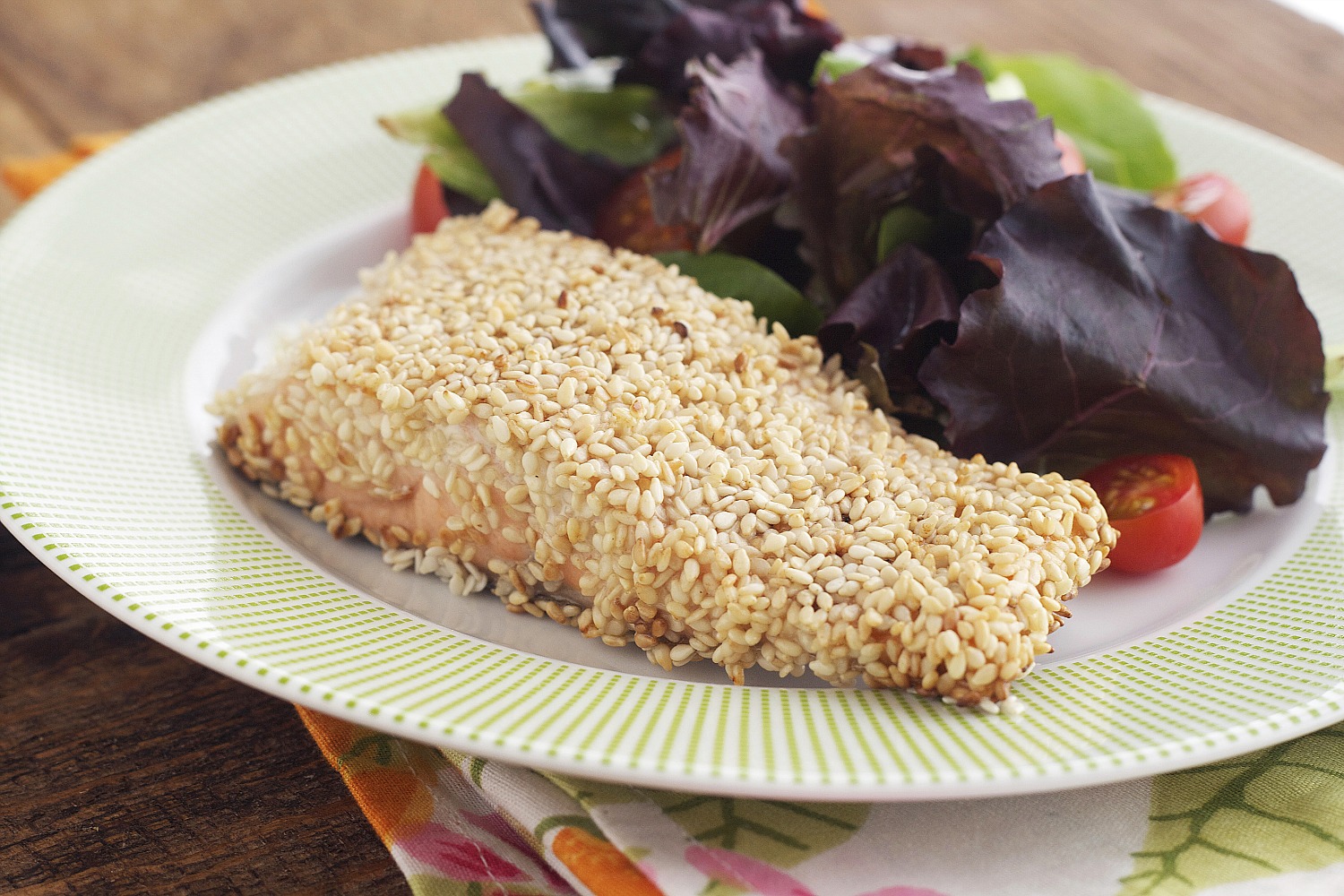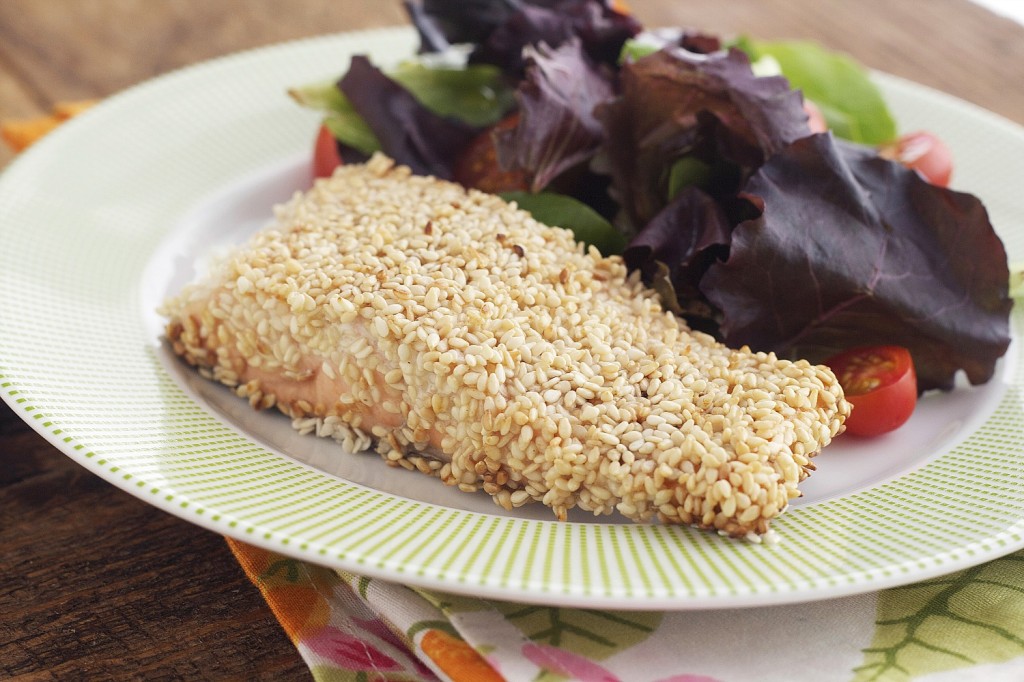 How's it going? Have you found it challenging to remove the grains from your diet? I want to warn you about replacing grain with sugar. It's an easy thing to do. Eating grain causes your blood sugar level to go up, so if you've been eating lots of grains your body has gotten used to these swings throughout the day. When you suddenly cut out grain you might find your sweet tooth attacks with a vengeance. It's essential to have the right foods on hand. Berries, nuts, and cheese make good quick snacks when hunger arises.
One trick I learned is to make a pot of chicken stock, pour it in glass jars and have it available throughout the week. When hunger strikes between meals I heat up some stock and throw in a 1/4 cup or so of shredded chicken or a few small veggies and have a cup of soup. It will help with the hunger pangs and also give you nourishment to get to the next meal.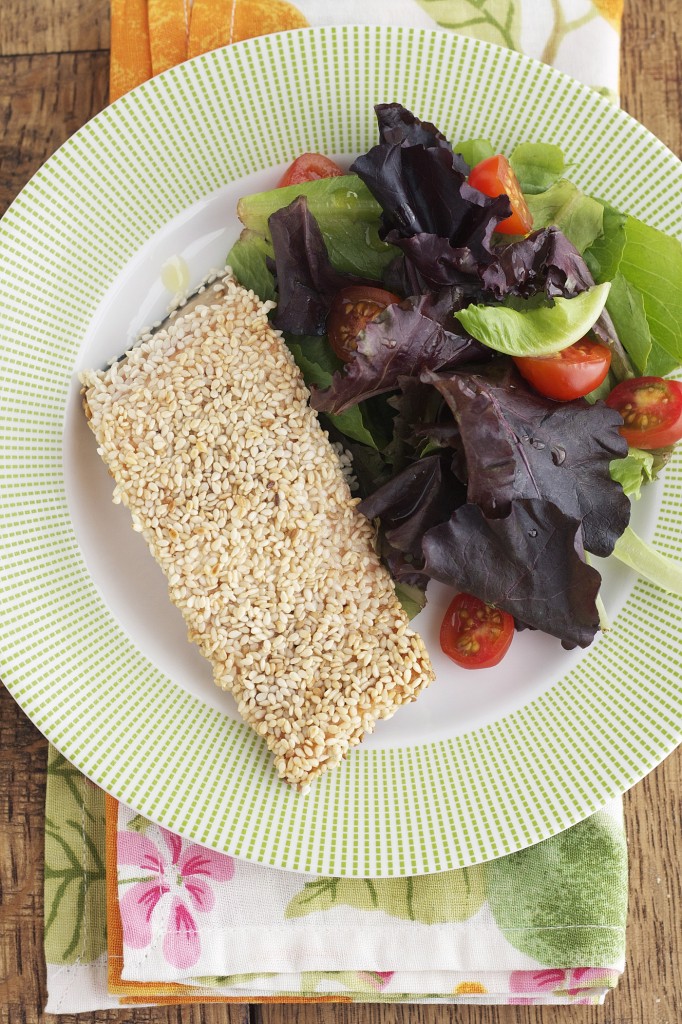 To get your week going, here are some recipes for meals this week:
Cheesy Bacon and Egg Scramble
Slow-Roasted Garlic and Lemon Chicken
Green Beans with Browned Butter and Pepitas
Bacon and Tomato Hash
Creamy Eggplant Soup
Onion Bisque 
I think you'll enjoy this sesame-crusted salmon. Add a salad and you won't miss the breading, I promise!
As a reminder, I'm posting additional recipes and ideas on my Facebook page (for a complete list of grains to avoid, check out my "notes" on the left hand column). So come on over and join in!
What recipes/meals have you been cooking? I'd love to hear!
Ingredients
1/3 cup sesame seeds
1 tablespoon plus 2 teaspoons coconut oil, divided
Sea salt and freshly ground black pepper
4 salmon fillets, skin-on, about 1-inch thick
Instructions
Spread sesame seeds on a pie plate.
Brush salmon with 2 teaspoons coconut oil. Season flesh side with salt and pepper, then press flesh side in sesame seeds, turn and press skin side in sesame seeds to coat.
Heat a large skillet over medium heat until very hot, about 2-3 minutes.
Add remaining 1 tablespoon coconut oil and swirl to coat.
Add fillets flesh side down and cook without moving until flesh side is golden brown, about 3-4 minutes.
Turn fillets and cook, without moving, about 3 more minutes until skin side is golden brown.
Remove from pan.
Serve immediately.
7.8.1.2
3170
https://deliciouslyorganic.net/sesame-crusted-salmon-day-3-grain-free-challenge/
Copyright 2016 Deliciously Organic
SaveSave