Chicken stir-fry is one of my favorite things to make on the evening of a busy day. All of the vegetables, meat and sauces can be made earlier in the day and then ready to toss together the minute you walk through the door.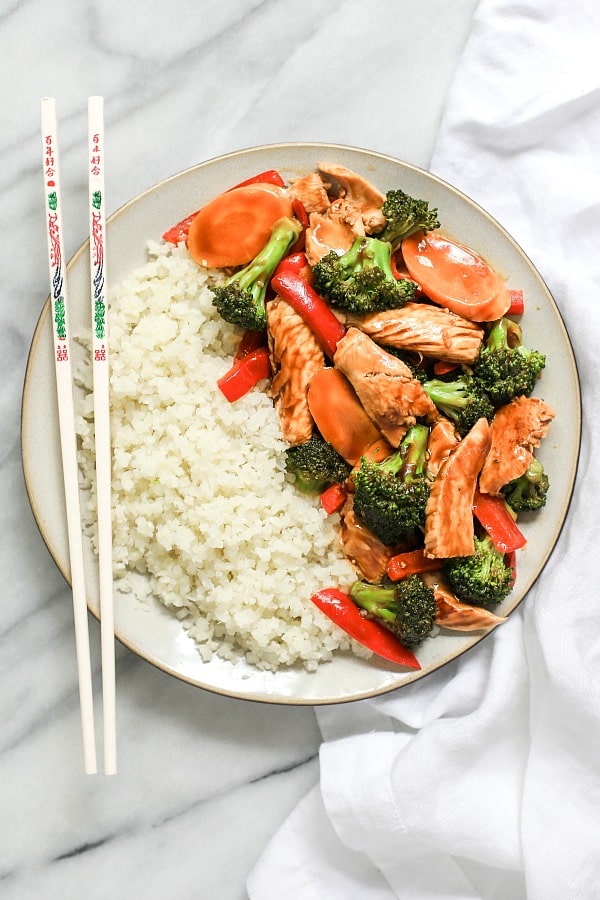 When making stir-fry, it's best to avoid conventional soy sauce because it can affect hormone balance. But, the good news is that fermented tamari is a great substitute!
Yes, it contains soy, but when properly fermented and raw, tamari contains probiotics that are beneficial for the gut and it's also gluten-free! A few companies, such as Ohsawa, make tamari the old-fashioned way, brewed in wooden kegs and allowed to age and ferment.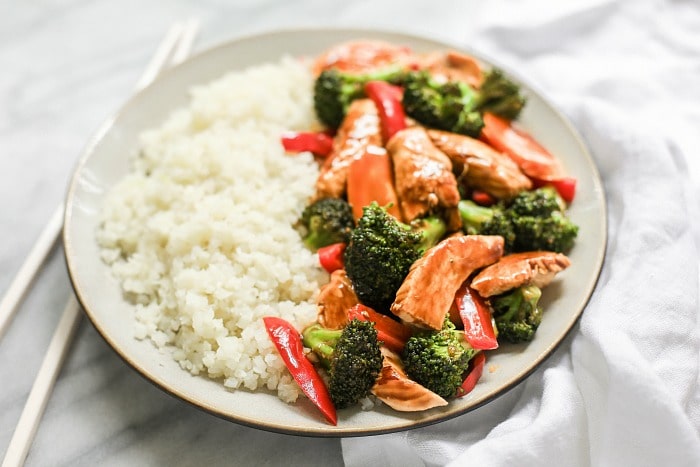 It's my go-to for homemade stir fry and I like it WAY more than coconut aminos. You can purchase Oshawa fermented tamari from your local health food store or on Amazon. 
You can serve this chicken stir fry with soaked rice or cauliflower rice. It's also great on it's own!
Print
Chicken Stir-fry with Garlic Sauce
1

pound chicken breasts, sliced thin

1 tablespoon

fermented tamari or coconut aminos

1 tablespoons

sherry

2 tablespoons

coconut oil

2

cloves garlic, minced

1 tablespoon

ginger, minced

3

carrots, cut thin, on the diagonal

1

red, orange or yellow bell pepper, cut into thin slices

1 1/2

pounds broccoli, cut into bite-size pieces

2 tablespoons

water
Garlic Sauce:
Instructions
Toss together the chicken, soy sauce and sherry in a small bowl and set aside. In another small bowl combine the garlic, ginger and 1 teaspoon coconut oil. Whisk together all garlic sauce ingredients in small bowl and also set aside. Also have a small bowl with your 2 tablespoons of water and a lid for your pan. (If you don't have a lid for your skillet you can use a few pieces of foil) If it is a busy day I like to prepare all of this earlier in the day so when I come home I can quickly combine all of the ingredients and have dinner on the table in about 15 minutes.
In a large skillet, or wok, 2 teaspoons coconut oil over medium heat until just shimmering. Add chicken in one single layer to skillet and don't stir but let the chicken become golden brown on side that is down. Turn each piece of chicken individually and let cook until second side of chicken is golden brown. Transfer chicken to clean bowl and set aside.
Add 1 tablespoon of coconut oil to empty skillet and heat until just shimmering. Add broccoli and carrots. Stir continuously for about 1 minute. Add 2 tablespoons of water and quickly cover skillet with lid. Leave lid on skillet for about 30 seconds, remove lid, add bell peppers and let cook, while continuously stirring, until all of the water has evaporated.
Make a well in the center of the vegetables and add the garlic and ginger mixture. Stir in the middle of the pan for about 45 seconds and then combine with the rest of the vegetables. Add meat and also garlic sauce to pan and toss until all ingredients are well coated with sauce. Serve immediately.
Photo Credit: Becky Winkler