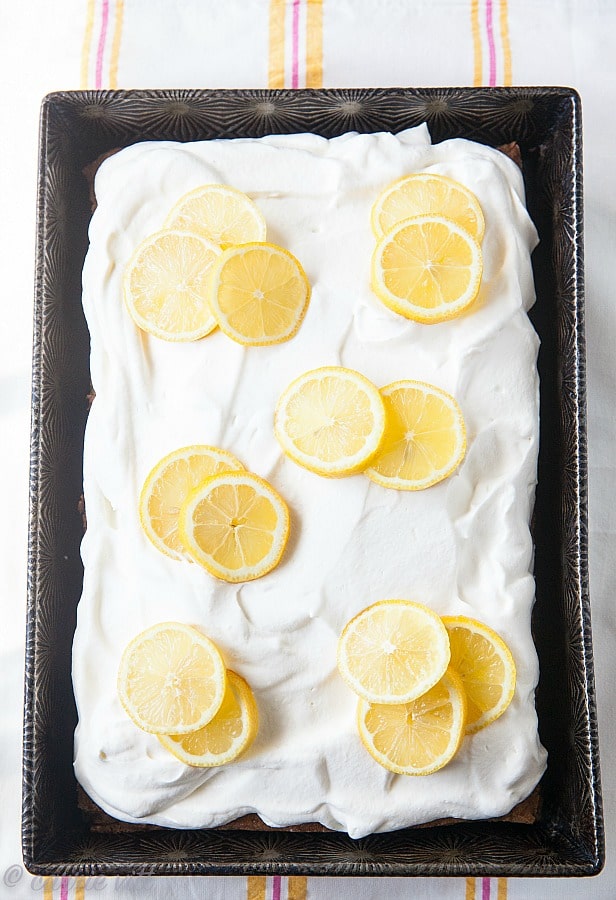 I love a layered cake, but a sheet cake is much less work and is great to take to a potluck or a casual outdoor meal in the spring and summer. This triple lemon sheet cake is sweetened with honey and is good enough to eat on its own. But then it's topped with lemon curd and lemon whipped cream. This is lemon on lemon on lemon and it's absolutely fabulous!
When choosing a honey for baking, I find it's best to stick with a light honey like this one or this one. They add a nice sweetness to the cake, but without the heavy aromas that can come with other wild honey.
And, if you want to save yourself some time, you might be able to find a good lemon curd at your local health food store. There's nothing like fresh lemon curd, but I totally get it if you need to cut down on the time needed to make this cake.
The cake is best served at room temperature, so it's a good idea to assemble the cake just before serving.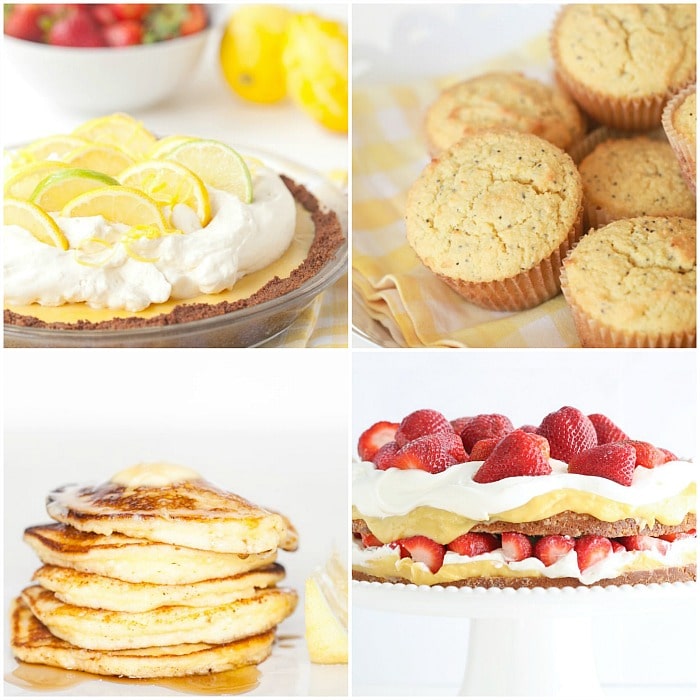 Here are some additional grain-free lemon recipes for you!
Lemon Ricotta Pancakes
Lemon Icebox Pie
Lemon Poppyseed Muffins 
Grain-Free Coconut Cake with Lemon Curd
Carrie Vitt
Makes one 11x9" cake
Triple Lemon Sheet Cake (Grain-Free)
Ingredients
For the cake:

2/3 cup raw honey (see note in post above)
4 eggs, room temperature
3 cups almond flour
1/4 cup coconut flour
1/4 cup arrowroot flour
3/4 teaspoon baking soda
1 teaspoon baking powder (make sure it's grain-free)
1/2 teaspoon celtic sea salt
10 tablespoons unsalted butter or 1/2 cup coconut oil , melted
1/3 cup plain whole yogurt
1/4 cup fresh lemon juice
Zest of 2 lemons

For the Curd:

8 tablespoons unsalted butter or 6 tablespoons coconut oil
1/2 cup raw honey
4 large eggs
3 large egg yolks
1/4 cup lemon zest (make sure the lemons are organic)
1/2 cup freshly squeezed lemon juice (about 6-8 lemons)
1/8 teaspoon Celtic sea salt

For the Lemon Whipped Cream:

1 1/2 cups raw cream
2 tablespoons raw honey
1 tablespoon lemon zest
1 tablespoon lemon juice
Instructions
Preheat the oven to 350ºF and adjust the rack to the middle position. Line an 11x9 baking dish with parchment paper.
Place the eggs and honey in the bowl of a standing mixer and beat for 5 minutes until pale and voluminous. Place the almond flour, coconut flour, arrowroot flour, baking soda, baking powder and salt in a medium mixing bowl and stir to combine. Whisk in the butter, yogurt, lemon juice and lemon zest. Pour 1/4 of the egg mixture into the flour mixture and whisk together. Then, pour the remaining egg mixture into the flour mixture and fold to combine.
Pour the cake batter into the prepared pan and bake for 20-23 minutes until a cake tester inserted into the middle of the cake comes out clean. Let cool for 10 minutes and then remove the cake from the pan and cool completely.
Melt butter in a double boiler set over medium heat. Whisk together honey, eggs, yolks, zest, juice and salt in a large measuring cup. Slowly, while constantly whisking, pour in egg mixture and continue to whisk for 6-8 minutes until thick like pudding. Pour curd through a fine mesh sieve over a medium bowl, cover and chill in the refrigerator for 2 hours or until cold.
Place the cream, honey, zest and lemon juice in the bowl of a standing mixer and whisk until soft peaks form.
To assemble: Spread the lemon curd evenly over the cake and then top with the lemon whipped cream. Serve.
7.8.1.2
4591
https://deliciouslyorganic.net/triple-lemon-sheet-cake-grain-free/
Copyright 2016 Deliciously Organic