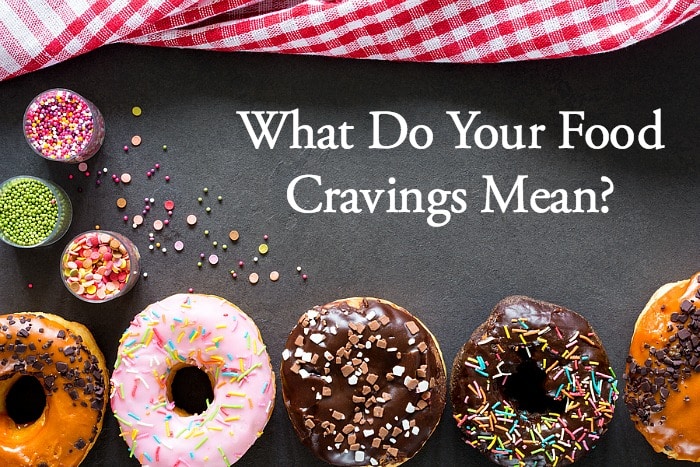 Last month, I shared on Instagram about my major craving for raw fish. I ate some raw salmon and hoped that would suffice, but for the next week or so the craving wouldn't go away. I found myself thinking of wild seafood all day long!
I soon realized my body was probably needing extra iodine. So I added an iodine supplement* available from our office to my daily consumption of wild seafood and sea vegetables. The cravings finally subsided after about two weeks. My body was obviously going through some kind of shift!
Food cravings often communicate some deficiency our bodies are experiencing. For example, if you're craving chocolate, that's usually a sign you need some magnesium.
After my "raw fish" experience, I thought it would be helpful to give you a chart for reference. I received a version of this chart while completing Nutritional Therapy School and added some items to give you a comprehensive list.
I always recommend getting your needed nutrients from whole foods, but sometimes that isn't practical or sufficient. If you're craving the same things over and over, and you've tried satisfying those cravings with food but haven't had success, give our office a call and schedule an appointment with me. I can help you figure out which supplement and food combination your body needs.
*If you're wondering if it's ok to take an iodine supplement, here's a quick video to check out.
Craving

What Your Body

Really Needs

Foods Containing that Nutrient

Chocolate

Magnesium

Spinach, Swiss Chard, Soaked Pumpkin Seeds, Almonds or Black Beans, Avocado

Add 1 cup of Epsom salts to your bath and soak for 20 minutes each night.

Sweets

Chormium

Carbon

Phosphorus


Sulfur

Thryptophan


Can also indicate low blood sugar or low adrenal function

Broccoli, Grapes, Garlic, Potatoes

Pastured meats, raw dairy

Soaked Sunflower Seeds or White Beans, Raw Milk, Wild Tuna, Pastured Beef

Garlic and Onions

Pastured Eggs, Spirulina, Wild Seafood, Pastrued Poultry, Raw Dairy

Bread

Nitrogen

Pastured Meats, Wild Seafood, Pastured Eggs, Soaked Legumes, Spinach
Oily and Fatty
Foods

Calcium

Raw milk, Cooked Kale, Sardines, Cultured Yogurt, Raw Cheese

Coffee or Tea

Phosphorus


Sulphur

Sea Salt

Iron

Soaked Sunflower Seeds, Raw Milk, Soaked White Beans, Wild Tuna, Pastured Beef

Garlic, Onions

Liver, Pastured Beef, Soaked Lentils

Carbohydrates
such as: Biscuits,
Pasta, Chips, etc.

Chromium

Magnesium


Hormone Imbalance, Blood Sugar Handling, or Adrenal Imbalance

Broccoli, Grapes, Garlic, Potatoes

Spinach, Swiss Chard, Soaked Pumpkin Seeds, Almonds or Black Beans, Avocado

Add 1 cup of Epsom salts to your bath and soak for 20 minutes each night.

Check out this free online class taught by me and a fellow NTP

Alcohol

Protein


Avenin

Calcium

Glutamine


Potassium

Pastured beef, Pastured Chicken, Wild Weafood, Soaked Lentils and Black Beans

Raw milk, Cooked Kale, Sardines, Cultured Yogurt, Raw Cheese

Pastured meats, Raw Dairy, Bone Broth, Spirulina, Cottage Cheese, Wild Fish, Asparagus

Soaked White Beans, Avocado, Broccoli, Sweet Potato, Bananas, Wild Salmon and Sardines, Pastured Beef, Raw Milk

Soda

Calcium

Raw milk, Cooked Kale, Sardines, Cultured Yogurt, Raw Cheese

Salty Foods

Chloride 

Adrenal support

Celtic sea salt

Acidic Foods

Magnesium

Spinach, Swiss Chard, Soaked Pumpkin Seeds, Almonds or Black Beans, Avocado

Add 1 cup of Epsom salts to your bath and soak for 20 minutes each night.

Premenstrual Cravings

Zinc

Pastured Beef, Soaked Pumpkin Seeds, Chickpeas, or Cashews, Kefir

Zinc works synergistically with Hydrochloric Acid, so it's important make sure your body is producing enough stomach acid.

Lack of appetite when you wake up

Hydrochloric Acid

Take 2 tablespoons of apple cider vinegar before each meal or 1 dropper of Digestive Bitters, and read this post.

Cheese

Essential Fatty Acids

Butter, Ghee, Lard, Tallow, Olive oil, Coconut Oil

Red Meat

Iron

Liver, Pastured Beef, Soaked Lentils

Raw Fish

Iodine

Wild Seafood, Sea Vegetables, Cultured Yogurt, Raw Milk, Pastured Eggs, Soaked Lima Beans, Raw Cheese

Ice

Iron

Liver, Pastured Beef, Soaked Lentils