Fall is here, which means it's time for nourishing soups! This white bean soup with ham is warm and comforting, and best of all, it's completely prepared in a slow cooker.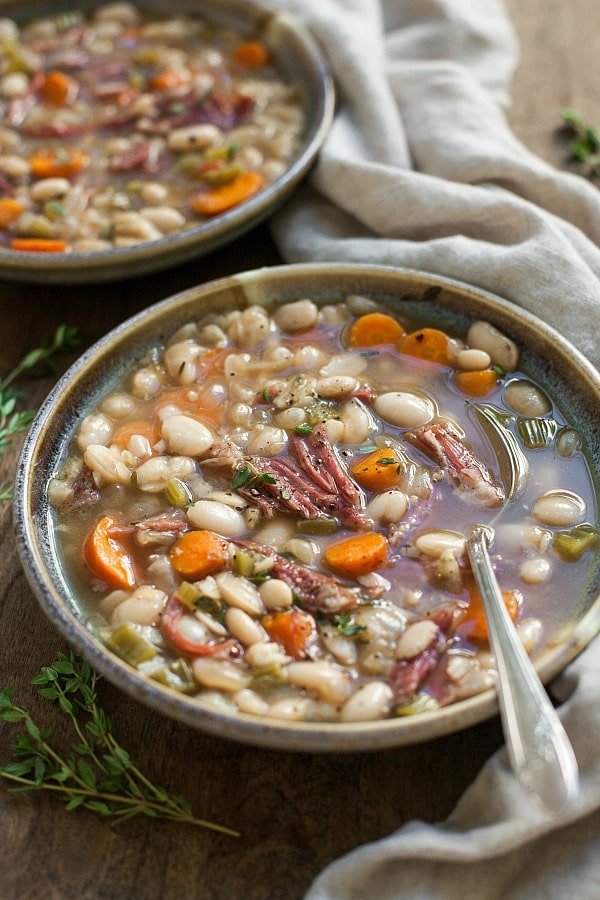 I'm often asked if legumes are "safe" to eat when you have thyroid disease. The short answer is "yes." The key is to soak the beans overnight in water and a pinch of baking soda to reduce the anti-nutrients before cooking.
Most people go way too low-carb when they are trying to heal their thyroid, but remember, your adrenals need the carbs to stay balanced, and your liver needs the glucose so it can convert T4 to T3 (this is very important for your energy levels). This is why I don't recommend a ketogenic diet or strict low-carb paleo diet when you have thyroid disease or hormone imbalance.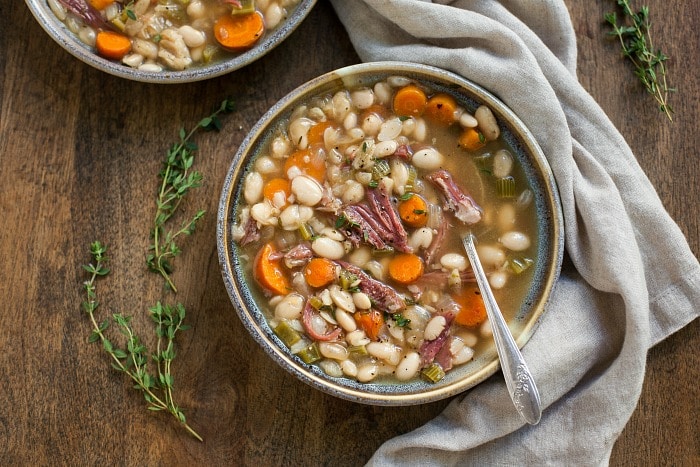 When I work with my nutritional therapy clients who have thyroid disease, I recommend getting at least 100g of complex carbohydrates each day. When they make this change, they often come back at our next follow-up appointment to report that their symptoms such as insomnia, irritability, anxiety, and headaches have improved!
Here's a list of some healthy carbohydrates (and don't forget to eat your carbs with a serving of healthy fats so your blood sugar stays balanced):
Leafy Greens
Broccoli
Cauliflower
Peas
Legumes (soaked)
Lentils (soaked)
Soaked grains (if you can tolerate grains)
Potatoes (all kinds)
Root vegetables
Carrots
Plantains
Asparagus
Bell peppers
Tomatoes (avoid if you have arthritis or joint pain)
Eggplant (avoid if you have arthritis or joint pain)
Zucchini
Leeks
Beets
Berries
Citrus fruits
Apples
All other vegetables
Print
White Bean Soup with Ham
Cook Time:

6 hours

Total Time:

6 hours
For the Beans:
1

pound dried white navy beans
Pinch of baking soda
For the Soup:
2

meaty smoked ham hocks (pastured preferred)

8 cups

chicken stock

6

ribs celery, cut into bite-size pieces

6

carrots, cut into

1/2

"-thick coins

1

yellow onion, chopped

10

cloves garlic, peeled and smashed

6

sprigs fresh thyme

2 teaspoons

Celtic sea salt
Instructions
The night before, place the white beans in a large bowl and cover with water. Stir in a pinch of baking soda.
The next day, drain and rinse the beans and then place them in a slow cooker. Add the ham hocks, chicken stock, celery, carrots, onion, garlic, and thyme in the slow cooker and stir to combine. Cover and cook for about 6 hours on low until the beans are tender.
Using a pair of tongs, remove the thyme and ham hocks. Shred the ham and return it back to the slow cooker. Stir in the salt, taste and add more if needed. Serve.
Notes
I only test the recipes on my site with the listed ingredients and measurements. If you would like to try a substitution, you are welcome to share what you used and how it turned out in the comments below. Thanks!
Photos taken by Becky Winkler