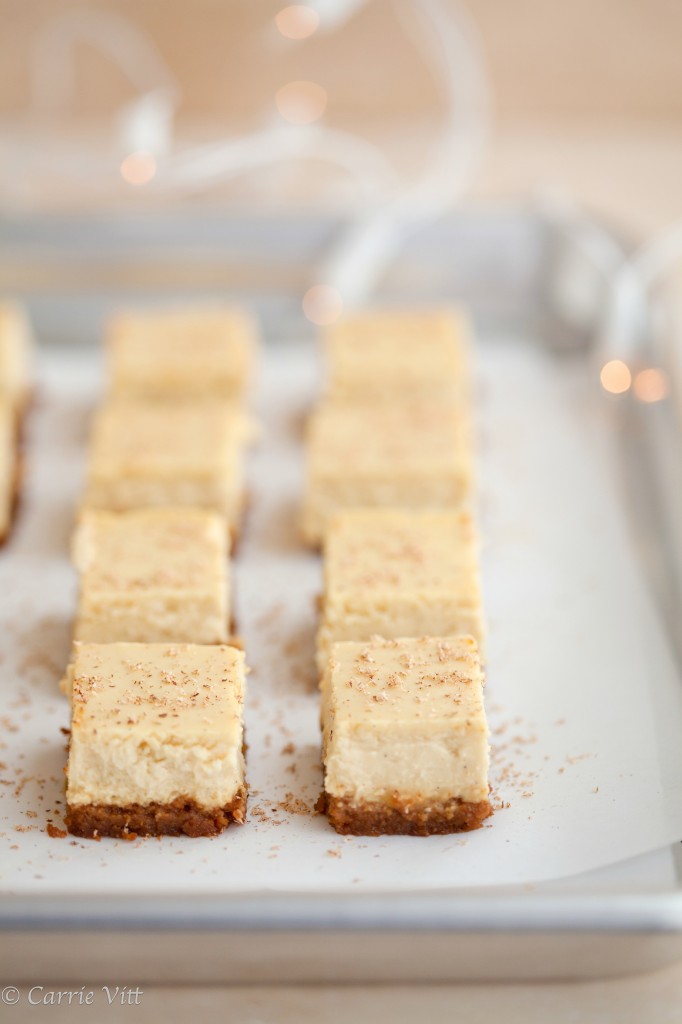 As you know, I'm a "from scratch" kind of girl. Sometimes I enjoy digging a bit deeper by making some of the ingredients for my cooking and baking. Making cheese at home is much easier than it sounds and with great starter kits, like the one I used from Cultures for Health, it was a total breeze.
Homemade cream cheese doesn't taste quite like the cream cheese found in the small tubs at the grocery store. Because real cream cheese needs to sit at room temperature to ferment, it actually has a pleasant sour taste to it. When you make it at home, there won't be any fillers or preservatives — that makes me feel good about serving it to my family. It's a fun activity to do with kids, especially since homemade cheese making is a bit of a lost art.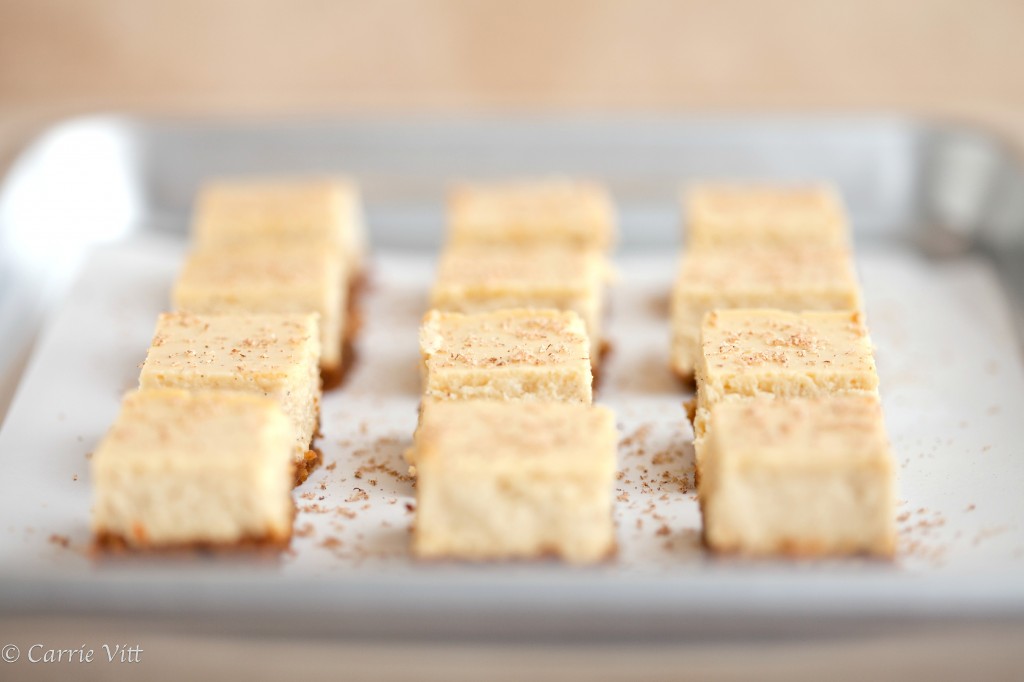 This past weekend my youngest daughter and I put on our Christmas aprons, turned on some holiday tunes and made these eggnog cheesecake bars from scratch. First we started with the cream cheese – a very easy process. Then we made the grain free graham crackers for the crust followed by the eggnog. Sure it was extra work, but it gave me some quality time with my daughter and I got to teach her a few new things in the kitchen.
I've been so impressed with the products sold by Cultures for Health that I wrote and asked them to offer a giveaway. They provided a DIY Deluxe Cheese Making Kit and a Cream Cheese Starter for one lucky reader. This would make a fantastic Christmas gift and can be shipped to whomever you choose in the U.S.
Enter this giveaway thru the Rafflecopter widget below:
a Rafflecopter giveaway
1. The two winners will be chosen via Rafflecopter.com and will be notified via email. Each winner has three days to respond before being disqualified and replaced by a new winner. 2. Contest open to US residents only. 3. Giveaway ends on December 15th at 12:01 PST. 4. Official rules can be found in the Rafflecopter widget.
Eggnog Cheesecake Bars (Grain Free, Gluten Free)
If you're using homemade cream cheese, you might want to add a few tablespoons more maple sugar to even out the sweetness. After the filling is mixed, taste to see if it's to your taste. If not, stir in a bit more sweetener.
Adapted from Martha Stewart Living
Ingredients
For the Crust:

1 1/2 cups finely ground graham crackers (click here for a whole wheat or gluten free recipe)
3 tablespoons unsalted butter, melted

For the Filling:

1 pound cream cheese
1/4 teaspoon Celtic sea salt
2 large eggs
2 large yolks
3/4 cup eggnog
1/2 cup maple sugar or organic whole cane sugar
1 tablespoon coconut flour
1 tablespoon brandy (optional)
1 vanilla bean, cut open and seeds scraped out (or 1 tablespoon vanilla extract)
1/2 teaspoon nutmeg
Instructions
Preheat oven to 350ºF and adjust rack to middle position. Line an 8x8-inch baking pan with parchment paper (two pieces, overlapping one another). Stir together graham cracker crumbs and butter until crumbs are moist. Press crumb into the bottom of the pan and bake for 12 minutes. Let cool. Meanwhile, beat cream cheese and salt until smooth and creamy, about 2 minutes. Add the eggs, yolks, eggnog, maple sugar, coconut flour, brandy, vanilla and nutmeg and beat on medium speed, stopping to scrape the sides of the bowl with a spatula. Mix until smooth and creamy. Pour filling over crust and set pan in a large roasting pan. Add enough hot water to come up half-way up sides of baking pan. Bake until just set, about 40 minutes. Remove baking pan from water bath and set on a cooling rack. Cool completely, cover tightly with plastic wrap and refrigerate for 3 hours, or overnight. Gently lift the bars out of the pan using the parchment paper. Cut into small squares and serve with a dusting of freshly grated nutmeg. Bars will keep in the refrigerator for up to 5 days.
7.8.1.2
3346
https://deliciouslyorganic.net/eggnog-cheesecake-bars-cultures-for-health/
Copyright 2016 Deliciously Organic
Disclosure: I called Cultures for Health and asked for two samples to review. I am not being paid for this review or giveaway. All thoughts and opinions are my own.