Almond poppyseed crackers with ricotta and honey are one of my go-to snacks.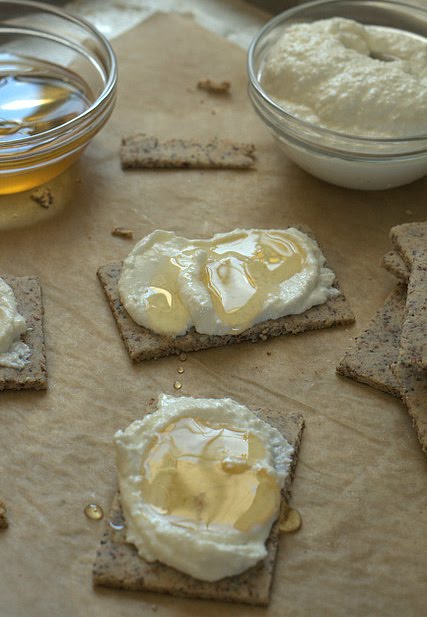 The crackers are great by themselves, but you can take them to the next level by smearing ricotta on top and drizzling them with honey. Some might enjoy them topped with fruity preserves or a hard cheese.
Serves: Makes 12 crackers
Almond Poppyseed Crackers with Ricotta and Honey
Ingredients
Crackers:

1 1/2 cups almond meal
1 tablespoon poppy seeds
1 tablespoon coconut oil (to read about the benefits of this oil click here , for the oil I recommend click here )
1/4 teaspoon sea salt
1 egg white

Topping:

3/4 cup ricotta cheese (for a recipe to make your own, click here )
1/4 cup honey
Instructions
Preheat oven to 350°F and adjust rack to middle position. Stir together almond meal, poppy seeds, coconut oil, salt and egg white until incorporated. Lay a 16-inch long piece of parchment paper on the counter. Pour dough onto parchment paper and cover with an additional piece of parchment paper. Using a rolling pin, roll the dough to an 8 x 12-inch rectangle. Uncover and cut the dough into 2 x 4-inch crackers with a paring knife. Transfer parchment paper with cracker dough onto a baking sheet. Bake for 14 minutes, until golden brown. Cool to room temperature.

To serve:

Spread 1 tablespoon of ricotta onto each cracker and drizzle with honey. Serve immediately.

Soaked Method:

Follow instructions above and bake crackers at 160°F for 8-10 hours, or until crispy.
7.8.1.2
3477
https://deliciouslyorganic.net/almond-poppyseed-crackers-with-ricotta-and-honey/
Copyright 2016 Deliciously Organic