Thanksgiving rapidly approaches and if you're like me, you're already thinking about what to serve for your holiday meal. I thought we'd kick off the month with a pie. Last year, I shared my grain-free pumpkin and pecan pies so it's apple this year. My favorite apple pie delivers a flaky crust, soft sweet cinnamon-wrapped apples and a lovely crunchy topping with just a touch of sea salt to balance out the sweetness.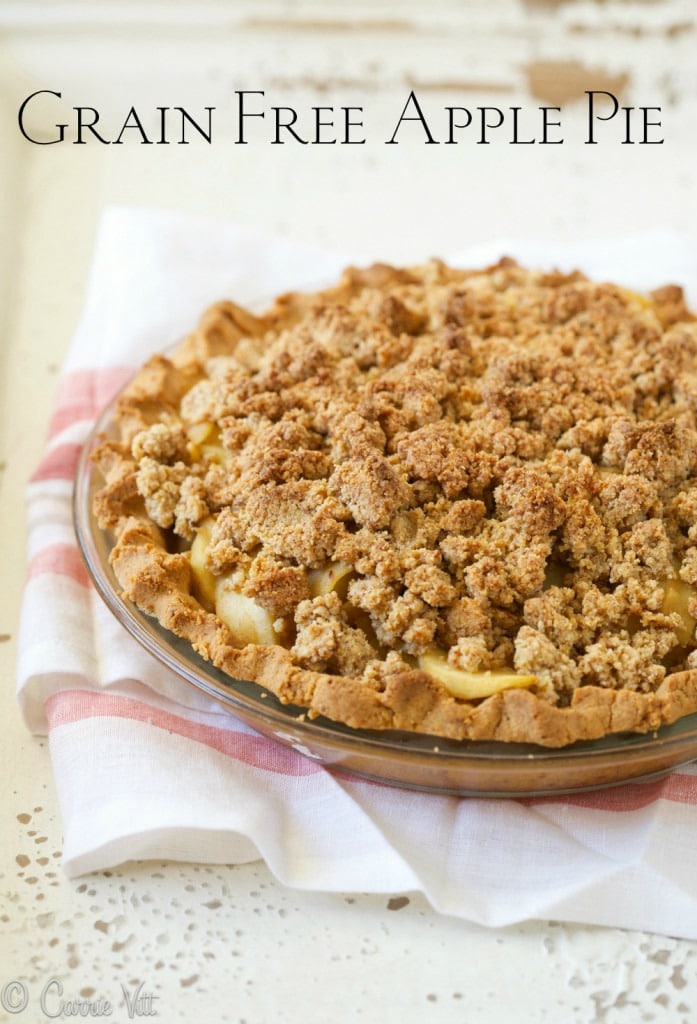 A few things to keep in mind when you're baking a grain-free pie:
Almond flour can brown quickly. To prevent this, you can put thin sheets of foil over the crust or use a pie shield.
A classic, glass Pyrex 9-inch pie dish is the best. It heats evenly and is the perfect depth.
When you make your crust, you want to see little bits of butter in the dough. These little pockets of butter will help give the crust a nice flaky texture.
Keep it cold! Chilling the crust before baking is a very important step.
If you like to bake pies, keep some pie weights or beans specifically used as pie weights on hand. I've used the same 2 cups of beans as pie weights for years. I also reuse the parchment paper I line the pie dough with and store it all in a container in the pantry.
And lastly, enjoy! There's a bit of a learning curve with pie baking, but don't let that get you down. If the crust crumbles a bit or it's an extremely humid day and your topping is a little moist, it's ok! We've all had little mishaps in the kitchen and honestly, no one minds a mishap when you hand them a plate of warm pie with a bit of ice cream or cream poured overtop.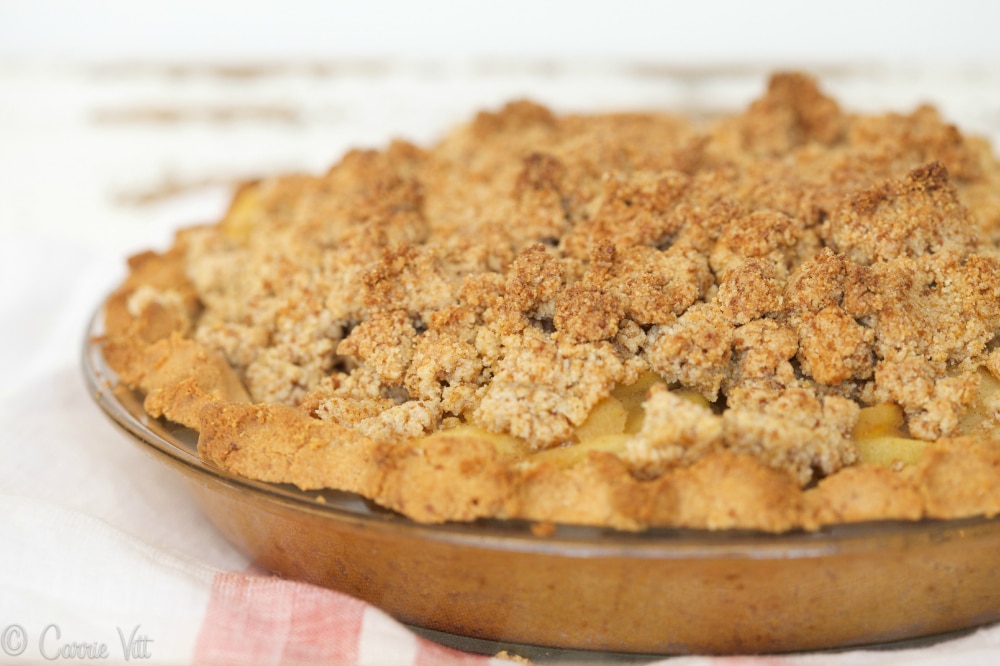 Apple Pie (Grain-Free, Paleo, Gluten Free)
Ingredients
Instructions
Crust: Place almond flour, coconut flour, sea salt, sugar and gelatin in the bowl of a food processor. Process 2-3 times to combine. Add the butter and pulse with 10 one-second pulses and then let the food processor run until the mixture comes together to form a dough. Pour dough onto a sheet of plastic wrap. Wrap then press the dough into a 9-inch disk. Refrigerate for 30 minutes.
Preheat oven to 375 ºF and adjust rack to middle position. Remove plastic wrap from the dough. Press dough onto bottom and up the sides of a 9-inch buttered pie dish. Crimp edges of crust. Chill in the refrigerator for 20 minutes. Place a piece of parchment on the bottom of the pie crust and cover with pie weights or beans. Bake for 12 minutes. Remove pie weights and parchment and bake for an additional 8-10 minutes until just turning golden brown.
Filling: Melt butter in a large pot over medium heat. Add apples, coconut sugar, cinnamon and sea salt. Increase heat to medium-high and cook, stirring occasionally, for about 5 minutes until apples release their moisture and sugar is melted. Pour coconut milk or cream over apples and continue to cook, stirring frequently until apples are soft and liquid has thickened, about 5 minutes.
Topping: Place almond flour, coconut flour, arrowroot, gelatin and coconut sugar in the bowl of a food processor. Process 2-3 times to combine. Add butter. Pulse with 10 one-second pulses and then let the food processor run until the mixture just comes together to form a dough (you want it to be a crumbly mixture). Spread crumbs onto a baking sheet lined with parchment paper. Bake for 10 minutes. Remove from oven. Carefully remove sheet of parchment with hot crumbs to the counter and place the pie crust (still in the pie dish) on the baking sheet. Pour the apple filling into the crust and then top with hot crumbs. Place strips of foil or a pie shield over the edges of the crust to avoid burning. Bake for 10-12 minutes until topping is just turning golden brown . Cool for 30 minutes. Serve.
7.8.1.2
4244
https://deliciouslyorganic.net/apple-pie-grain-free-paleo-gluten-free/
Copyright 2016 Deliciously Organic