Baked garden tomatoes with cheese are the perfect way to cook up fresh tomatoes from the farmer's market.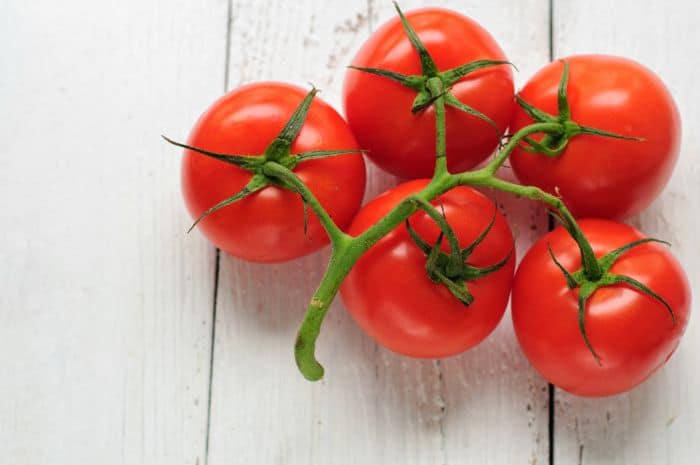 Spring is finally here! I'm a very happy girl seeing markets full of sweet berries, plump sugar snap peas, and the first ripe tomatoes. I love exploring the market with my kids. They especially enjoy the free samples. Last week, we met up with Molly and browsed the market together. It's a blast shopping with her because she's made a point of really getting to know the farmers. I've a lot read about this concept in magazines and newspapers, but have never seen it truly practiced. I was shocked the first time we shopped together seeing nearly every farmer greet Molly by name!
My kids took to Molly quickly and we all enjoyed collecting our fresh produce and discussing our plans for it. If you haven't Molly's blog you should check it out. I appreciate how deep she goes with each topic she covers. She's also working on a TV show called "Farm to Table". Hopefully, we'll all get to see it soon!
The piles of beautiful spring produce at the markets provide a good reminder to buy organic as much as possible. Pesticides and herbicides don't stay on the outside skin of produce, they can soak into the flesh, too. Fruits and vegetables with thin skins absorb the most chemicals. According to the Environmental  Working Group, different pesticides have been linked to cancer, nervous system toxicity, endocrine (hormone) system effects, and skin, eye, and lung irritation. If you would like to read further, here is a simple and easy to read website with basic information about pesticides.
My mom gave me this recipe a few years ago and I think it brings out the sweetness of a tomato better than any other recipe I've tried. You can eat it alone as a side dish, or use it as a topping on fish or thick crusty pieces of sourdough. May the wondrous variety of the produce markets put a spring in your step!
Baked Garden Tomatoes with Cheese
Ingredients
2 tablespoons extra-virgin olive oil
1 medium yellow onion, minced
3 garlic cloves, chopped
3 tablespoons green onion, minced
1 3/4 pounds (about 6) vine-ripened or heirloom tomatoes, cut into 1/2-inch pieces
1 cup grated Pecorino Romano cheese
Instructions
Preheat oven to 350°F and adjust rack to middle position. Heat 2 tablespoons oil in a large skillet over medium heat. Add onion and sauté until soft, about 5 minutes. Add garlic and green onion sauté for 30 seconds, until fragrant. Stir in tomatoes and reduce heat to medium-low. Cook until tomatoes just begin to soften, about 5 minutes. Pour tomato mixture into an 11 x 7-inch baking dish and sprinkle evenly with cheese. Bake for 20 minutes, until cheese melts and is golden. Cool for 5 minutes before serving.
7.8.1.2
3476
https://deliciouslyorganic.net/baked-garden-tomatoes-with-cheese/
Copyright 2016 Deliciously Organic