This shrimp and "orzo" salad is one of my new favorite ways of using cauliflower.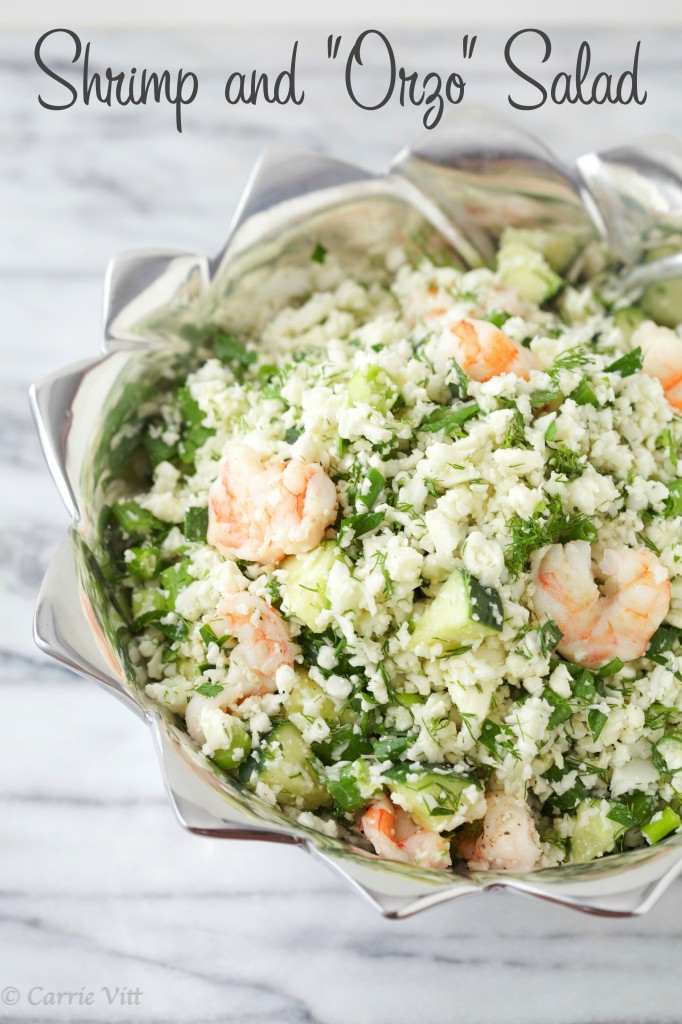 Cauliflower is having a moment. It's everywhere, right? From pizza crusts to a mashed side dish to a rice substitute – it's an incredibly versatile food. I previously took very little notice of this vegetable, but now I make sure to have a couple heads in my fridge at all times. I've been experimenting a bit and I've learned a trick — you can use riced cauliflower as a substitute for just about any rice or pasta in your favorite salad recipes. I've tried it with dozens of recipes and they all turn out fantastic! There's no need to cook the cauliflower, just "rice" it.*
I love Ina Garten's salad recipes. They're always full of bright, clean flavors. I used to make her Shrimp and Orzo salad with whole wheat orzo back in the day, but the other night I decided to try it with cauliflower. I tossed it together and took it to a pot-luck. Mind you, this was my first time meeting many of my new neighbors, so I was taking a chance! I had many people walk up and ask, "Did you make the salad? I loved it!" Whew. My gamble paid off.
Give riced cauliflower a try with your favorite salads. It's a great way to cut down on the grains and carbs, and I bet your family or guests won't even know the difference!
Here are some other flavorful dishes utilizing cauliflower:
Chicken and Cauliflower "Fried Rice"
Cauliflower Pizza Crust
Southwestern Stuffed Bell Peppers
Chicken and "Rice" Casserole

Print
Shrimp and "Orzo" Salad (Grain Free, Primal, Paleo)
Prep Time:

15 minutes

Cook Time:

15 minutes

Total Time:

3 hours 30 minutes

Category:

Side Dish

Diet:

Gluten Free
For the Shrimp:
2

pounds

(16 to 18 count) shrimp, peeled and deveined

4 tablespoons

ghee, divided, melted
Celtic sea salt and freshly ground black pepper
For the Salad:
1

head cauliflower, "riced"*

1

cup

minced scallions, white and green parts

1

cup

chopped fresh dill

1

cup

chopped fresh flat-leaf parsley

1

cucumber, unpeeled, chopped

1/2

cup

small-diced red onion
Juice of

1

lemon

1/4

cup

extra-virgin olive oil

1/2 teaspoon

Celtic sea salt

3/4

cup

raw feta cheese, crumbled (omit for Paleo and dairy free)
Instructions
Preheat the oven to 400ºF and adjust rack to middle position.
Place the shrimp on a sheet pan, drizzle with melted ghee, and season with sea salt and black pepper. Toss to combine and spread out in a single layer. Roast until the shrimp are cooked through, about 5-6 minutes.
Heat remaining 2 tablespoon ghee in a large sauté pan. Add cauliflower and cook, stirring frequently, until hot, but not yet soft, about 5-7 minutes. Transfer cauliflower into a large bowl and chill in the refrigerator for about 2 hours. (This step reduces the goitrogens in the vegetable, making it healthier for the thyroid and immune system.
Place riced cauliflower, scallions, dill, parsley, cucumber, onion, and shrimp in a large salad bowl. Pour lemon juice, olive oil and salt over salad and toss, about 8-10 times until all vegetables are coated with dressing.
Add the feta and stir in gently. Season to taste with sea salt. Set aside at room temperature for 1 hour to allow the flavors to blend, or refrigerate overnight in an airtight container. If refrigerated, taste again for seasonings and bring back to room temperature before serving.
*To rice cauliflower: Cut 1 head of cauliflower into 2-inch pieces. Place half of the cauliflower in the bowl of a food processor. Pulse for 12-15 one-second pulses until cauliflower is about the size of rice. Place chopped cauliflower in a bowl. Repeat with second batch of cauliflower. As an alternative, you can grate the cauliflower with a cheese grater or chop fine with a large chef's knife.
Nutrition
Serving Size:

Serves 8-10
Keywords: shrimp and "orzo" salad