A cup of homemade dairy-free eggnog is quite the treat during the holidays!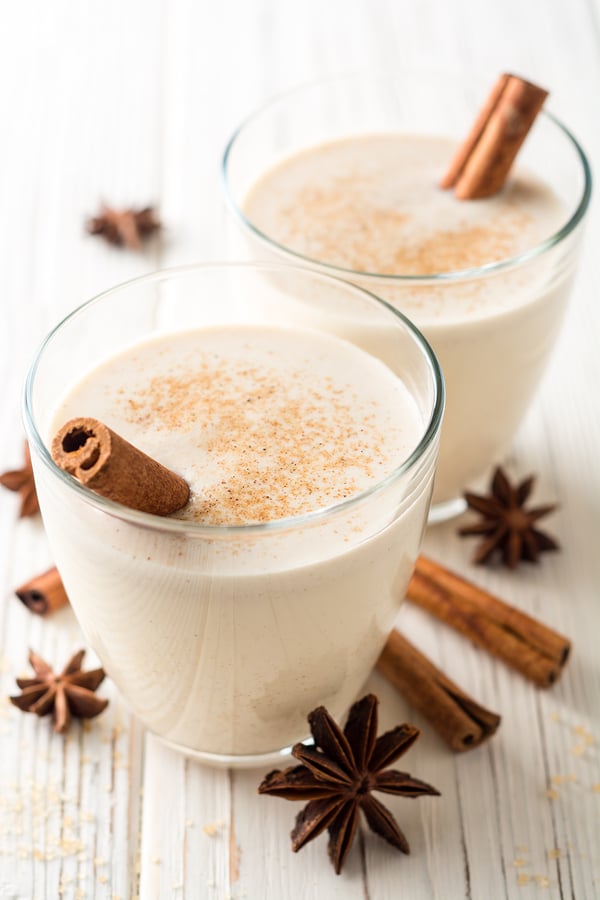 As a kid, I looked forward to the eggnog my mom would buy at our local grocery store. My brothers and I would sprinkle it with nutmeg and drink the thick sweet liquid while listening to Christmas music. My parents would add a little Baileys or Kahlua – I never understood how good that combination was until I grew up a bit.
I hadn't actually made homemade eggnog until a few days ago. It's not difficult, but takes a bit of patience to whisk the liquid until it gets thick. All the effort is worth it, though. I mulled over different recipes for several days beforehand and predicted my "perfect" eggnog would include raw yolks. Boy, was I wrong! The cooked eggs create a caramel-custard flavor I couldn't match with raw yolks.
I prefer my eggnog spiked with a little brandy and sprinkled with a bit of nutmeg. Now that's something I can look forward to. 🙂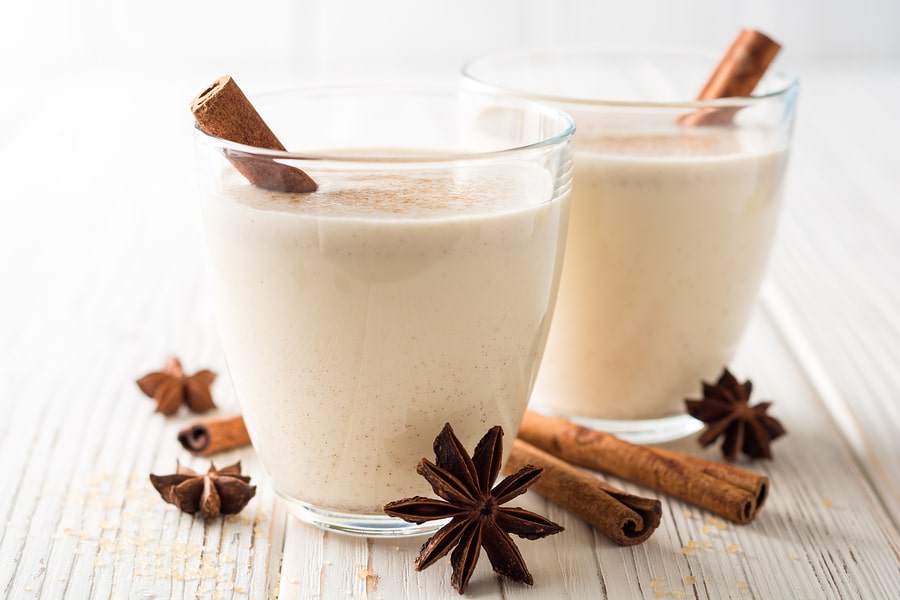 Eggnog (Dairy Free, Paleo, Primal)
Ingredients
For the eggnog:

6 large eggs
2 large egg yolks
3/4 cup maple syrup (I prefer Grade B)
4 cups coconut milk or whole milk (if you can tolerate dairy)
1/2 cup brandy (optional)
1 tablespoon vanilla extract
1/2 cup coconut milk, whipped into soft peaks, optional (if using coconut milk, use this method to whip ) (or heavy cream whipped into peaks if you can tolerate dairy)
1/4 teaspoon grated nutmeg
Instructions
Whisk eggs, yolks and maple syrup in a large saucepan until combined. Whisk in milk, one cup at a time, blending well after each addition. Heat over medium-low heat, stirring constantly, until custard registers 160ºF on a candy or instant-read thermometer and thickens, about 25 minutes. (It should coat the back of a spoon.) Pour custard through a sieve into a large bowl. Stir in liquor (if using), vanilla, and nutmeg. Cover tightly and refrigerate until well chilled, at least three hours and up to three days.
Pour eggnog into a punch bowl and top with whipped cream (it will float on top) and sprinkle with nutmeg. Or, pour eggnog into a pitcher and serve in individual glasses. Dollop with a bit of whipped cream and sprinkle with nutmeg.
7.8.1.2
3433
https://deliciouslyorganic.net/eggnog-recipe-deliciously-organic/
Copyright 2016 Deliciously Organic