I love this simple but flavorful quinoa salad with roasted vegetables.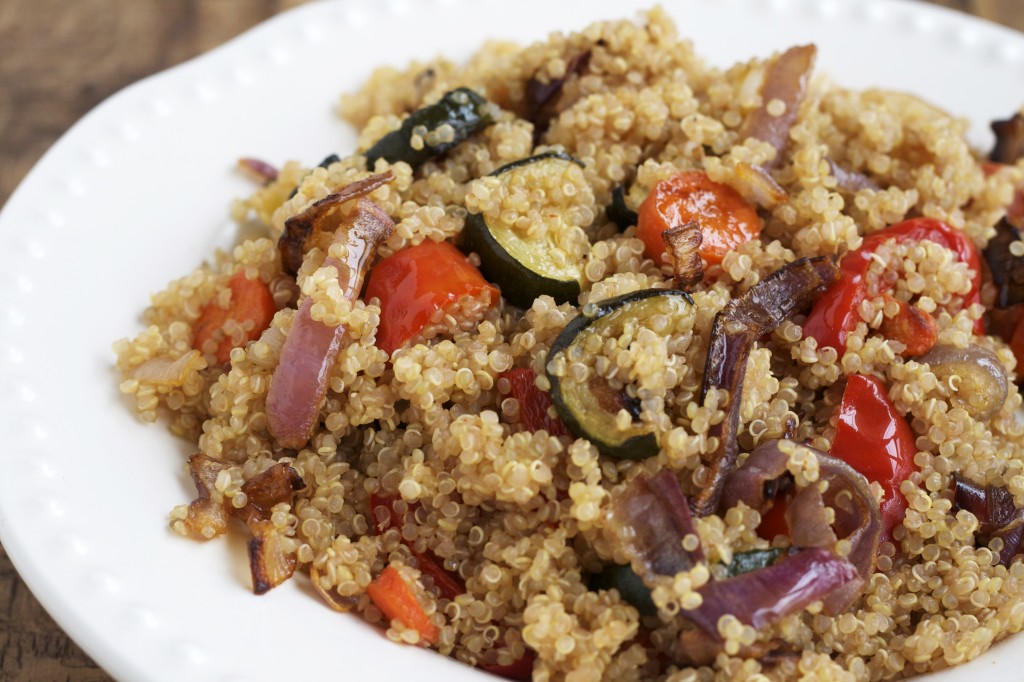 Many of us will make new health goals this week. We often start with great intentions, but get overwhelmed or simply fall back into old habits. I realize that going to a completely organic diet might seem daunting, but my goal is to help you make the transition without the stress. My motto is "Make one change a week". That's it. Start with what you eat the most of. If you eat a lot of yogurt, this week make the switch to organic yogurt and that's your one change. Next week, pick something else. Don't worry about doing anything drastic. I had a friend who said her daughter ate a lot of cheese out of a can and she was heartened when I suggested she simply start buying blocks of cheese instead of cans. If you start making these small changes, over the course of 6 months you'll transform your pantry and fridge without even really noticing (I've learned this is a much easier way for a family to make changes together).
You can do this. It's just one change a week.
Not a huge fan of vegetables? Dread serving them because the end up getting pushed around the plate? I have the answer for you – roasting. Never enjoyed cauliflower? Roast it. Never liked green beans? Roast 'em. Roasting vegetables in a bit of oil brings out the sweetness and makes much-maligned vegetables into something you'll crave. They shrivel up and turn into little bits of goodness, full of nutrients and flavor. This simple to prepare quinoa salad keeps in the fridge for a few days and pairs nicely with just about any protein. I love making this during a weekend so I have something quick to grab for lunch early in the week.
Enjoy the salad and think about making one change a week – a simple way to make a lasting difference for your family.
Quinoa Salad with Roasted Vegetables
Adapted from Food and Wine.
Ingredients
4 cups chicken stock
2 cups quinoa, soaked overnight in water and 1 tablespoon vinegar and drained
1 medium zucchini, cut into 1/4-inch thick slices
2 medium carrots, cut into 1/4-inch thick slices
1 medium red onion, cut into 1/4-inch thick slices
1 red bell pepper, cut into 1/4-inch thick slices
3 tablespoons coconut oil
Sea salt and freshly ground black pepper
1 tablespoon tomato paste
1/4 cup fresh lemon juice
3/4 teaspoon coarse sea salt
Instructions
Preheat oven to 400ºF and adjust rack to middle position. Bring stock to a boil in a large sauce pan. Pour in quinoa and bring to a boil. Lower heat to low and cover with a lid. Cook until quinoa is soft and stock has been absorbed, about 15-20 minutes.
Place vegetables on a large baking sheet and toss with coconut oil. Season with salt and pepper.
Roast vegetables in oven until edges are golden, about 30 minutes, stirring half way through roasting. Cool. Pour the quinoa in a large bowl. In a small bowl whisk together tomato paste and lemon juice. Pour mixture over quinoa and stir until incorporated. Add vegetables and salt and stir. Serve at room temperature.
7.8.1.2
3454
https://deliciouslyorganic.net/quinoa-salad-with-roasted-vegetables/
Copyright 2016 Deliciously Organic