Recipes made on a whim like this roasted butternut squash, pomegranate, and Roquefort salad are such fun, especially when friends and family pitch in.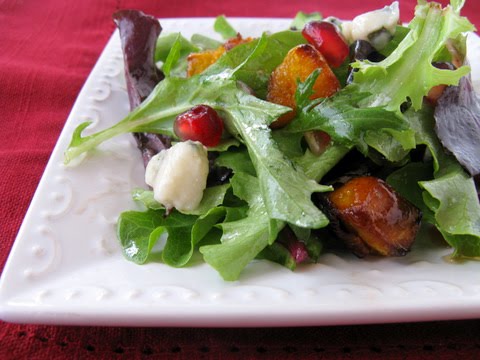 Yesterday I was at the grocery store with my girls and my oldest saw the butternut squash and asked, "Please, Mom, please! Can we get one and roast it?" Well, how do you say no to a request like that, especially when she's requesting a vegetable? I looked at her and said, "OK, but how can we make it different this time? I don't want to just roast it." She saw a pomegranate picked it up and said, "How about a salad?" So technically, my daughter came up with this recipe, well, minus the Roquefort…that was my idea.
Roasted Butternut Squash, Pomegranate, and Roquefort Salad
When buying Roquefort (or any cheese), look for one that isn't pasteurized. This way the the healthy bacteria (pro-biotics) will still be intact which helps support your immune system and digestive tract.
Ingredients
2 cups butternut squash, cut into bite-size pieces
1 tablespoon coconut oil
1 tablespoon organic whole cane sugar or sucanat
sea salt
5 ounces mixed baby greens
1/4 cup pomegranate seeds
2 tablespoons Roquefort, crumbled

Dressing:

1 teaspoon pomegranate juice
2 teaspoons balsamic vinegar
2 tablespoons olive oil
2 teaspoons maple syrup
Instructions
Preheat oven to 400 degrees. Toss squash with coconut oil, rapadura, and then season with sea salt. Spread in an even layer on a baking dish and cover with foil. Roast for 15 minutes and then remove foil. Roast for another 20 minutes until edges are golden brown. Remove from oven and set aside to cool.
In a large bowl combine greens, pomegranate seeds, Roquefort and cooled squash. In a small bowl whisk together pomegranate juice, vinegar, olive oil and maple syrup. Drizzle dressing over salad and toss.
7.8.1.2
3504
https://deliciouslyorganic.net/roasted-butternut-squash-pomegranate-and-roquefort-salad/
Copyright 2016 Deliciously Organic