It all started last week. My mom called and asked me if I could meet her in New York City for a weekend blitz through over 20 of the restaurants from the show "The Best Thing I Ever Ate". If you haven't seen the show on the Food Network, set your DVR. They will have you salivating in about 2 minutes and wishing you could hop on a plane and go eat whatever they are. Thanks to some creative planning and some very understanding friends, I was able to say "Yes!" and soon flew off to NYC to spend the weekend with mom.
We carefully planned our itinerary, put on some good walking shoes, and hit the town. By the way, yes, I do cheat sometimes when it comes to food. The rule for the weekend? There weren't any rules.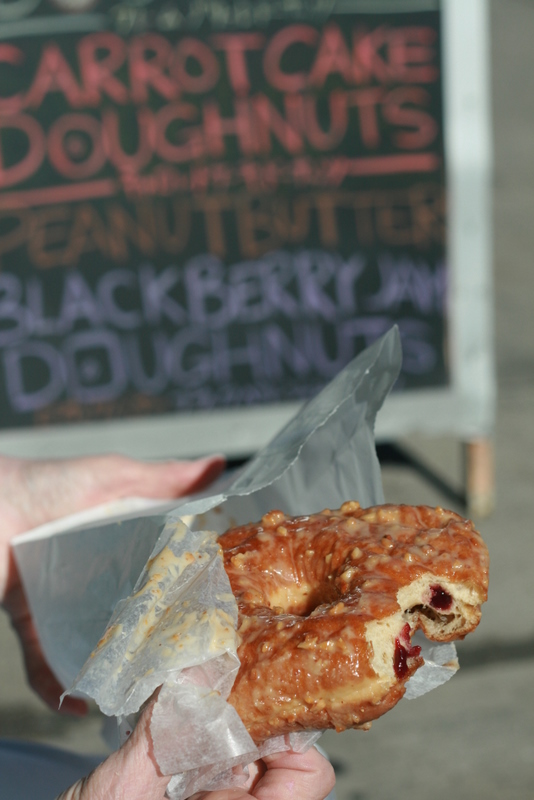 The first stop was the Doughnut Plant. Now, I'm not much of a doughnut girl, but these doughnuts are worth seeking out. They're famous for their peanut butter and jelly concoction. The square doughnut is filled with gooey jam and dunked in peanut crunchy butter. My favorite was the small creme brulee doughnut. It's filled with subtely sweet pastry cream and topped with carmelized sugar.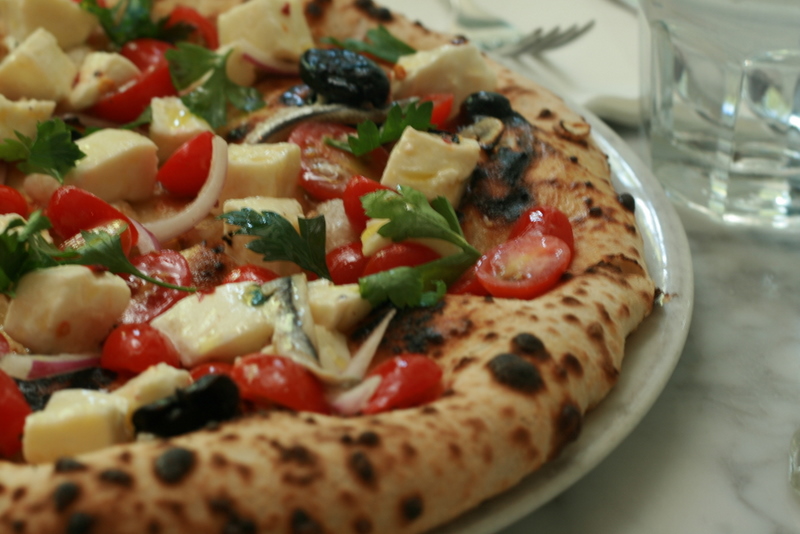 For lunch we stopped in for the Colatura di Alici pizza at Motorino. The restaurant is a quaint little place, comfortable and homey. The pizza was a puffy and crispy crust topped with cherry tomatoes, mozzarella, white anchovies, olives, and parsley. Every bite was completely perfect.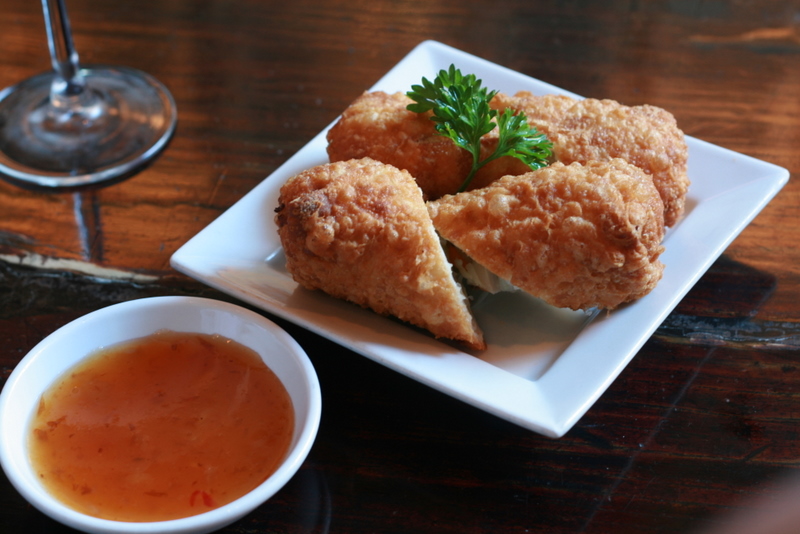 After each restaurant we walked for miles, enjoying the sights and anticipating the flavors in our future.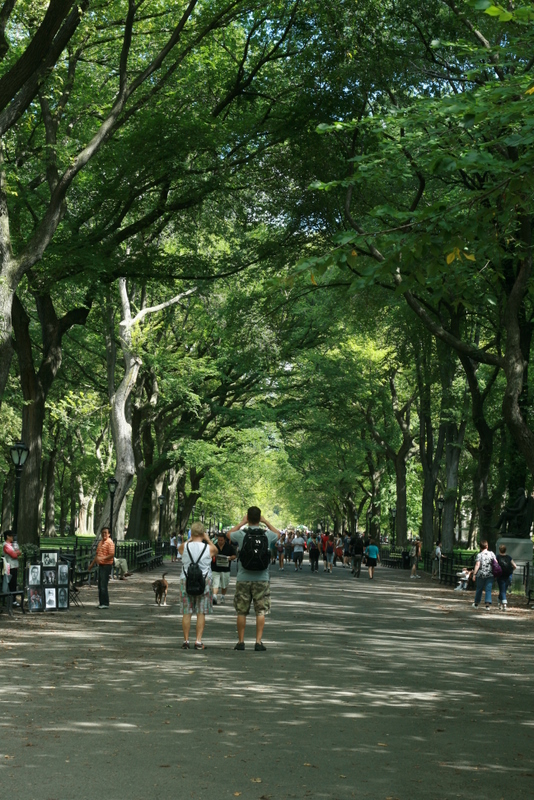 After several hours of walking, the air began to warm up and we needed a break. We made our way to Chinatown Brasserie, reputedly the location of New York's the best crispy egg roll. We breathlessly plopped onto the red couch and each ordered a peach Bellini martini and one order of crispy egg rolls. The egg rolls lived up to their billing with an extra crispy wrapper enveloping shrimp, mushrooms, cabbage and bamboo shoots.
Next on our list was Tasty Hand-Pulled Noodles, a tiny place with about 8 tables. The door to the kitchen was open so we could watch as the noodles were pulled by hand. For $5, I got a bowl of incredibly delicious noodles in broth.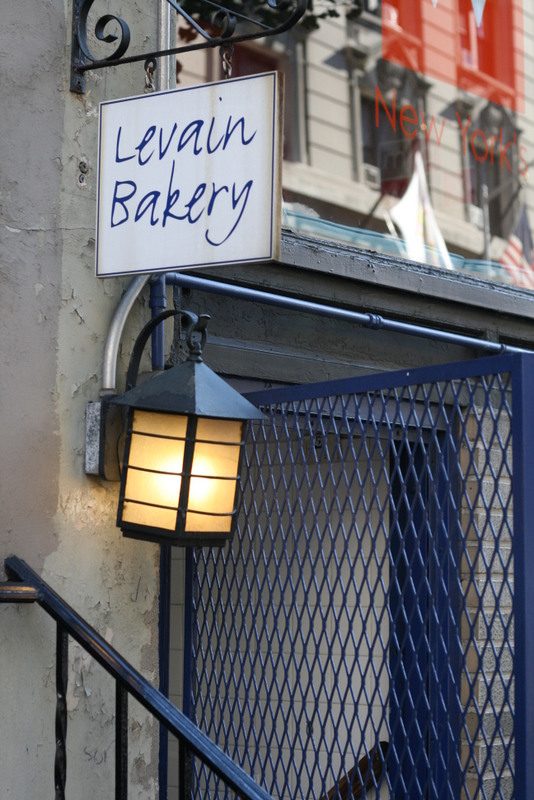 Saturday morning, we woke up early and took a taxi over to Levain bakery. The little bakery sits on a quiet upper west side street and sells the most amazing baked goods. We walked down a narrow stairway into their kitchen/storefront and were overcome by the smells and sights spread out before us. I had a hard time choosing, but settled on the chocolate brioche. Hands-down, this is the best pastry I've ever had. The bread was smooth and pillowy with a sugar-crusted top. The inside of the bread was oozing with bittersweet chocolate. See the chocolate chips stuck to the side of the bread? Those were the best.We bought our pastries and coffee and sat on little stools with a window above looking out on the street.
After Levain, we meandered our way down to Union Square Greenmarket. I felt right at home among the beautiful produce, flowers, shoppers, and chefs. What a fabulous asset to NYC!
As we made our way through the West Village we stopped for some organic palm sugar ice cream from the Van Leeuwen truck.
Down the street from the ice cream truck was The Magnolia Bakery. My Mom wanted to slip in and buy their red velvet cupcake. So there I was, eating ice cream while waiting in line for a cupcake! I secretly hoped I wouldn't run into anyone I know. What kind of an example was I setting? 🙂 I had a bite of their cupcake and yes, it's the best red velvet I've had in a very long time. The cake wasn't too dense and the frosting was an understated, light and airy vanilla butter cream. I can see why they're such a huge success.
We read The Stanton Social serves "must try" onion soup dumplings, so we added them to our list. We met up with Andy and Annie – two friends from Texas who are now New Yorkers – and had an amazing meal. The onion soup dumplings were outstanding. It was like all of the best parts of onion soup rolled into one bite. We also tried their crab cake corn dogs (outstanding!), chicken and waffles, and duck empanadas. The entire dinner, from the ambiance to the food to the company was fabulous. (the picture above is my Mom and me outside the restaurant)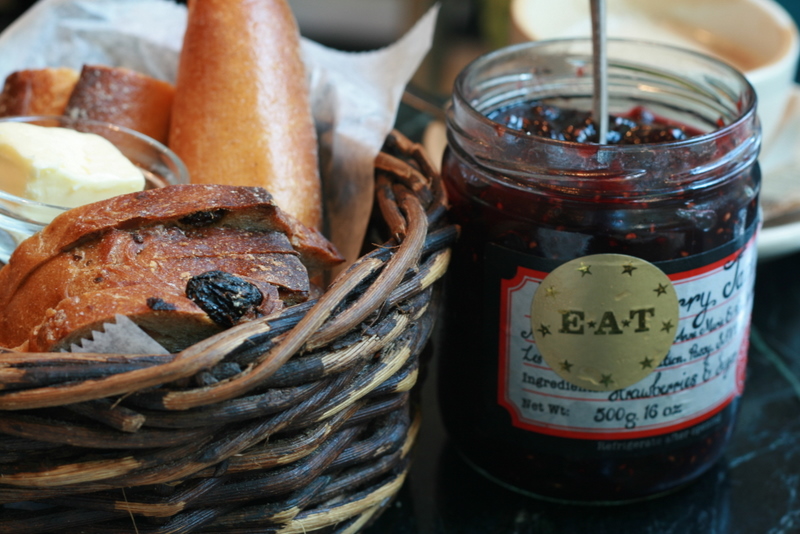 Here is a list of the other restaurants we ate at. They were all exceptional: