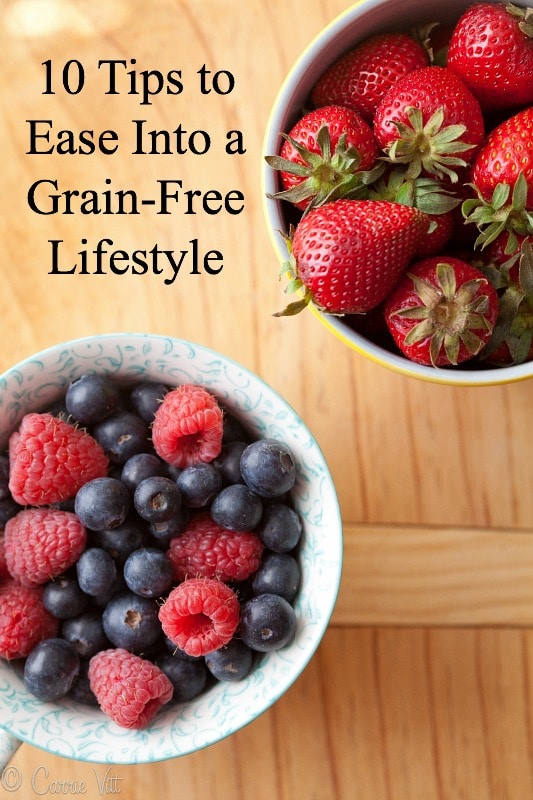 2015 is here! I want to help you improve your health and make positive changes in the kitchen. A grain-free, nutrient-dense diet made a huge difference to my well being. I want to help you make the transition – and make it as stress-free as possible.
I know changing to a grain-free lifestyle can seem overwhelming, but with a few tricks (and solid recipes!) avoiding grains can actually simplify your cooking. Fewer total ingredients reduces work in the kitchen. That's something we can all benefit from!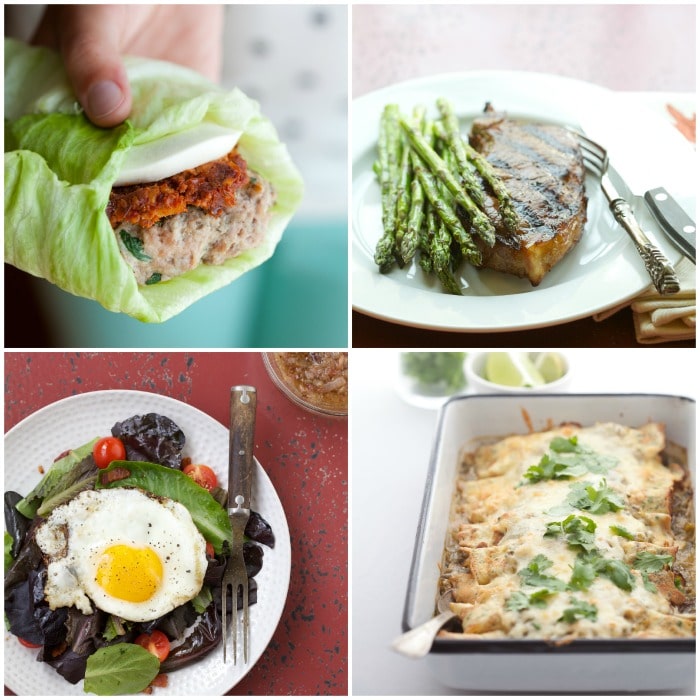 Here are my top 10 tips to ease into a grain-free lifestyle:
1. Grill or roast meats on the weekend to have in the fridge during the week. Grilled chicken, hamburger and other roasted meats can be shredded or chopped and tossed in a salad or packed for lunch. It's a great way to get in some quick protein.
2. Use greens as a healthy wrap. Iceberg is my favorite lettuce to use as a wrap. It's sturdy, crunchy and makes a great stand-in for bread or tortillas.
3. Make extra. I make double batches of recipes like soups, waffles, muffins, and casseroles each week. Always having some nutrient-dense foods on hand helps us avoid the temptation to eat out.
4. Fill your kitchen with lots of vegetables. When you don't eat grains, you'll eat a lot more vegetables – which is a great thing! Stock your fridge and pantry with your favorites.
5. Utilize the crock pot. Chicken or roast in a crock pot will become your new best friend. I make one of these recipes every week. Pair it with a salad and dinner is ready! The leftovers are great for salads or added to soups. I also love using the crock pot for breakfast casseroles and beans.
6. Eat leftovers. If you follow #3, you'll have leftovers at least a few times a week. I purchased four insulated Thermoses a few years ago and they've been incredibly helpful for our entire family. We reheat leftovers in the morning and I send them with the kids and my husband to school and work.
7. Keep baking ingredients on hand. One of the reasons I love grain-free baking is you only need to keep a handful of ingredients around for impromptu baking. Here are the ingredients I always keep on hand:
Almond flour
Coconut flour
Arrowroot flour
Coconut sugar
Raw honey
Maple syrup
Unflavored grass-fed gelatin
8. Eat some saturated fat with every meal. I really can't stress this enough. Real, natural saturated fats help the body assimilate nutrients, satiate you so you don't overeat and help reduce inflammation. Here's a great place to information about the healthy properties of saturated fats . I keep coconut oil, unsalted butter, palm shortening, organic lard, and ghee in my pantry and fridge for cooking and baking.
9. Shop Smart. I recently discovered Thrive Market and I'm incredibly excited! Thrive Market offers real food at wholesale prices and ships it to your doorstep (think Whole Foods + Costco online). You can search by your dietary restrictions like paleo, gluten-free, raw, etc.
The first month is free, all orders over $49 qualify for free shipping, and after the first month it's an annual $59.95. I think you'll be shocked at the great prices. This service is going to help my family save quite a bit on our grocery bill!
10. Purchase The Grain-Free Family Table. My new cookbook contains over 125 recipes (over 70% aren't published on my website) and I filled the book with tips and ideas to help your family eat a nutrient-dense diet.