Chocolate Chip Walnut Blondies is a fun one-pan dessert that everyone will love!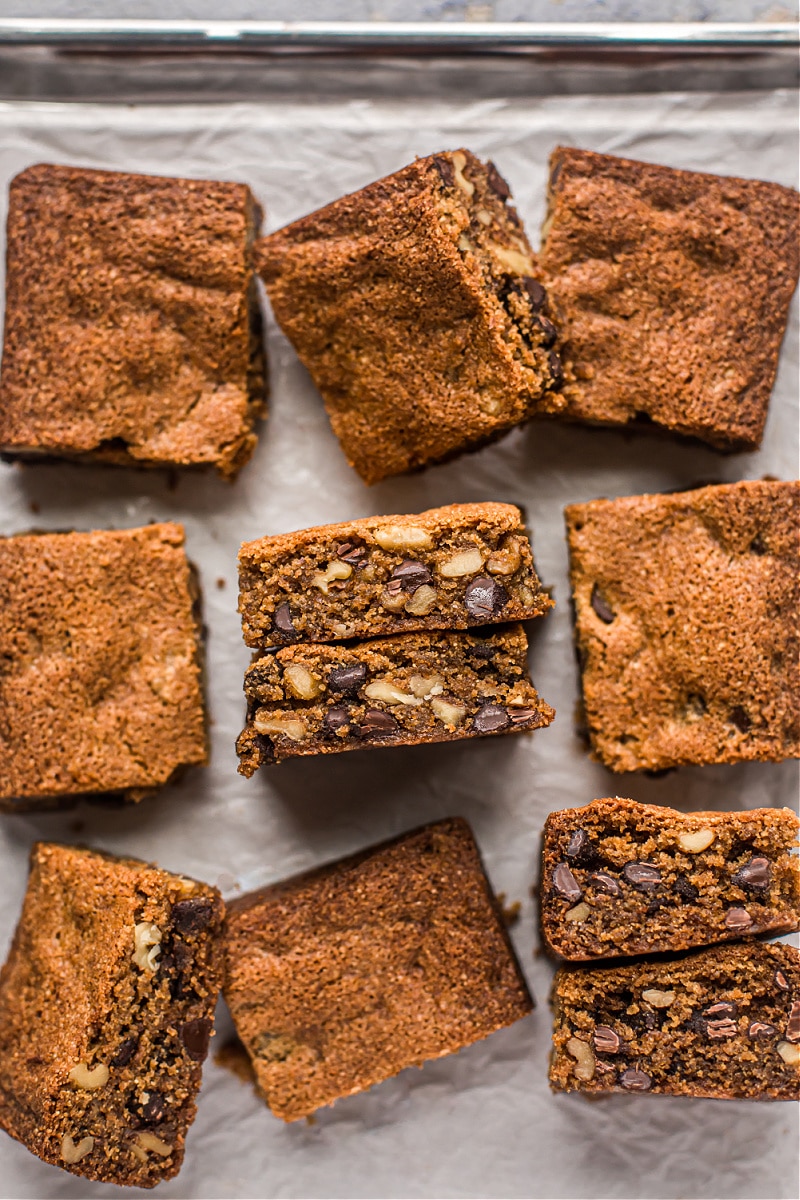 Let's talk about sugar for a minute. . .
Sugars can cause confusion and missteps when we cook and bake with unprocessed ingredients. First of all, let me state that sugar is sugar. Sweeteners of any form will cause insulin levels to rise (some a lot, some a little) so we should always use them in strict moderation. In fact, overconsumption of sugar has been linked to heart disease, diabetes, auto immune diseases, etc. So, it's a good idea to use wisdom in choosing sweeteners and how often to consume them.
When cooking and baking with less-processed sugars, it's important to keep in mind that the sweetener might lend a bit of extra flavor to the dish. For instance, maple sugar may add a slight maple flavor to the end product. Also, many of the sweeteners listed below will lend a slight blond color to the food, so if you're making a cake you'd like to keep as white as possible, use a sweetener like honey instead of sucanat.
Here are some of my favorite sweeteners:
Raw Honey
Raw honey is a natural sweetener that doesn't cause a significant rise or fall of blood sugar levels. It's best to buy raw honey because it contains beneficial enzymes which are lost during processing and filtering. Honey is best used in dishes that don' t need to be heated. Raw honey has a glycemic index of 30. (Refined, pasteurized honey can have a glycemic index as high as 75! So if I can find raw honey, it's always my preferred choice.)
Organic Whole Cane Sugar/Sucanat
Organic whole cane sugar is dehydrated sugar cane juice and contains many minerals. I like to refer to it as white sugar before it hits the factory. Whole cane sugar can be used in place of sugar 1:1 when baking and cooking. The rich molasses flavors do well in cakes and cookies or any recipe that would be complemented by a bit of molasses flavor. Sucanat has a glycemic index of 55.
Maple Syrup
Maple syrup is rich in trace minerals and is an excellent sweetener for baking or drizzling. Maple syrup has a glycemic index of 54.
Maple Sugar
Maple sugar is made by dehydrating maple syrup. The result is sweet, blond sugar crystals. It's one of my favorite sweeteners, but is a bit more expensive, so I only use it occasionally. It's great for chocolate desserts. I had trouble finding the glycemic index value for this sweetener. I would assume it's close in value to maple syrup.
Date Sugar

Date sugar is 100% dehydrated dates ground into small pieces. Date sugar doesn't dissolve in liquids, so it's better utilized for baked goods. I couldn't find the exact glycemic index of date sugar, but regular dates have a glycemic index of 42, so that's a pretty good number to use.
Coconut Palm Sugar
Coconut sugar is a traditional sugar made from the sap of coconut flowers. It's boiled down to create either dry sugar blocks, a soft paste, or a granulated form. Coconut sugar has a glycemic index of 35.
Molasses
Molasses is the by-product from the production of refined sugar. This rich mineral- and nutrient-dense syrup is slightly sweet and best used in baked goods. Molasses has a glycemic index of 55.

Muscovado
A great option when you want a brown, moist sugar. Muscovado has quite a bit of molasses in it, so it's great for a richer flavor.

Stevia
Stevia is a sweet powder that comes directly from the stevia plant and has become quite popular in the last few years. It's 300 times sweeter than sugar, so you need only a small amount. It dilutes well in liquids and is perfect to sweeten hot and cold beverages. Stevia leaves are green, so make sure and look for green stevia powder. If it's white, it's probably been bleached. Stevia has a glycemic index of 0.
Sweeteners to Avoid:

It is best to avoid refined and chemically made sweeteners such as agave, white conventional sugar, xylitol, corn syrup, etc. Shop wisely. Many of the a raw sugars on the market are simply white sugar with a bit of molasses added back to give them a brown color. Just check the labels, as we discussed in this post.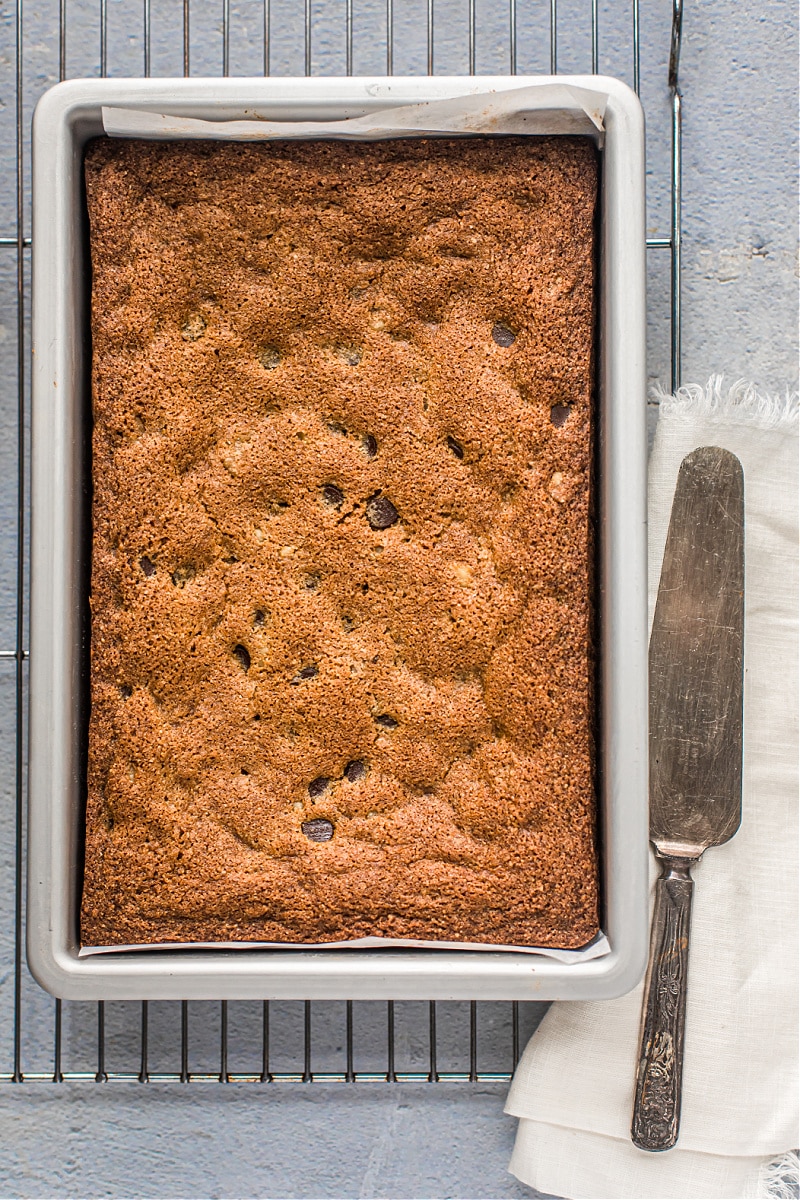 After discussing different sweeteners, let's get down to using some! I know I can always depend on Ina Garten's recipes. They're full of flavor and easy enough for the home cook. I adapted her Chocolate Walnut Blondie recipe from her book, Foolproof, to use less processed sugar and grain-free flours.
I tested them out on a group of kids and they all came back for seconds. Not one asked about the glycemic index, though. 😉
Serves: Makes 12 square bars
Chocolate Chip Walnut Blondies (Grain Free)
Ingredients
Instructions
Preheat oven to 350ºF and adjust rack to middle position. Oil an 11x7-inch baking pan and then line with unbleached parchment paper with the sides hanging over (this will enable you to lift the bars out of the pan when they're cool).
Place the butter and sugars in the bowl of a standing mixer. Mix on high, using the beater attachment for 3 minutes, until light and fluffy. Scrape down the sides of the bowl. With the mixer on low, add vanilla extract and then eggs one at a time. In a medium bowl, sift together the almond flour, coconut flour, gelatin, baking soda and sea salt. With the mixer on low, slowly add the flour mixture to the butter mixture. Fold in the walnuts and chocolate chips.
Spread the batter evenly in the prepared baking dish. Bake for 30 minutes or until a toothpick comes out clean (the toothpick might have some melted chocolate on it, but it shouldn't have any wet batter). Don't overbake! Cool for 30 minutes. Hold onto the parchment paper and gently lift the bars out of the pan. Cut into squares. Serve.
7.8.1.2
3481
https://deliciouslyorganic.net/unprocessed-kitchen-sugars-chocolate-chip-blondies-grain-free/
Copyright 2016 Deliciously Organic
//