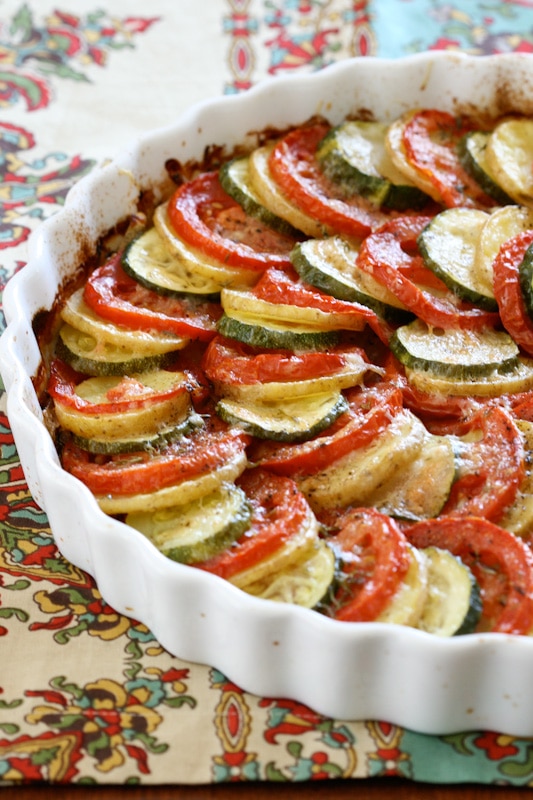 A few weeks ago I was chatting with Lisa while unloading groceries and our conversation went a little like this:
"What did you buy?"
"What do you mean?"
"Specifically, what did you buy? Have you ever taken pictures of it and posted it on your blog?"
"Umm… no. Why? Should I?"
"Of course! I want to know what's in your shopping cart! You need to do a post about this so I can see exactly what you buy at the store."
I love Lisa's practical mindset. I usually like things looking tidy and neat in my photographs, but she had a point. I took a step back from the "pretty" food photography to show you some of my "real life" food. Last week, after doing my grocery shopping at Trader Joe's, I placed most of the food out and took photos for you. This is the real deal. This is what it looks like.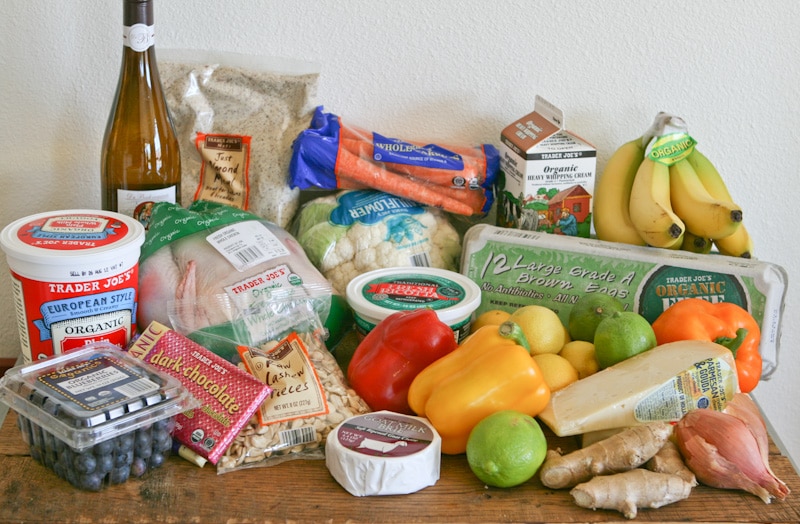 Our family has been eating a grain-free diet since last September, so my grocery cart is full of vegetables, good fats, a bit of fruit, eggs, organic meats, whole yogurts, nuts, seeds, and some dark chocolate (We eat as well as we can, but we are human). We recently bought our beef from a local organic farmer, so I have an entire freezer full of pastured beef.
Most meals in our home consist of pastured meats, good fats, vegetables, and usually a little cheese. I truly love the grain-free lifestyle as it has simplified my shopping and cooking. Most of my meals take about 30 minutes of hands-on work and then I let the oven, stove or grill do the rest of the cooking.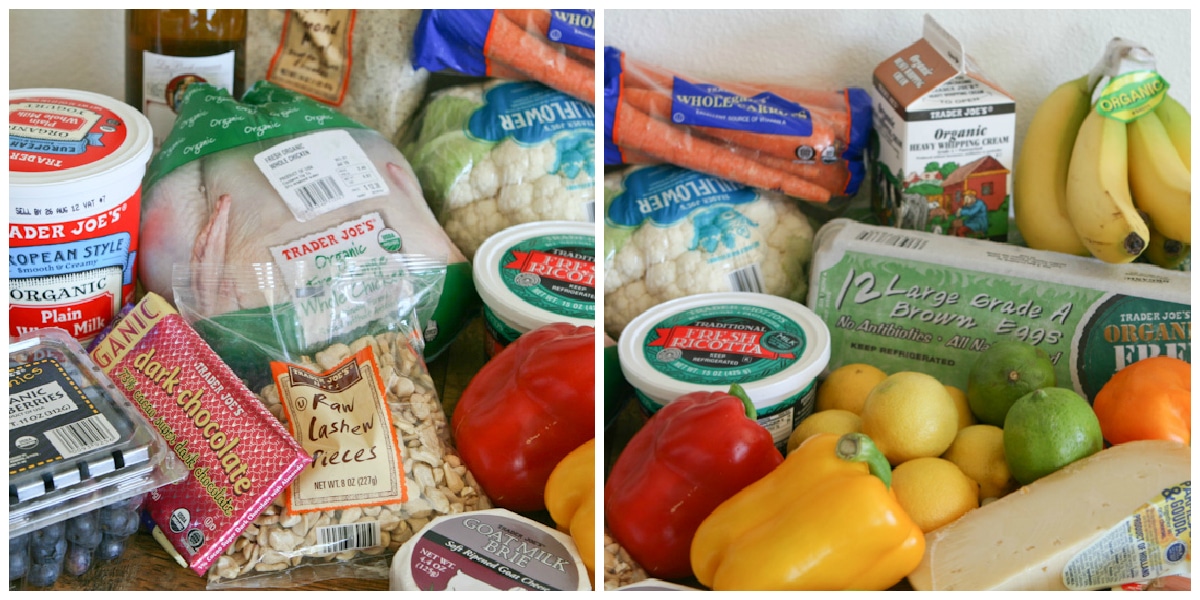 While I prefer to buy all raw, cultured dairy and pastured eggs, sometimes I can't make it to the market, so I buy the best next option. I use the
Weston Price Shopping Guide
to know which items are preferred at the grocery store.
A vegetable tian is one of my favorite recipes to make when the zucchini, tomatoes and fresh herbs are in abundance. We paired this with some grass-fed steaks on Sunday and it was a complete and filling meal. Years ago, I would have thought cooking with unprocessed ingredients would be difficult. The real thing is far easier than I ever would have expected.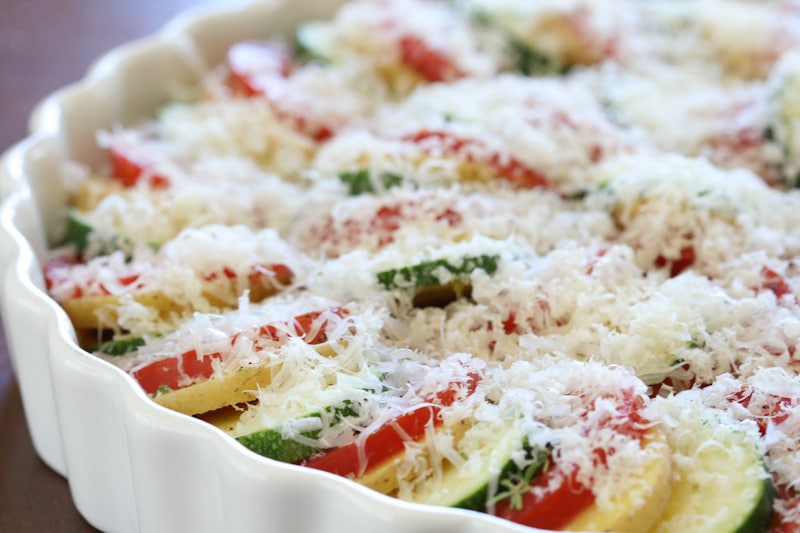 Ingredients
2 tablespoons extra-virgin olive oil
2 large yellow onions, thinly sliced
1/2 teaspoon Celtic sea salt
2 cloves garlic, minced
1 teaspoon dried thyme
4 large zucchini, sliced into thin coins
6-7 small yukon or yellow potatoes, sliced into thin coins
4-5 Roma tomatoes, sliced into thin coins
1 tablespoon extra-virgin olive oil
1/4 teaspoon dried thyme
Celtic sea salt
Freshly ground black pepper
1/2 cup grated gouda or Pecorino Romano cheese (omit for dairy free)
Instructions
Preheat oven to 375 degrees F and adjust rack to middle position. Heat oil in a large skillet over medium heat. Add the onions and salt and cook for about 10 minutes until soft and just beginning to caramelize. Add garlic and thyme and cook, stirring frequently, until fragrant, about 1 minute. Spread onion mixture in the bottom of an 10-inch diameter baking dish ( I used this dish ).
Layer tomatoes, potatoes and zucchini in alternating layers (as shown in photo above). Drizzle with olive oil and season with thyme, salt and pepper. Sprinkle with cheese. Place a piece of parchment paper over dish followed by a piece of foil (I do this because I prefer that the aluminum doesn't touch the food). Wrap the foil tightly around the dish. Bake for 30 minutes, remove foil and parchment and bake for an additional 25 minutes, until golden brown and bubbly. Serve.
7.8.1.2
3448
https://deliciouslyorganic.net/vegetable-tian/
Copyright 2016 Deliciously Organic