I've attended my share of potlucks. I grew up in Texas and our family went to a Baptist Church, so potlucks were a regular occurrence. In the summertime, we'd drive the family sedan to my grandparents' home in Louisiana. Grandpa was a Baptist preacher, so long tables filled with good southern food figure in some of my fondest memories. I've been a military wife for almost 15 years, and potlucks regularly happen when squadrons congregate or neighbors on base get together. No matter how times change, the food on the table looks the same, though. The choices start with a round-molded jello dish, often with pretzels and a creamy sweet filling on the bottom. Other staples include corn bread pudding, pigs in a blanket, fruit salad, 9-layer dip, baked beans, and ramen salad – you know, the one with the slivered almonds, cabbage, and mandarin oranges. I always go for the broccoli salad with bacon and raisins.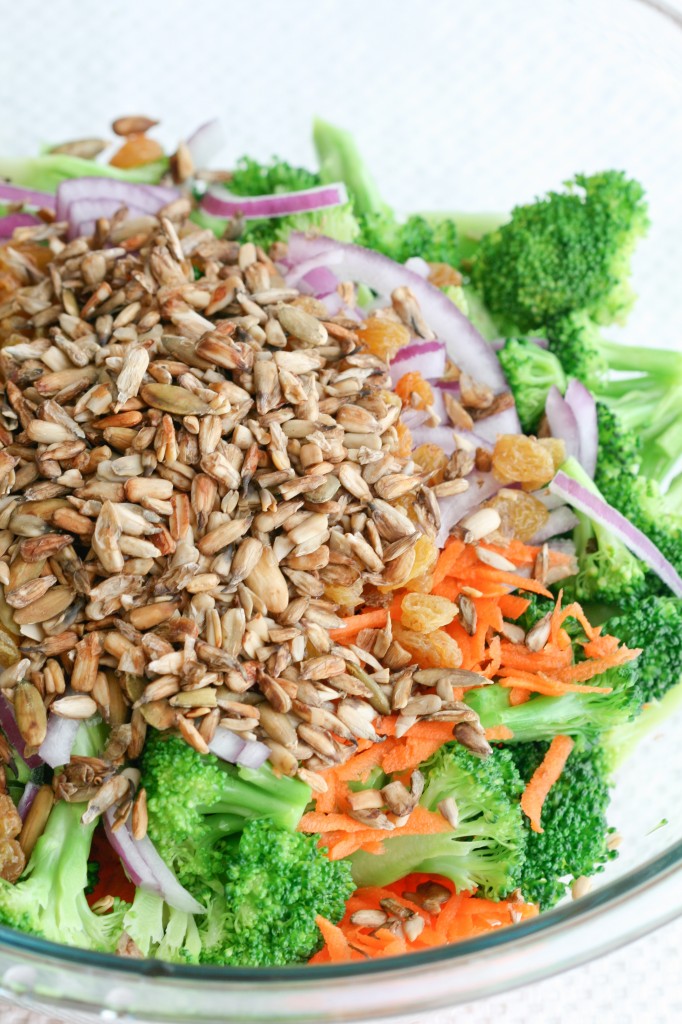 I enjoy the sweet, creamy, crunchy bits, smoky bacon and the sharp bite from the red onions. I think I could eat the whole bowl if given the opportunity. It's hefty enough to eat alone for dinner. Years ago, I'd open up a jar of Hellman's, but now I prefer to make my own mayonnaise. Homemade mayo requires 5 ingredients, takes minutes to prepare, and tastes so much better. I love this recipe (you should probably bookmark it!). Mix up some of that mayo with a little honey and apple cider vinegar for an unprocessed dressing to pour over all the goodies in this salad.
Broccoli Salad with Bacon and Raisins
The raisins are plumped in this recipe to bring more flavor to the dish. I prefer to eat this salad chilled, but not severely cold. I usually let it sit out for about 15 minutes before serving.
Adapted from Cookin' with Louisiana Baptists.
Ingredients
1/2 red onion, thinly sliced
1/2 cup raisins
1/4 cup orange juice
1 large head broccoli, cut into bite-size pieces
6 pieces bacon, cut into small pieces
1 cup mayonnaise ( click here for a homemade mayo recipe)
2 tablespoons honey (I prefer clover)
1 tablespoon cider vinegar
1 cup shredded carrots
1 cup dehydrated sunflower seeds or pumpkin seeds (I used a combination of both)
Celtic sea salt
Instructions
Place onion in a small bowl and cover with cold water. Set aside. Place raisins and orange juice in a small pot and bring to a simmer. Turn off heat and let sit for 5 minutes. Drain.
Bring a large pot of water to boil. Add broccoli and cook for about 2 minutes until bright green. Drain and rinse with cold water.
In now-empty pot, cook bacon over medium heat until crispy. Remove bacon from pot and cool.
Whisk mayonnaise, honey and vinegar in a small bowl. Drain the onions. Place onions, carrots, seeds, broccoli, bacon and raisins in a large salad bowl. Top with mayo dressing and toss. Season to taste with sea salt.
7.8.1.2
3482
https://deliciouslyorganic.net/broccoli-salad-with-bacon-and-raisins/
Copyright 2016 Deliciously Organic