Chicken Parmesan is a classic dish and I've upgraded the ingredients with zucchini noodles so they are all grain-free!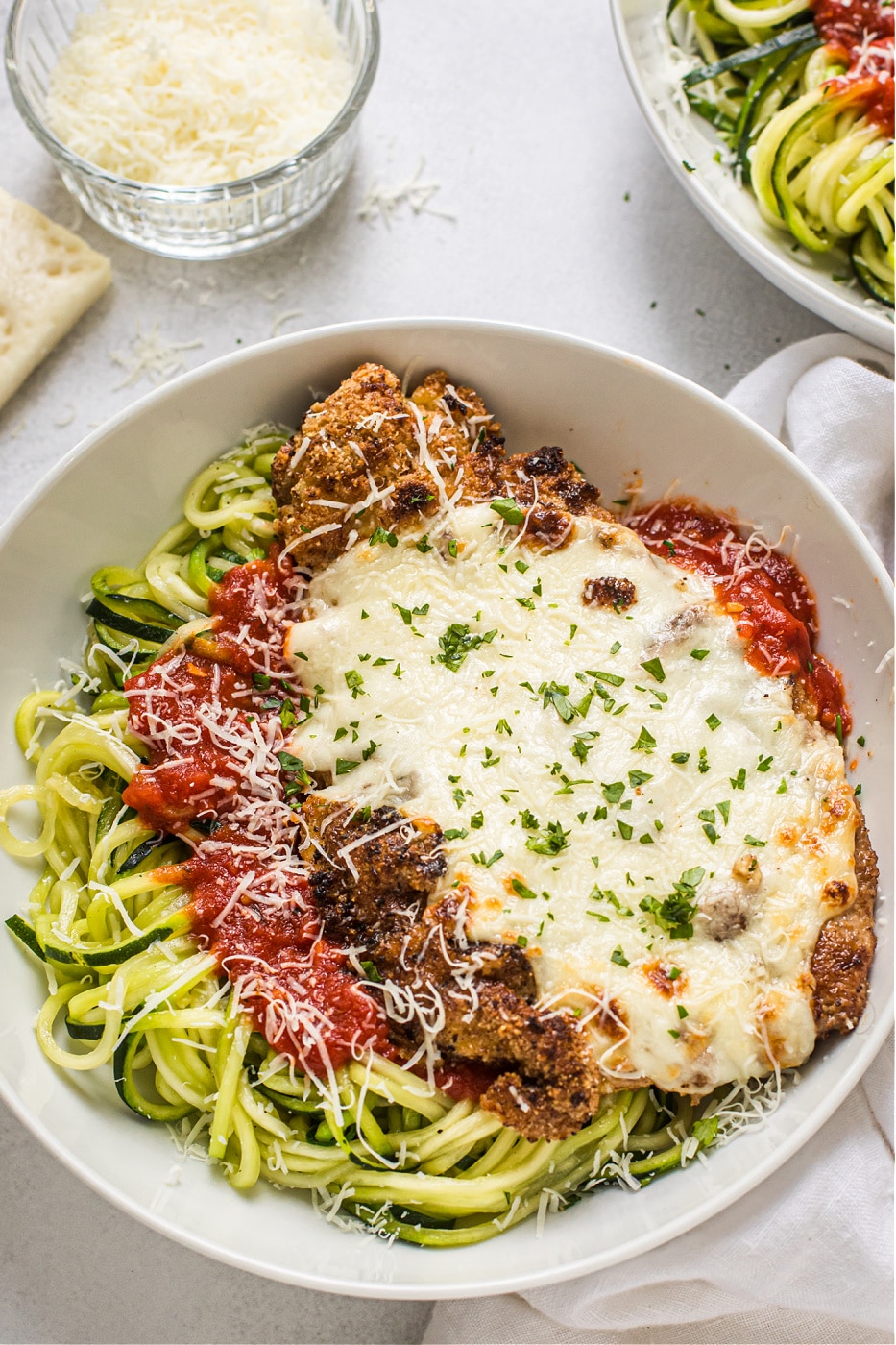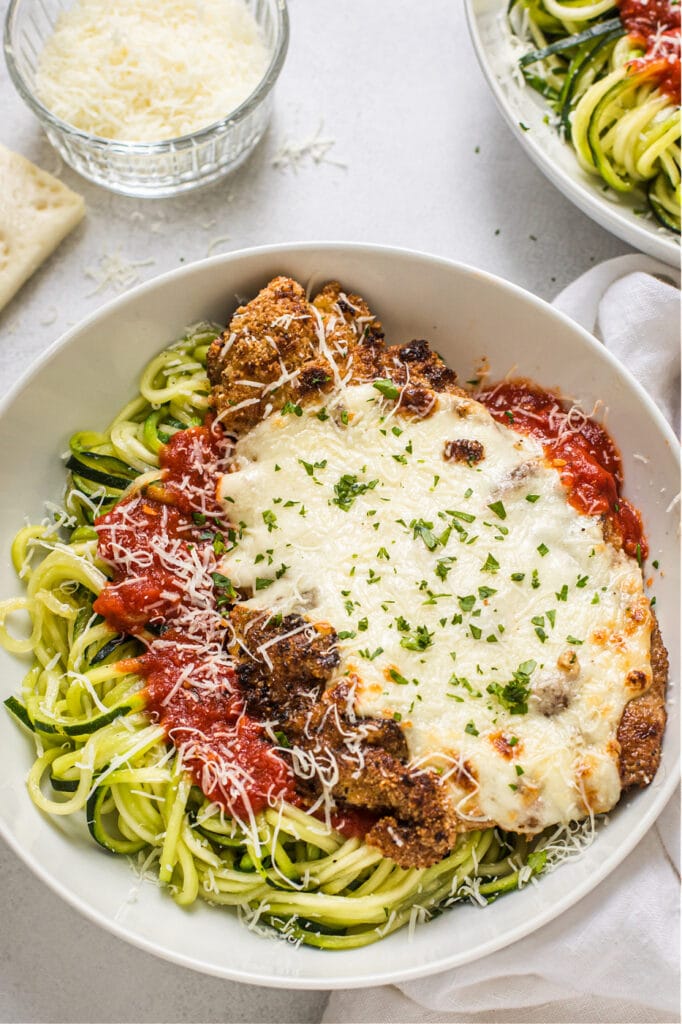 The chicken is pounded thin, dredged in almond flour and eggs, fried in ghee, and topped with a bit of parmesan cheese.
Did you know that Parmigiano Reggiano is a great source of tyrosine? Tyrosine is needed so the thyroid can make thyroid hormones. So, go ahead and sprinkle it on top of your salads, meats, vegetables, and soups!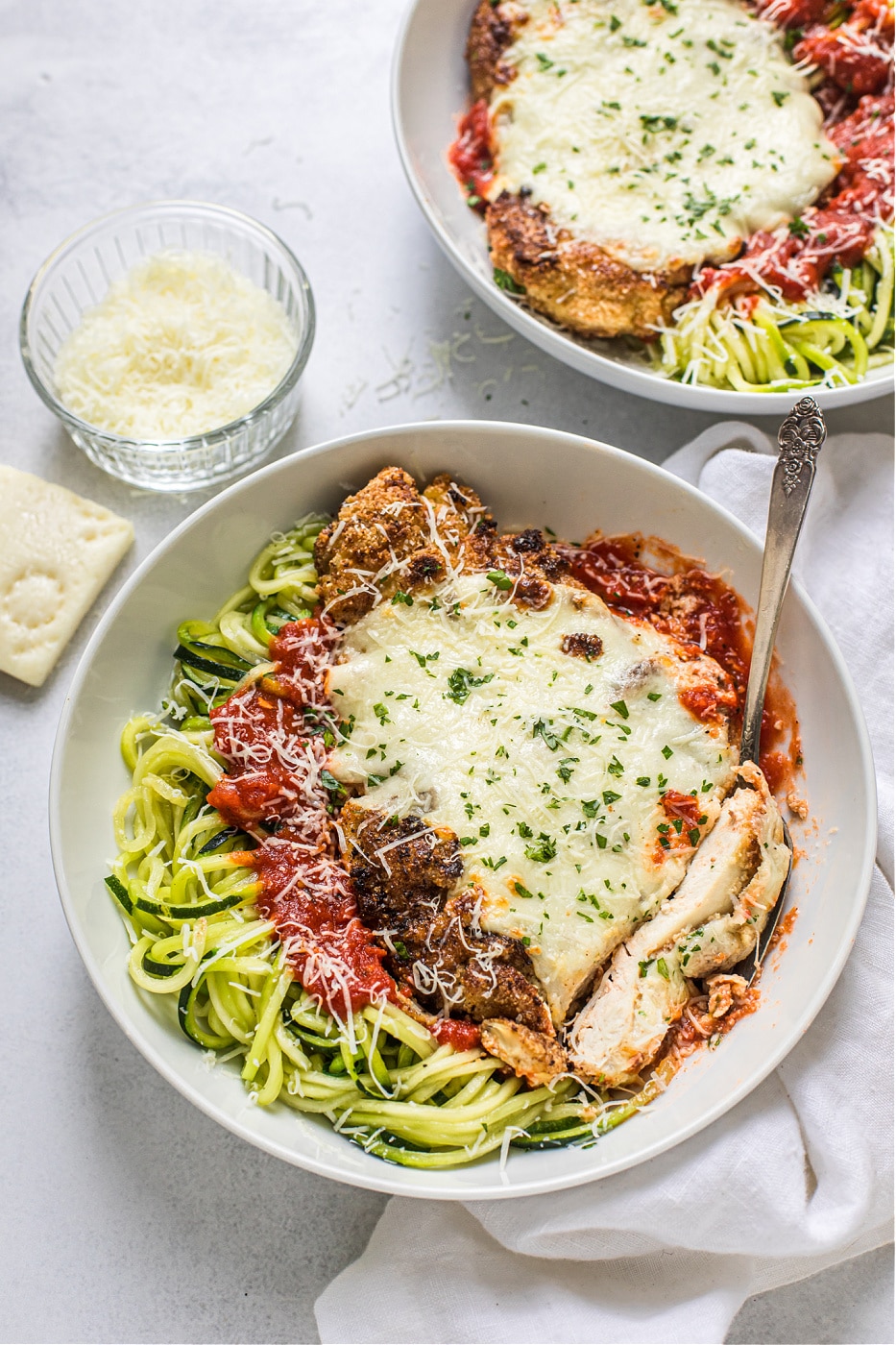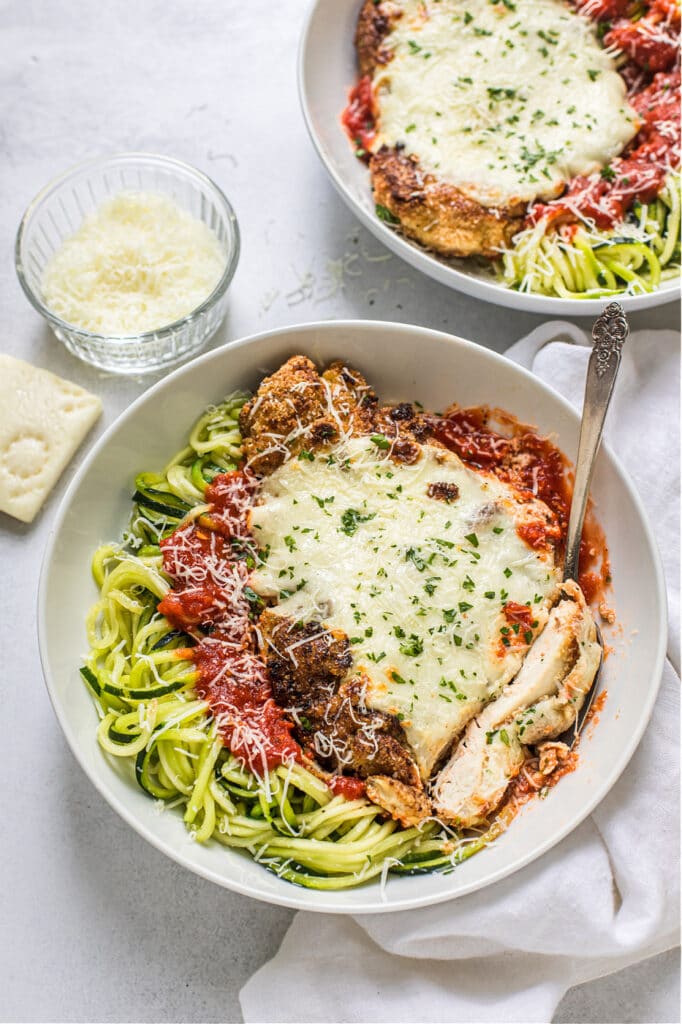 You can serve the chicken alone, with a salad, or with some zucchini noodles. I used this vegetable slicer to create the zucchini noodles.
Print
Chicken Parmesan with Zucchini Noodles (Grain Free, Paleo, Primal, Gaps, Gluten Free)
I prefer to use ghee in place of olive oil in this dish because ghee has a higher smoking point. This way I know the oil won't burn and oxidize while I'm cooking. You will have leftover spaghetti sauce. You can store it in the freezer for later use.
For the Noodles:
2

pounds zucchini, cut into noodles using a noodle slicer

1/2 teaspoon

Celtic sea salt
For the Chicken:
4

boneless skinless chicken breasts, pounded (click here for a great how-to video)

1 cup

almond flour (if you are allergic to nuts, then use

1/3

arrowroot flour,

1/3

tapioca flour and

1/3

coconut flour)

2

large eggs, beaten

2 tablespoons

ghee (click here for an easy homemade recipe)

1/2 cup

grated Pecorino Romano or Mozzarella (omit if Paleo) (I use Pecorino Romano in place of Parmesan because it's more economical and has a nice salty bite.)
For the Spaghetti Sauce:
1 tablespoon

extra-virgin olive oil

2

cloves garlic, minced

1

(24-ounce) jar crushed tomatoes (I prefer Eden Organic)

1/2 teaspoon

Celtic sea salt

1/2 teaspoon

dried Italian seasoning
Instructions
Place zucchini noodles in a colander and season with salt. Toss. Let sit for 20 minutes. Place a clean dish towel on the counter and pour zucchini on to towel. Fold towel over zucchini and gently press to dry noodles.
Preheat broiler to high. Season chicken with sea salt. Place flour in one flat-bottom dish and the eggs in another. Heat large skillet over medium heat for 2 minutes. Add ghee, melt, and swirl to coat. Dip chicken into the eggs, then the almond flour and place into the pan. Repeat with remaining chicken pieces. Cook, without moving, for 4 minutes until bottom is golden brown. Flip chicken and cook another 4-5 minutes until second side is golden brown. Remove and place on a cooling rack set over a large baking sheet (this keeps the crust from getting soggy). Place a piece of mozzarella (or some shredded Pecorino Romano) on each piece of chicken. Broil until melted.
Meanwhile, heat olive oil and garlic in a medium saucepan over medium heat. When garlic begins to sizzle, add tomatoes, salt and Italian seasoning (try to stand back a bit, as the sauce may splatter). Simmer on low for 10 minutes.
Wipe now-empty skillet with paper towels and pour 2 tablespoons olive oil in pan and heat over medium heat. Add zucchini noodles and using a pair of tongs, toss, until hot, about 2 minutes.
Serve chicken with marinara and zucchini noodles.