Recently I shared my Quick Chocolate Pudding and many of you asked for a vanilla-flavored version. As I was testing a vanilla pudding, I decided to take it one step further and make a Chocolate Eclair Icebox Dessert. Have you ever tried this heavenly concoction? Sweet vanilla pudding folded with whipped cream, layered with graham crackers, and topped with chocolate – it's a hit with kids and adults alike.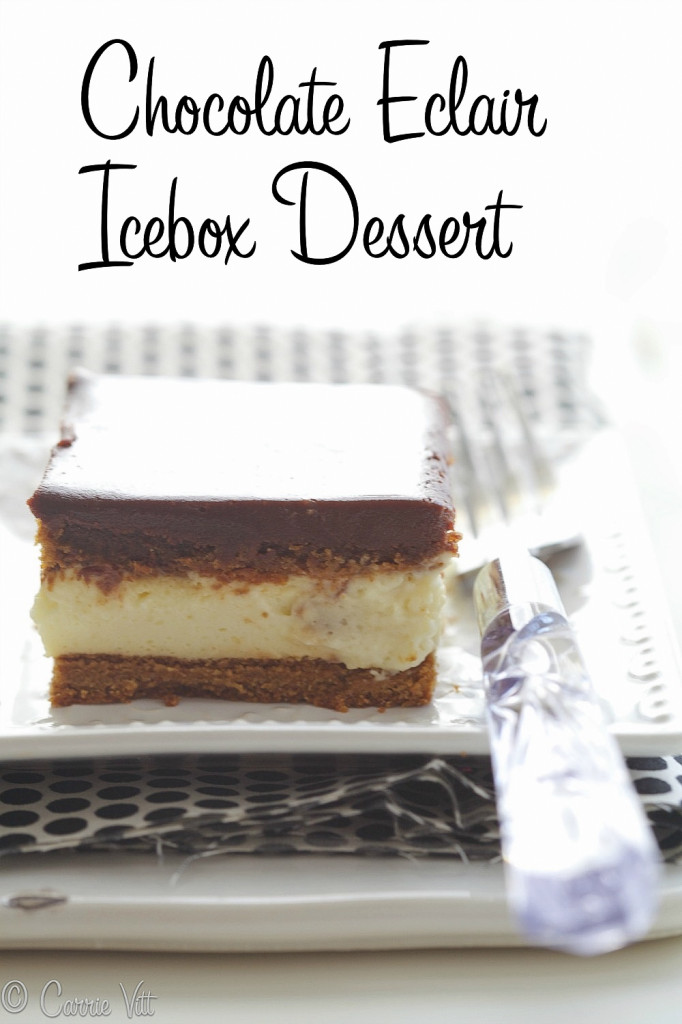 You can make the graham crackers and pudding ahead of time for quicker assembly. For a fun snack, try the pudding or crackers alone.
Print
Chocolate Eclair Icebox Dessert
The recipe only uses half of the vanilla pudding, so save the other half for later eating. I tested this recipe without the gelatin and found it is essential to this recipe (Without the gelatin, I ended up with a pool of pudding in-between the crackers).
Prep Time:

35 minutes

Cook Time:

1 hour 10 minutes

Total Time:

5 hours 55 minutes

Category:

Dessert

Diet:

Gluten Free
For the Graham Crackers:
For the Pudding:
1/4

cup

plus

2

tablespoons

honey, divided

1 1/2

cups

milk (or coconut milk)

1/2

cup

cream (or coconut milk)

1/8 teaspoon

Celtic sea salt

4

large egg yolks

3 tablespoons

arrowroot powder

2 teaspoons

vanilla extract

3 tablespoons

unsalted butter or ghee
For the Whipped Cream:
For the Chocolate Topping:
1/3

cup

cocoa powder

1/4

cup

whole milk

1/3

cup

honey

8 tablespoons

unsalted butter or

5 tablespoons

ghee

2 teaspoons

vanilla extract
Instructions
For the pudding:
Whisk together 1/4 cup honey, milk, cream and sea salt in a medium saucepan over medium heat. While the mixture is coming to a simmer, whisk together the egg yolks, arrowroot and remaining 2 tablespoons honey in a small mixing bowl until pale and creamy, about 30 seconds. Using a ladle, spoon a small amount of the hot milk into the egg yolk mixture while constantly whisking (we don't want scrambled eggs!). Then, slowly pour the egg mixture into the hot milk mixture while whisking constantly. Continue to whisk for about 8-10 minutes until mixture is very thick (like a pudding). Remove from heat and stir in vanilla and butter. Pour into a bowl and set a piece of parchment paper on top of the pudding (so it touches the pudding) and chill in the fridge until cold, about 4 hours.
Place gelatin and water in a small saucepan and heat until just dissolved. Set aside to cool for a few minutes. Pour the cream into a mixing bowl and begin to whisk on medium speed. Slowly pour the gelatin mixture into the cream and then whip to soft peaks. Pour half of the pudding into the whipped cream mixture and fold until incorporated. Fold in the rest of the pudding into the whipped cream mixture.
For the topping:
Place cocoa, milk and honey in a medium saucepan and heat over medium-high, whisking constantly. Bring to a boil for 1 minute, still whisking. Remove from the heat and stir in butter and vanilla. Stir until butter is melted. Cool for 10 minutes.
To Assemble:
Place half of the crackers on the bottom of an 8 x 8-inch dish in a single layer. Pour the pudding mixture over top, spreading evenly. Place the remaining crackers in a single layer on top of the pudding. Pour chocolate topping over the top layer of graham crackers. Refrigerate overnight. Cut into squares and serve cold.
Keywords: chocolate eclair icebox dessert