Coconut Panna Cotta is a simple, slightly sweet and creamy dessert that is a great way to get some extra gelatin in your diet.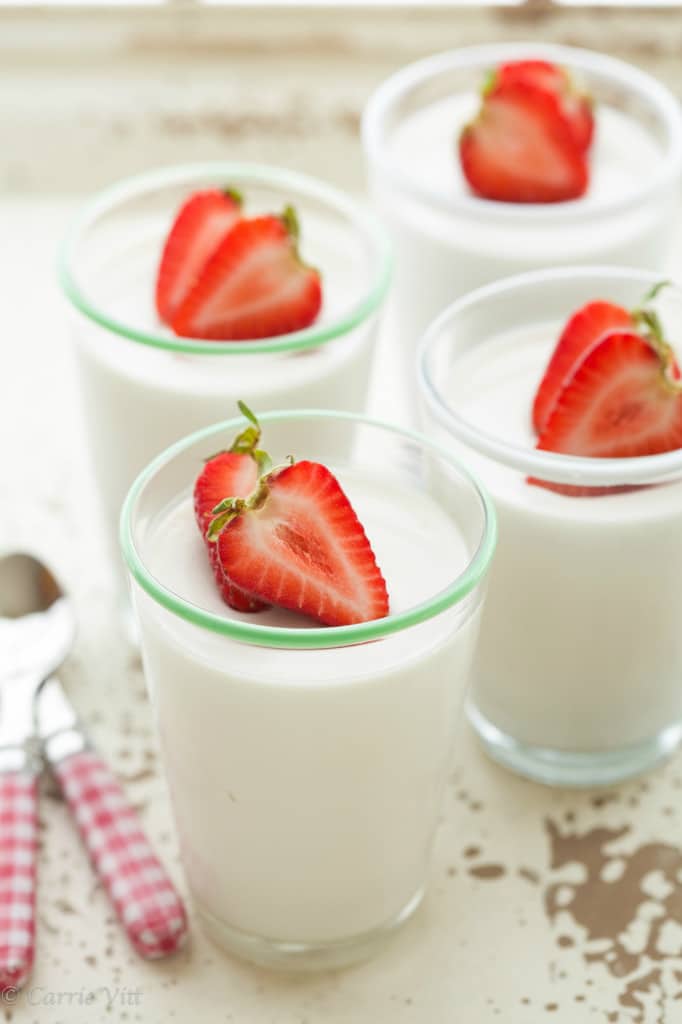 If you're looking for a natural alternative to protein powder, gelatin is a great option. It contains between 6-12 grams of protein per tablespoon, helps aid in digestion, and can contribute to the building of strong cartilage and bones. Gelatin has also been shown to benefit the digestive tract, immune system, heart, liver, muscles, and skin. It also helps aid in detoxification.
One of the best ways to consume gelatin is in homemade chicken stock. If you're looking to increase the amount of gelatin in your diet, you can add granulated gelatin to soups, stews, puddings, baked goods, etc. I like to use it in grain-free baked goods because it acts as a binder and I also add it to smoothies for the nutritional benefits.
Not all gelatin is created equal, so it's important to purchase from a good source. Bernard Jensen and Great Lakes gelatins both come from grass-fed animals and do not contain any MSG (most other brands of gelatin do contain MSG). Now, it might sound like a processed food, but it's basically the same as if you made a pot of chicken stock, moved the gelatin from the liquid and let it dry.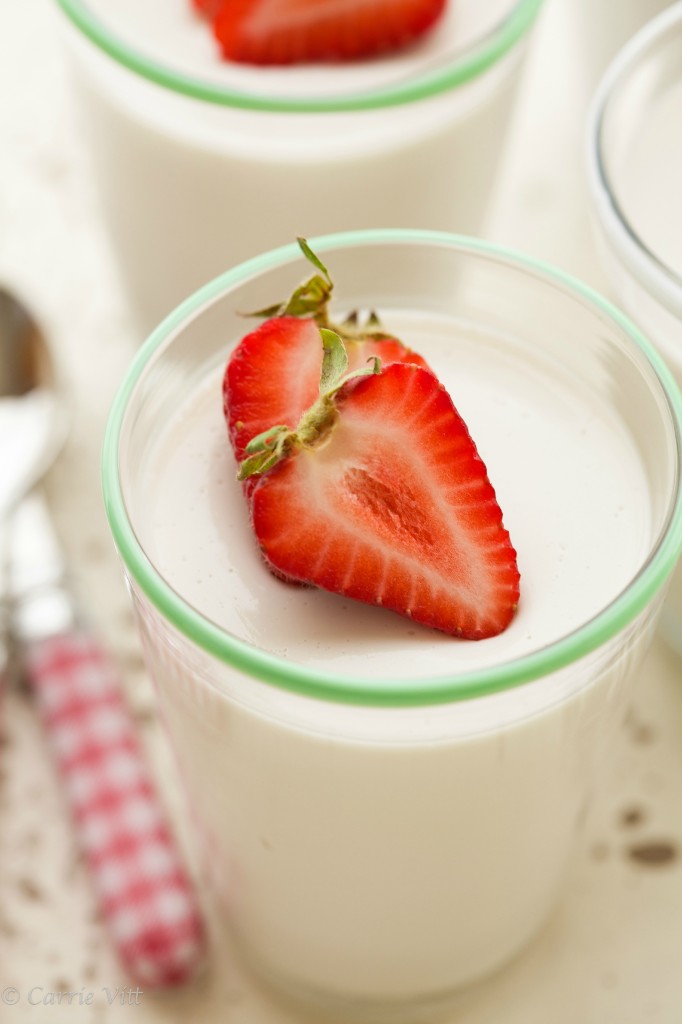 I adapted this Panna Cotta recipe from my first cookbook Deliciously Organic. The original version uses milk and cream, so for a dairy-free version, I substituted with coconut milk. It's a popular "girly" dessert (great for bridal or baby showers) because it's smooth, creamy, and not too sweet. Top with seasonal berries, and you have the perfect light dessert.

Print
Coconut Panna Cotta (Dairy Free, Gaps, Paleo, Grain-Free)
Prep Time:

5 minutes

Cook Time:

10 minutes

Total Time:

5 hours 35 minutes

Category:

Dessert

Diet:

Gluten Free
Instructions
Pour 1 cup coconut milk into a medium saucepan and sprinkle evenly with the gelatin. Let the milk sit for 5-10 minutes to allow the gelatin to soften.
Heat the milk and gelatin over medium heat, stirring constantly, until gelatin is dissolved and milk begins to steam. Stir the remaining coconut milk and honey into the warm milk and whisk until all the ingredients are dissolved. Remove the pan from the heat and stir in the vanilla. Let the mixture cool for 10 minutes.
Divide the coconut milk mixture evenly among 6 glasses or small bowls. Cover panna cottas tightly with plastic wrap, making sure the plastic wrap does not touch the cream's surface. Refrigerate for about 5 hours, until cold and set. When you are ready to serve, top with seasonal berries.
Keywords: coconut panna cotta