Pumpkin Muffins with Chocolate Chips are a fun fall treat!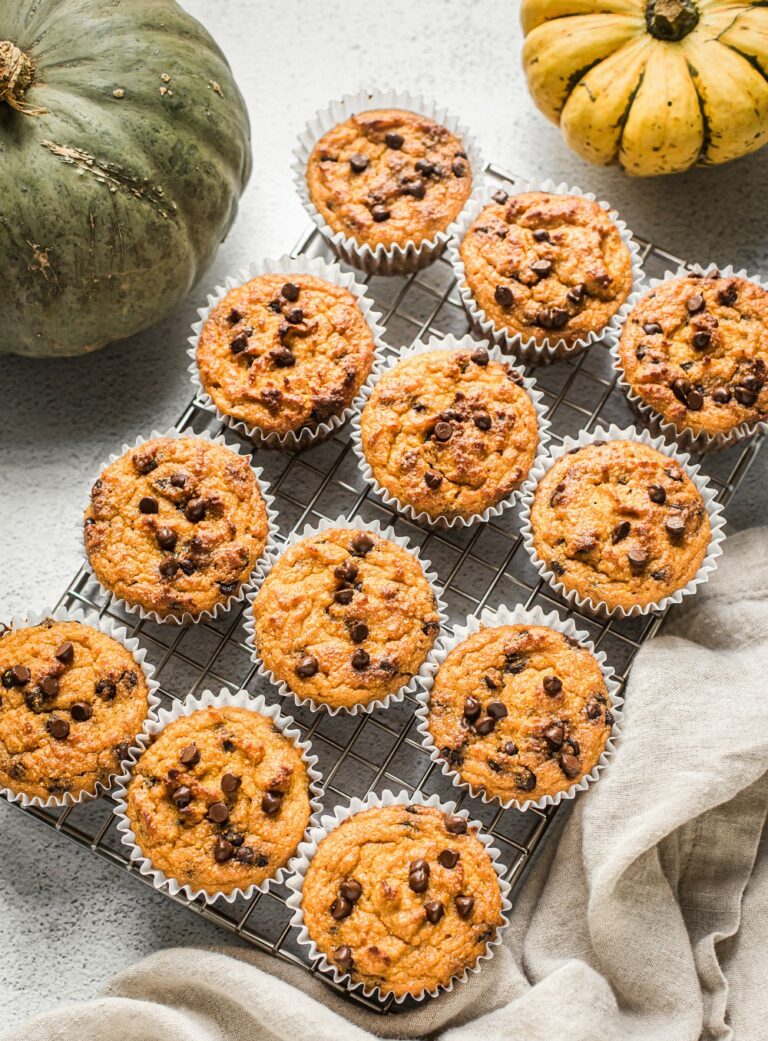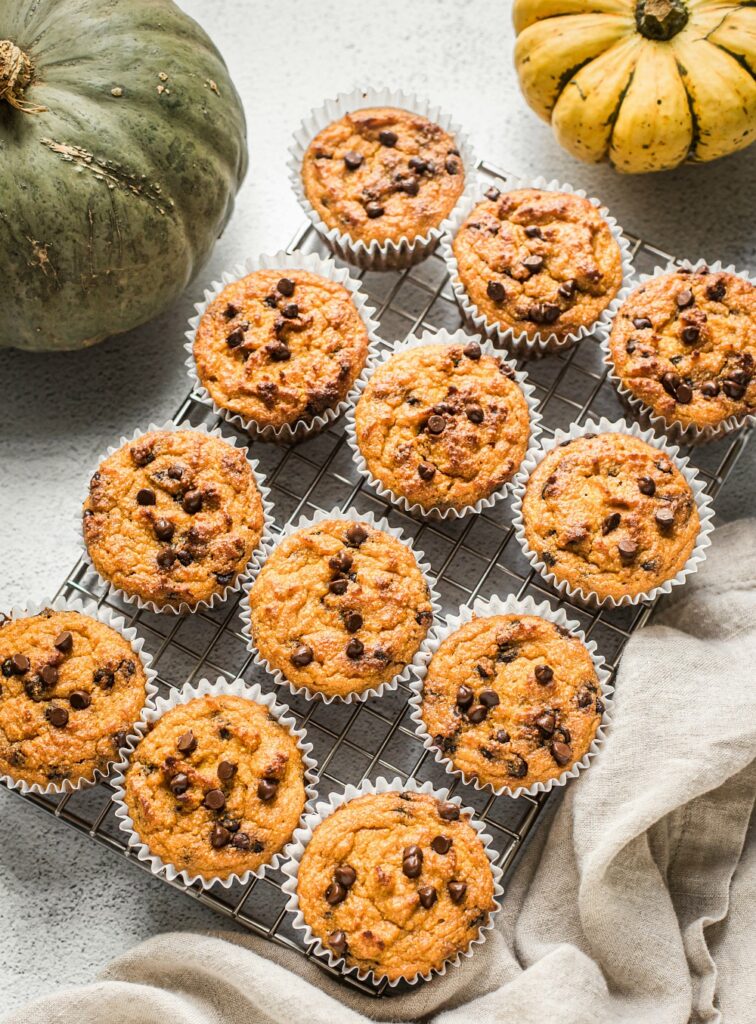 Coconut flour can be a bit tricky to bake with, so here are a few things you need to know:
1. Coconut flour soaks up an incredible amount of moisture (that's why most recipes, like this one, call for so many eggs) and can lead to a very doughy and tough baked good if there isn't enough moisture in the recipe.
2. Different brands of coconut flour lend different results in recipes. Some might be more tender, some more dry and some more dense. So, to keep the consistency the same in my recipes, I always use Bob's Red Mill coconut flour.
2. For most recipes, coconut flour works well with almond flour to bind the ingredients together. Using almond flour reduces the required number of eggs, too.
3. If you're baking with coconut flour and avoid coconut milk or coconut oil in the recipe. This way, your end product won't taste too "coconutty". Even if you're not a huge coconut fan, you might just enjoy the final result.
4. For a less dense muffin or cake, use a dry sweetener instead of a wet one. Instead of honey or maple syrup, reach for sucanat or maple sugar.
5. While it's a bit more expensive than other ingredients, you don't need much in each recipe. A little goes a long way.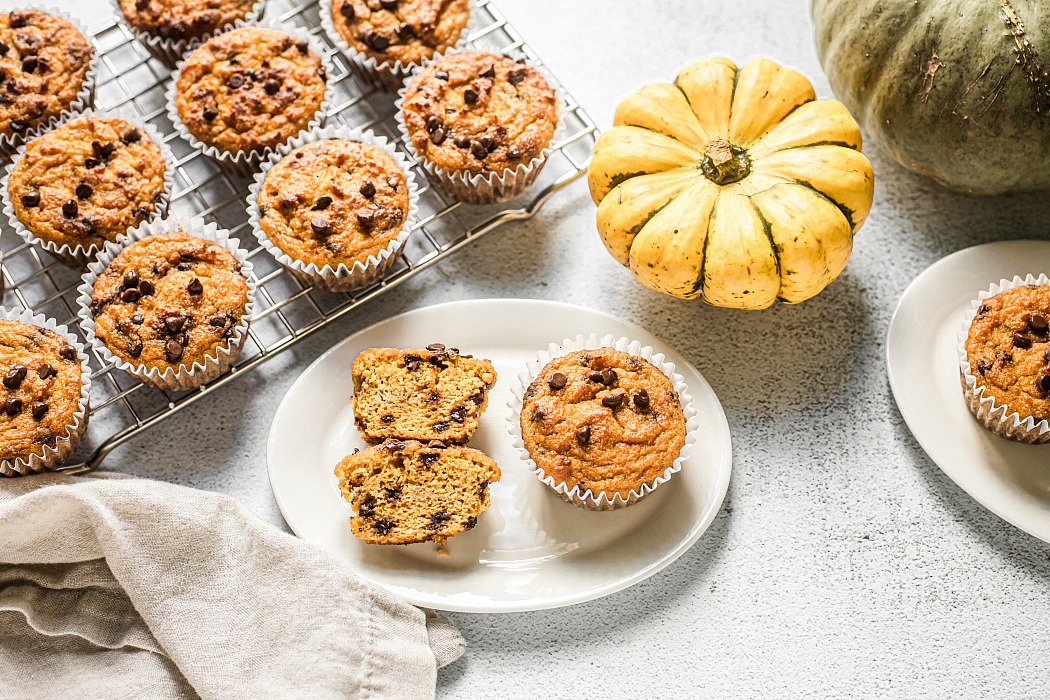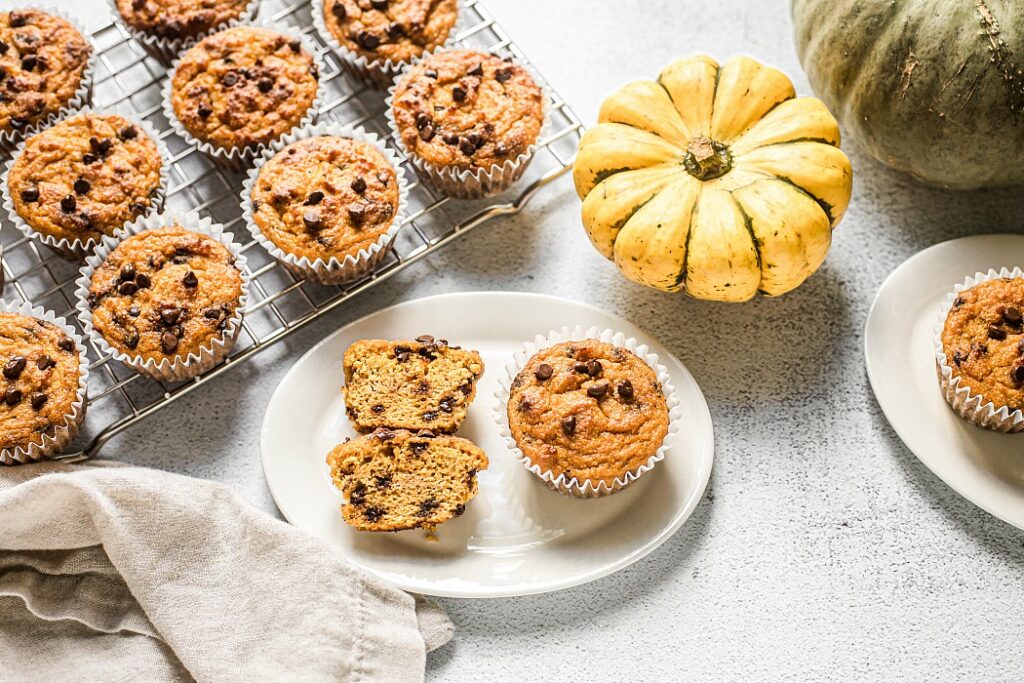 These grain-free pumpkin muffins are light with little bits of chocolate. They store at room temperature for several days (they are great for road trips or other travel!) and keep in the freezer for about 4 months.
Print
Pumpkin Muffins with Chocolate Chips (Grain Free, Paleo, Gluten Free)
I prefer to make my own baking powder to ensure that it's grain-free. Here's the recipe: 1 part baking soda + 1 part cream of tartar + 2 parts arrowroot. I make the baking powder in large batches and store it in a glass jar. You can leave the chocolate out of the recipe and substitute pecans, walnuts, or even blueberries.
Adapted from Organic Spark.
For the Batter:
6

large eggs

1/3

cup

heavy cream (or coconut milk for Paleo)

1/4

cup

plus

2

tablespoons

coconut sugar or maple sugar

1 teaspoon

vanilla extract

8 tablespoons

unsalted butter, melted (or coconut oil for dairy-free)

3/4

cup

coconut flour

2 teaspoons

grain-free baking powder (see above)

1 teaspoon

baking soda

3/4 teaspoon

Celtic sea salt

1

cup

cooked and pureed pumpkin

5

ounces

organic mini chocolate chips, or chopped bittersweet chocolate (I used Enjoy Life. Only 3 ingredients and no soy!)
Instructions
Preheat oven to 400 degrees F and adjust rack to middle position. Line muffin pan with muffin liners. Whisk eggs, cream (or coconut milk), coconut sugar, vanilla and butter in a large mixing bowl. Sift coconut flour, baking powder, baking soda, and salt over a medium mixing bowl. Add dry ingredients to wet and whisk until no lumps remain. Fold in pumpkin and chocolate. Spoon batter into muffin cups. Bake for 15 minutes, until golden brown on top. Cool. Store muffins in an airtight container for 3 days.
Nutrition
Serving Size:

Makes 24 regular muffins or about 36 mini muffins.
Photo Credit: Becky Winkler 
SaveSave