Who doesn't love a mocha frappe? Icy, chocolaty, a shot of espresso topped with whipped cream. As you know by now, I love to put an organic twist on the stuff we love to eat and drink but isn't always healthy for us. The frappes in coffee shops are delicious but often loaded with sugar, preservatives and unhealthy fats. Here I blend coffee with honey, freeze it into ice cubes, blend it with my chocolate sauce and milk, and top it with whipped cream. The result? Sweet, organic perfection in a glass.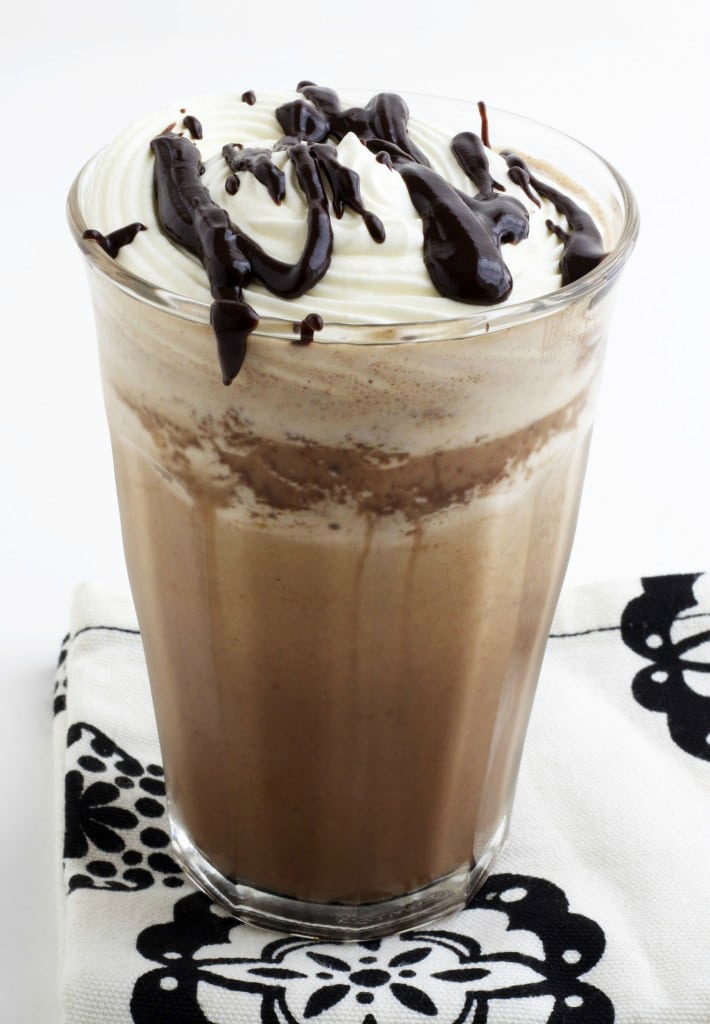 Homemade Mocha Frappe
Inspired by Food Network.
Ingredients
2 cups strong hot coffee (or an herbal coffee like Teeccino )
3 tablespoons raw honey

Chocolate Sauce:

1/2 cup unsalted butter
1/2 cup cacao powder
1/4 cup pure maple syrup
1 teaspoon vanilla extract
1 cup whole milk (or coconut milk)
1/2 cup heavy cream, whipped (you can substitute with whipped coconut milk using this method )
Instructions
Whisk the coffee and honey together in a measuring cup until the honey dissolves. Cool. Pour into a 16-cube ice cube tray and freeze until solid.
Melt butter over medium heat in a small saucepan. Remove from heat and cool 5 minutes or until cool to touch. Whisk in cacao powder, maple syrup, and vanilla until blended. Cool.
To make 2 frappes, place 8 coffee ice cubes, 1/2 cup milk, 1/2 cup chocolate sauce, and 1 cup plain ice in a blender and blend until smooth. Pour into 2 glasses and top with whipped cream. Repeat to make 2 more drinks. Drizzle with a little chocolate sauce before serving (optional).
7.8.1.2
3392
https://deliciouslyorganic.net/mocha-frappe-recipe/
Copyright 2016 Deliciously Organic