Mongolian beef is an easy weeknight dinner that's much more nutritious than take-out!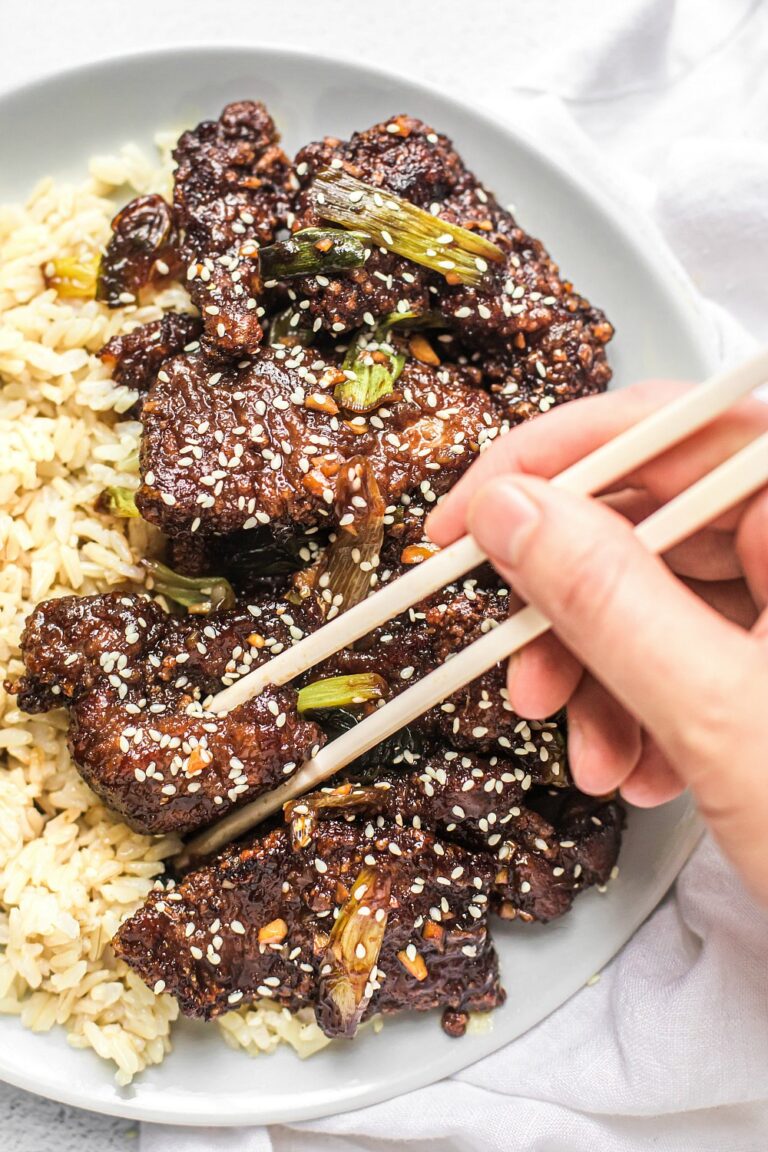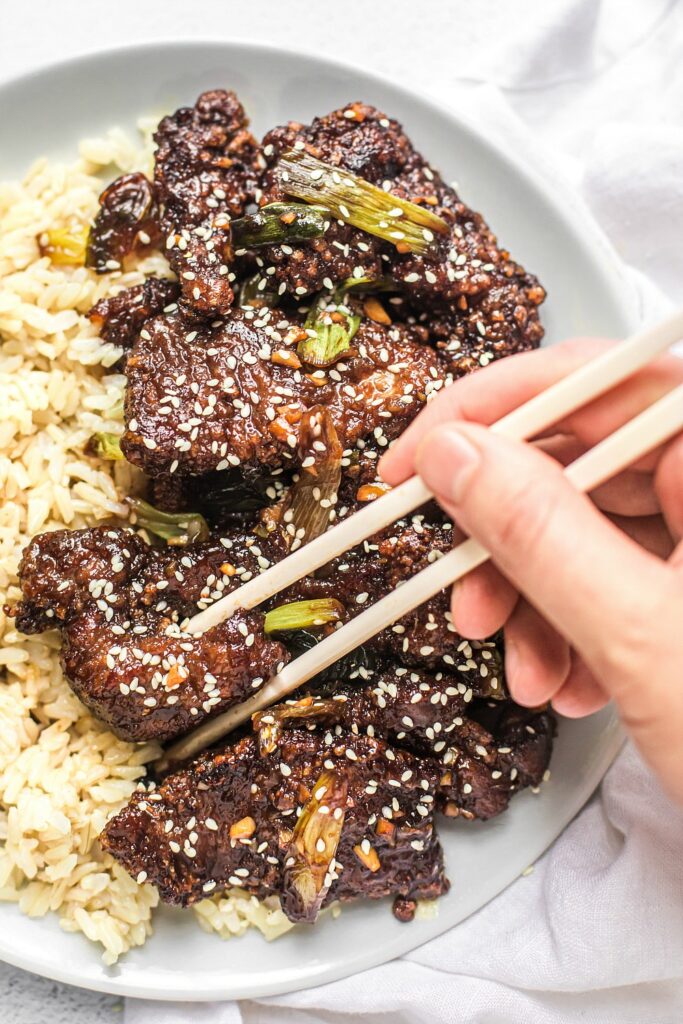 I used sirloin in this recipe, but you can swap it out with cuts such as ribeye, flatiron or T-bone. You can also add in extra vegetables like bell pepper, broccoli or thinly-sliced carrots.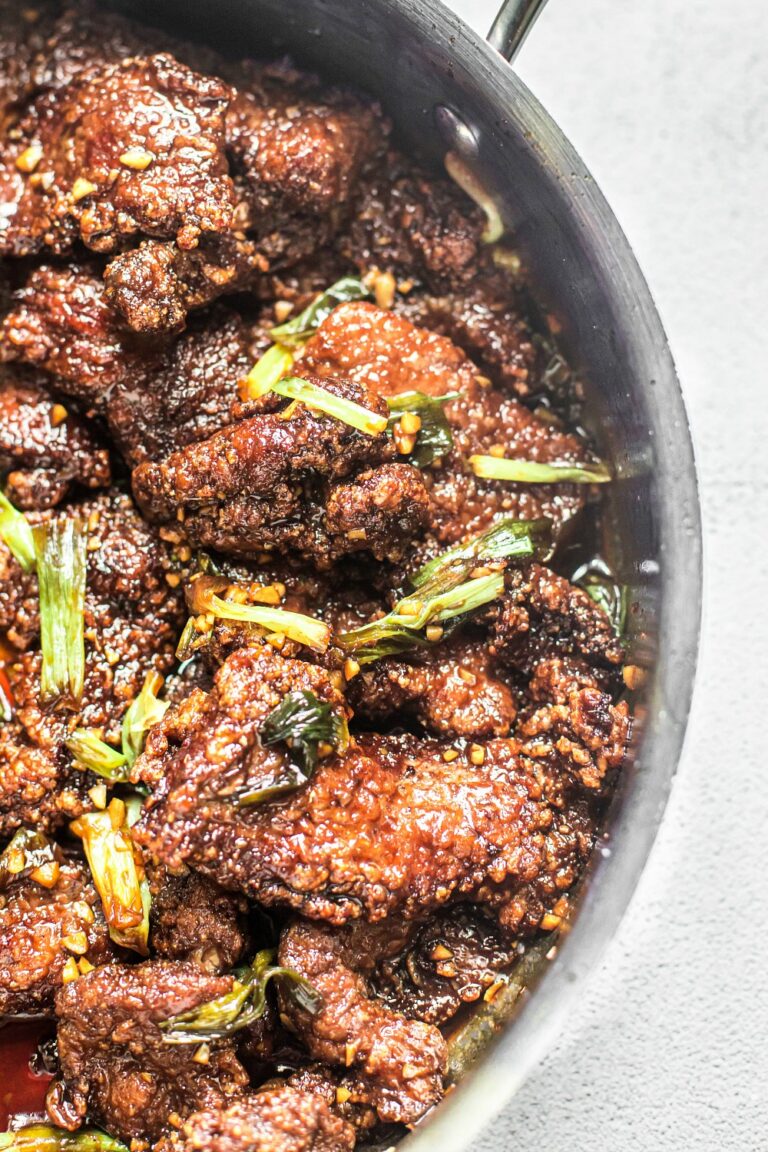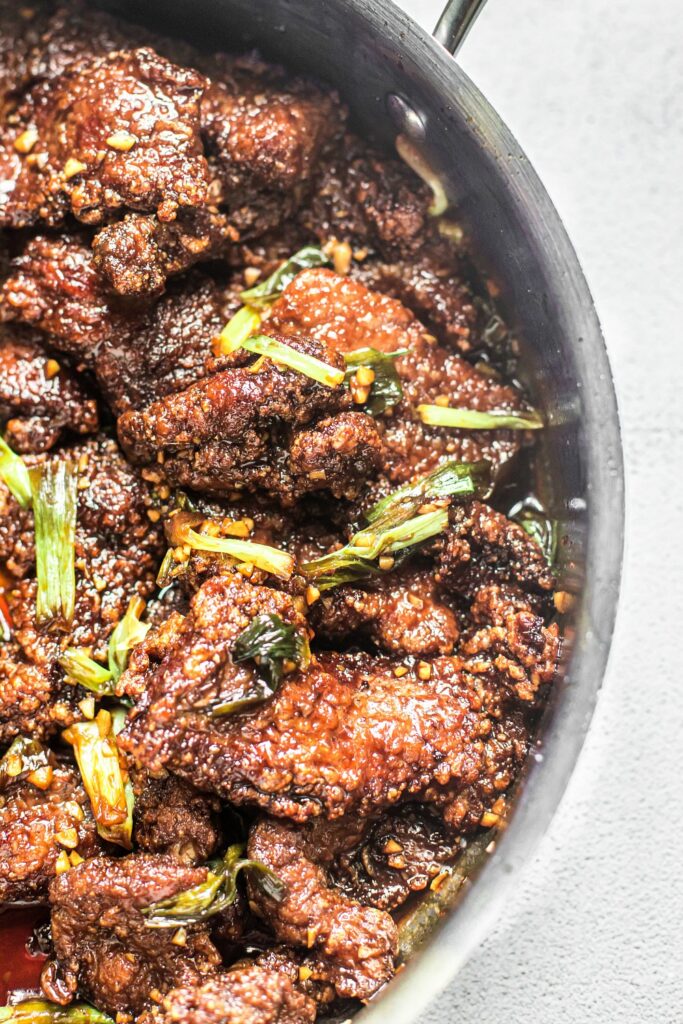 The Mongolian beef can be served with cauliflower "rice" or soaked brown rice. 
Here are some stir-fry recipes you might enjoy!
Chicken Stir-Fry
Pecan Chicken Stir-Fry
Beef and Broccoli
Orange Chicken Stir-Fry 
Print
Mongolian Beef (Grain-Free)
1 1/2

pounds sirloin, cut into 2 1/2" wide strips

1/2 cup

tapioca flour

2 cups

palm shortening or any other healthy fat or oil of your choice (for frying)

1

bunch green onions, chopped

4

cloves garlic, minced

1 tablespoon

fresh ginger, minced

3/4 cup

water

1/4 cup

brown sugar

6 tablespoons

fermented tamari or coconut aminos
Instructions
Toss the beef with the tapioca flour in a medium bowl and set aside.
Heat the palm shortening over medium-high heat in a Dutch oven or large pot until it gets to 375ºF. Add 1/3 of the beef and fry until browned and crispy, about 4 minutes. Using a slotted spoon, transfer the fried beef to a baking sheet lined with a cooling rack. Repeat with remaining beef.
Heat a 12-inch skillet over medium-high heat and add 1 tablespoon of the frying oil and swirl to coat. Add the green onions, garlic, and ginger and cook for about 1 minute, until fragrant. Stir in the water, brown sugar, and tamari and bring to a simmer. Cook until sauce is thick and reduced to about 1 1/4 cups, about 6 minutes.
Add the beef to the green onion mixture and stir until sauce coats the beef. Serve immediately with cauliflower rice or soaked and cooked brown rice.
Photo Credit: Becky Winkler