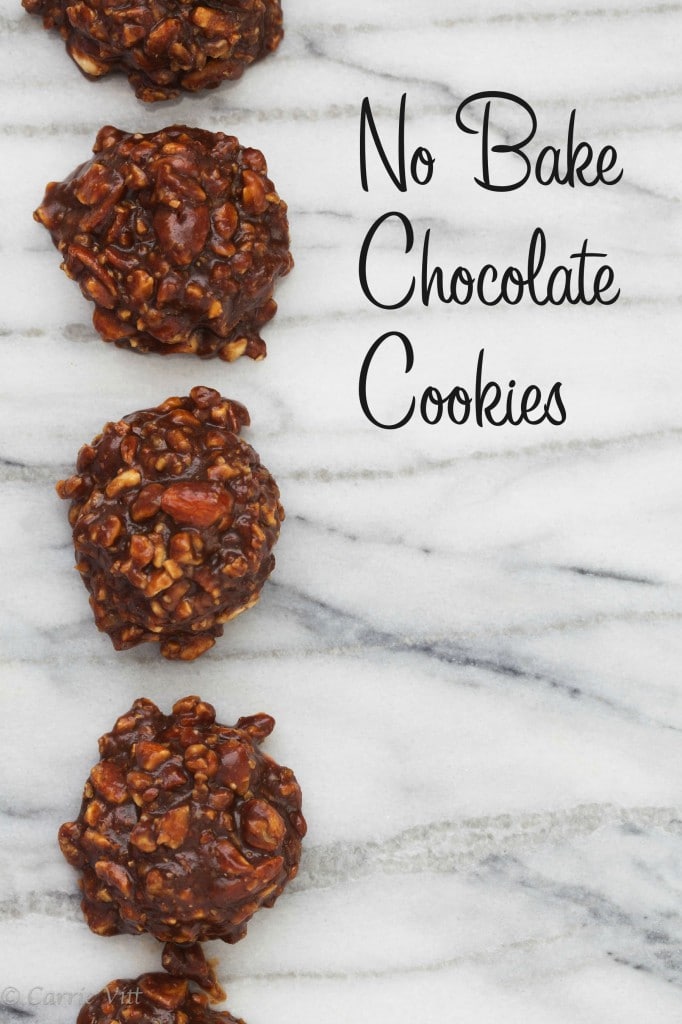 Boxes surround me, the pantry lies almost empty and we're nearly ready to hit the road. It will be an exciting and exhausting few weeks. I'm doing my best to stick with unprocessed, whole foods during this major transition. I have a cooler for the car – as we drive across the country my plan is to stop at grocery or health food stores along the way for quick breakfasts, lunches to eat in the car, and snacks. My usual purchases when I'm on the road include: raw cheese, nuts, seeds, kombucha, berries, raw vegetables, organic lunch meats, yogurts, hard boiled eggs (I can usually find these in the deli section), and dried fruits. It takes a bit of planning, but it's worth it. When the body is stressed, it's a good idea to keep it fueled with nourishing foods.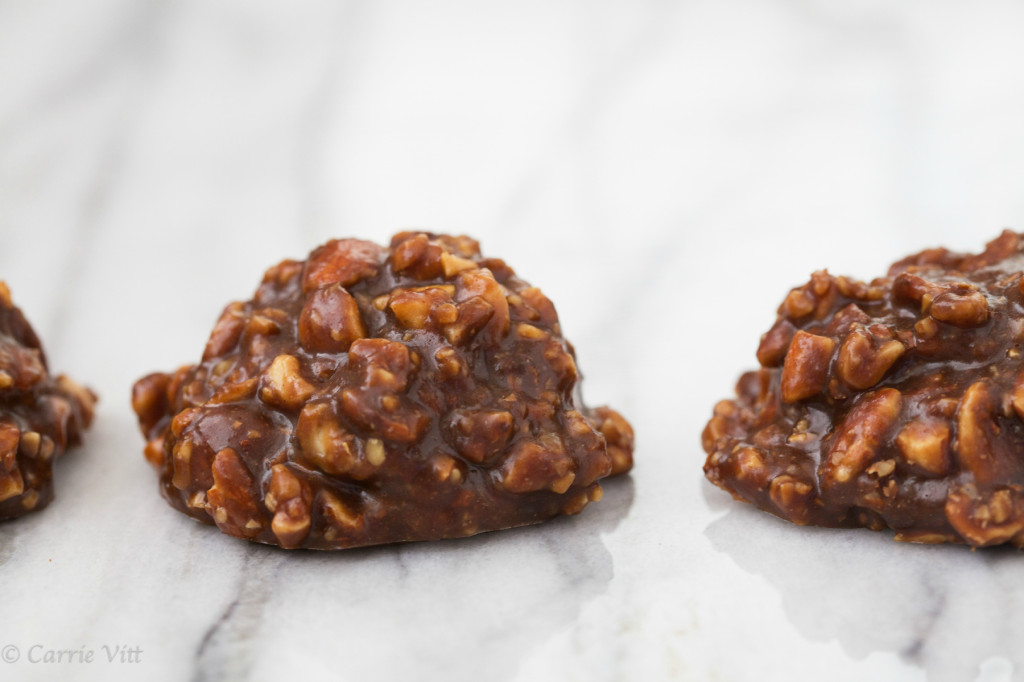 As I was cleaning out the last foods from the pantry and refrigerator this weekend, I whipped up a batch of these no-bake cookies for the kids. They only take a few minutes to prepare and then you just pop them in the fridge until they're chilled.
No Bake Cookies (Paleo, Grain-Free, Gluten-Free, Dairy-Free)
If you have nut allergies, you can replace the nuts with any combination of dry foods you'd like.
Ingredients
For the cookies:

1/2 cup coconut sugar
3 tablespoons cocoa powder
8 tablespoons unsalted butter or coconut oil
1/2 cup coconut milk
1/2 cup peanut or almond butter (use almond butter for Paleo)
1/8 teaspoon Celtic sea salt
1 tablespoon vanilla extract
1 cup unsweetened flaked coconut
2 cups chopped nuts (pecans, almond, cashews, etc.)
Instructions
Place the sugar, cacao powder, butter, and milk in a medium sauce pan over medium heat. Cook until butter is melted and mixture begins to boil (do not boil for more than one minute), stirring frequently. Whisk in nut butter, sea salt and vanilla. Place flaked coconut and nuts in a large mixing bowl, pour chocolate mixture over and stir until combined. Using a 2-inch cookie scoop, scoop cookies onto a baking sheet lined with parchment paper. Chill in the fridge 2 hours until firm.
7.8.1.2
3338
https://deliciouslyorganic.net/no-bake-cookies-chocolate-paleo-grain-free-gluten-free-dairy-free/
Copyright 2016 Deliciously Organic