I had a small dilemma in my kitchen for the last year. Pavlova is my absolute favorite dessert, and I've wanted to bring you a recipe with less-processed ingredients. I've tested pavlova recipes using sweeteners like raw honey, maple syrup, coconut sugar, etc., but no matter what I tried, I couldn't get a pavlova with the same crispy exterior texture as one made with granulated cane sugar!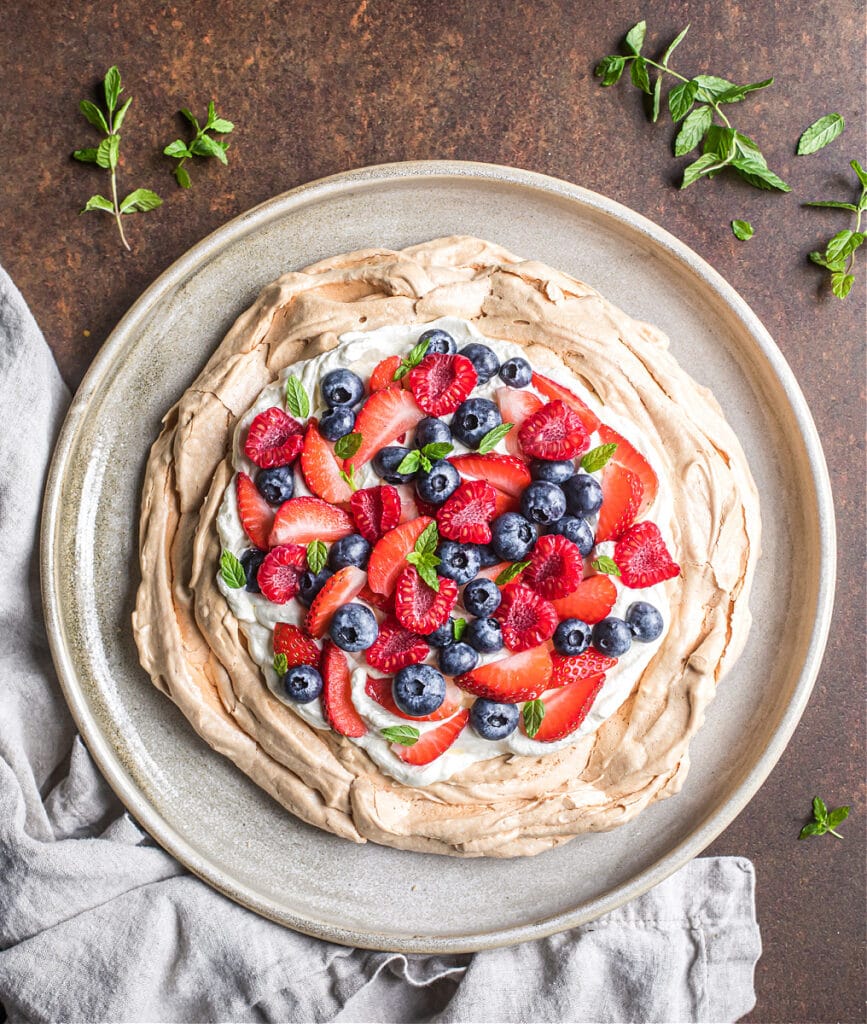 I'm not perfect, and I don't want to give the impression that I think I am. Even though I use organic, nutrient-dense ingredients when I cook at home, I sometimes enjoy a glass of wine, french fries, or some ice cream made at an ice cream parlor. In this case, I've decided that a pavlova simply needs organic cane sugar.
The good news is, I was able to swap out the cornstarch with arrowroot and reduce the sugar significantly without it affecting the end product. Most pavlova recipes call for 1 – 1 1/2 cups of sugar, but I reduced it to 1/2 cup. This ends up equaling about 2 1/2 teaspoons of sugar per serving. For most people, that's not too bad for a special occasion dessert!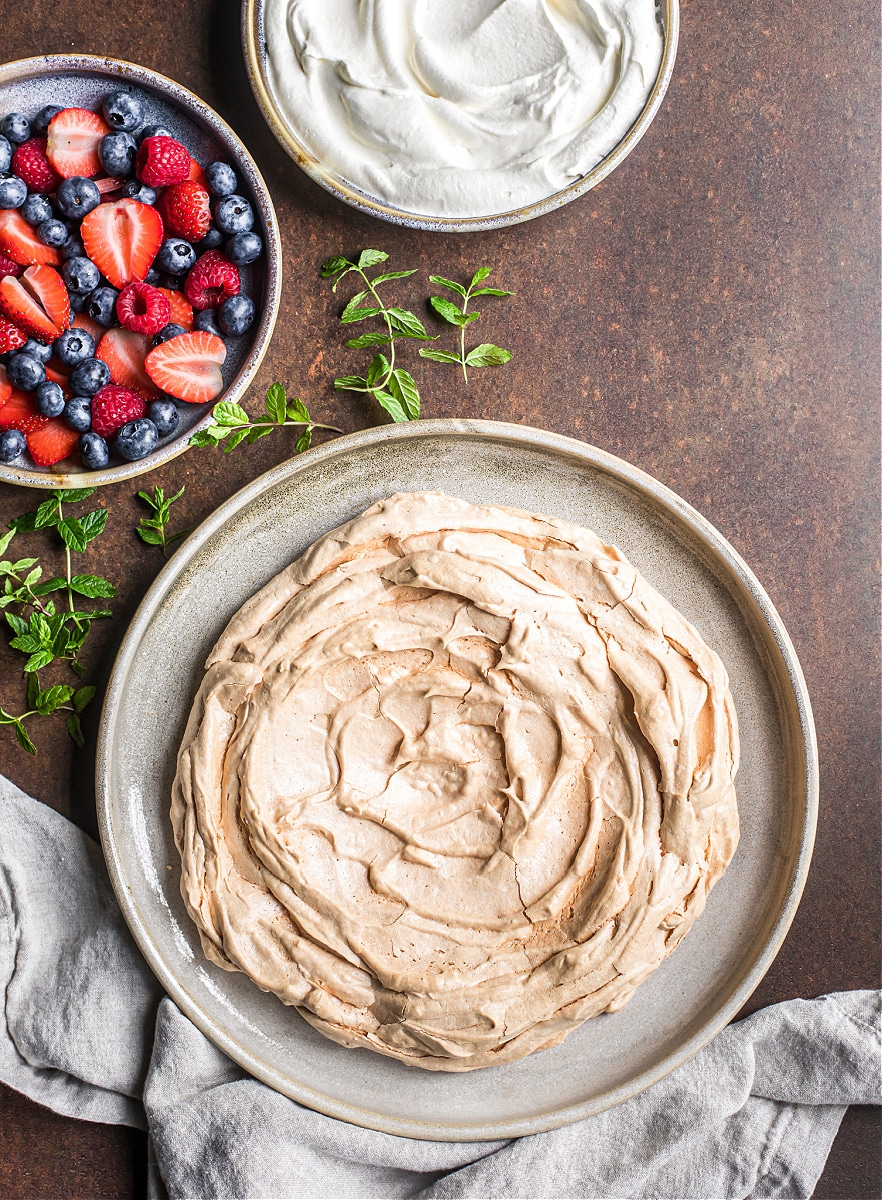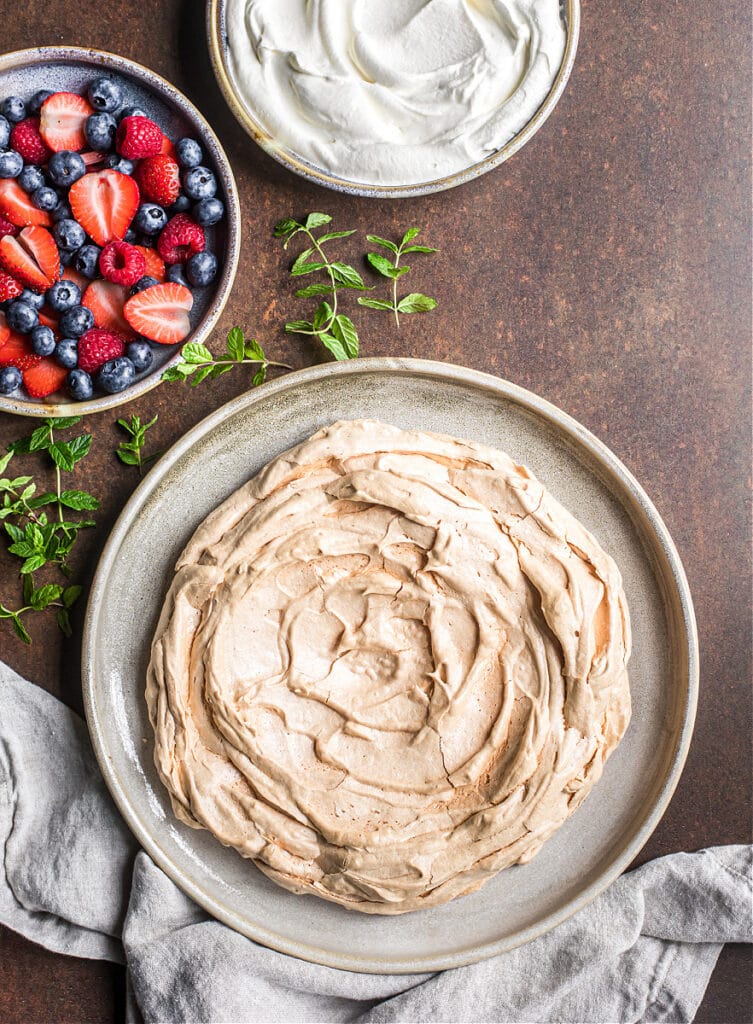 So, here's a recipe using a bit of non-GMO cane sugar. Call it a "last resort" – it's not really the end of the world – but I think it's ok to whip this pavlova out for a special occasion…like Mother's Day!
Also, I used raw cream, but feel free to swap it out for some whipped coconut cream. And feel free to use any berries you like or to top it off with a few mint leaves for the finishing touch.
Here are some other fun recipes for Mother's Day!
Roasted Carrots with Yogurt-Parsley Sauce
Squash Fritters
Breakfast Frittata
Angel Food Cake with Berries
Pavlova Recipe
The pavlova is best if it's served the day it's baked. The picture of the pavlova I included is one where I used maple sugar instead of cane sugar, hence the darker color. As mentioned in the post, if you use a sweetener such as maple sugar, coconut sugar, honey, maple syrup, etc. you'll need to expect that the meringue won't have as crisp of an exterior.
Ingredients
4 egg whites, room temperature
1/2 cup organic cane sugar (you can substitute with maple sugar or coconut sugar, but please make sure to read the post above before deciding which sweetener to use)
2 teaspoons arrowroot flour
1 teaspoon vanilla extract
1 teaspoon apple cider vinegar
Instructions
Preheat the oven to 350 degrees F and adjust the rack to the middle position.
Place the eggs in the bowl of a standing mixer. Using the whisk attachment, Whip the egg whites until firm (but not stiff) peaks form. Stir together the cane sugar and arrowroot in a small bowl.
With the mixer on medium-high speed, slowly add the sugar and arrowroot 1 tablespoon at a time. Add the vanilla and apple cider and whisk for an additional 20 seconds.
Pour the meringue mixture onto a baking sheet lined with parchment paper. Spread the mixture out to make an 8-9" disk. Place the meringue into the oven and immediately turn the heat down to 300 degrees F. Bake for 70 minutes (do not open the oven while baking), then prop the door open and let the meringue cool completely.
Top the meringue with whipped cream and berries. Serve immediately.
7.8.1.2
3913
https://deliciouslyorganic.net/pavlova-recipe/
Copyright 2016 Deliciously Organic