Salisbury steak is a comforting weeknight recipe. The steak rounds are smothered in an onion and mushroom sauce to make this an easy and flavorful meal!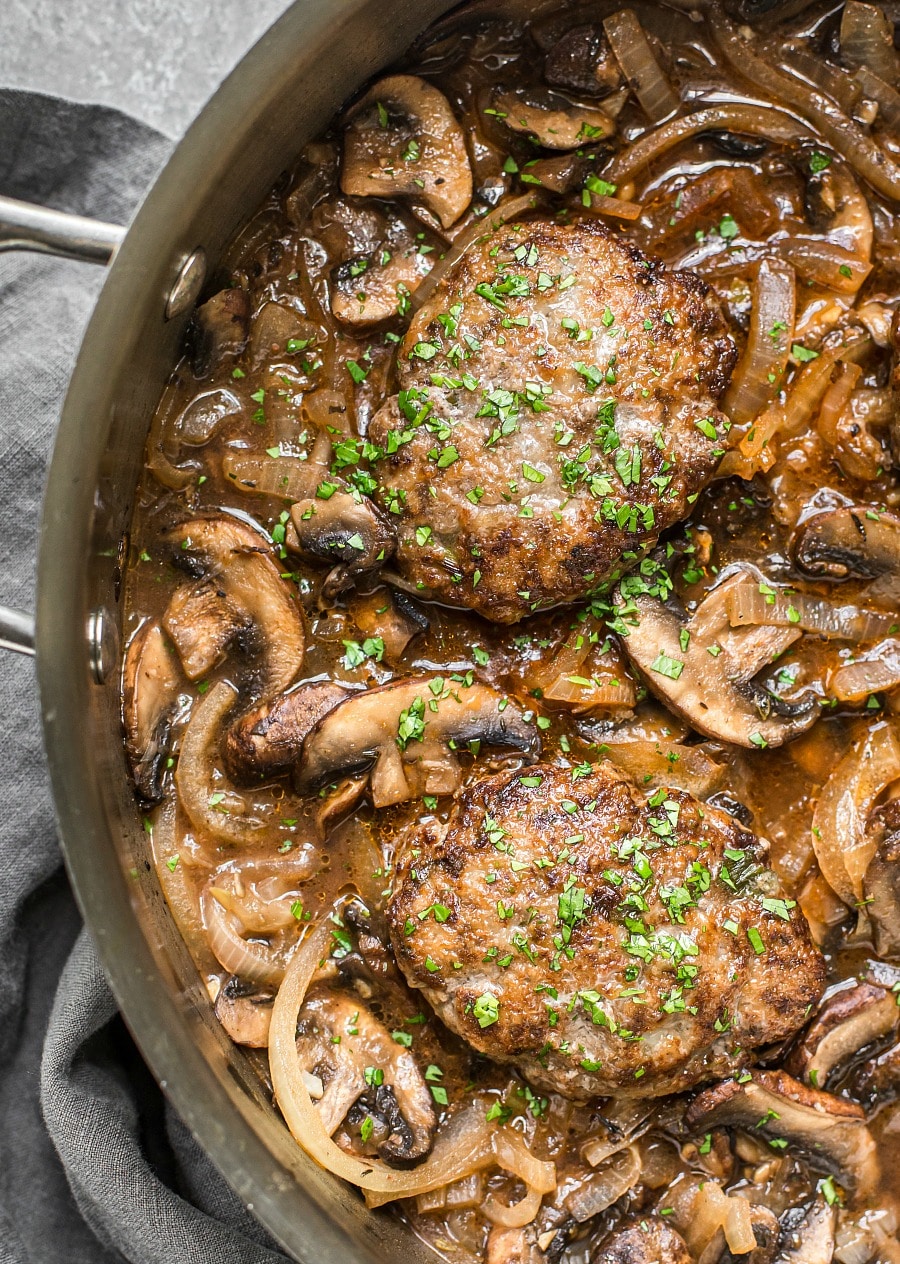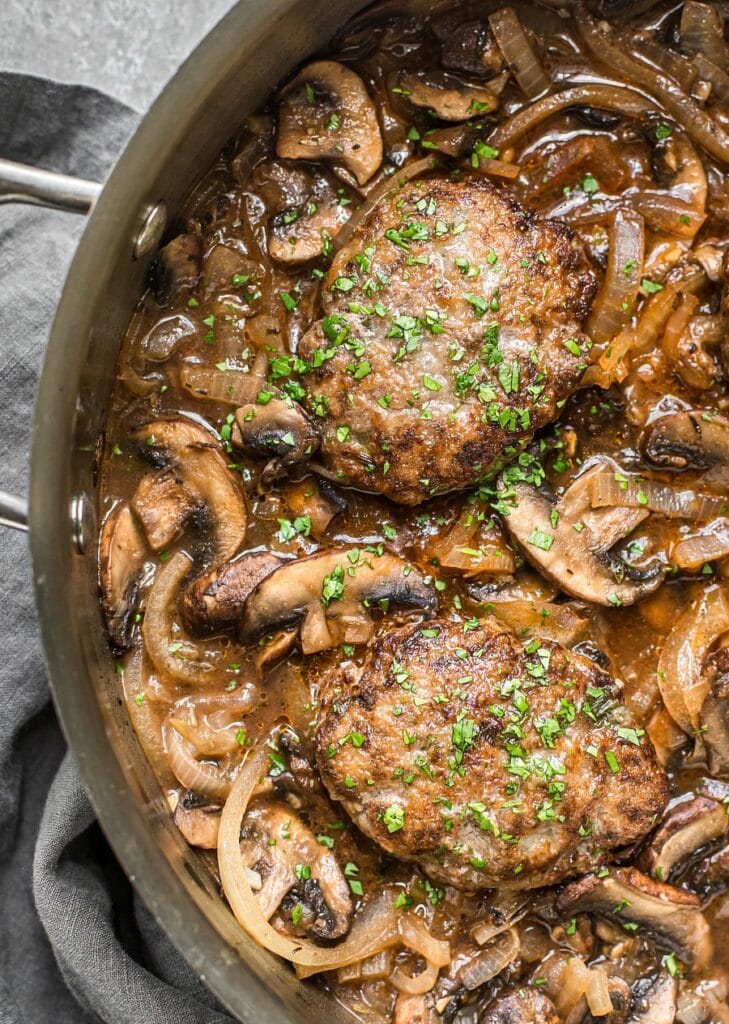 When looking for beef, it's important to remember that conventional, feedlot beef is very different nutritionally than pastured, organic beef.
Pasture-raised cows produce meat rich in CLAs (conjugated linoleic acid) and omega-3 fatty acids, and are free from hormones and antibiotics. These animals have been able to be raised on pasture, to roam and get plenty of sunshine. This kind of meat is a very healthy option to reduce inflammation and as a source of healthy protein, minerals and fats.
Beef from conventional or industrial-raised cows contains high amounts of omega-6 which is different from the pastured beef that is rich in CLAs and omega-3 fatty acids.
Industrial or conventionally-raised cows are fed a diet of genetically modified corn and sometimes animal by-products. They are also administered hormones and antibiotics to help them grow faster and to prevent infections that arise from the animals living on a corn-fed diet. Before the beef gets to grocery stores, it's often irradiated. This helps destroy any bacteria in the beef but it can also destroy nutrients.
Thankfully, grass-fed (aka pasture-fed) beef is getting easier to find at your local grocery store. I also love to buy from local farms. The site Eat Wild is a great place to search for local farms in your area.
If possible, it can be a good idea to buy meat in bulk and store it in a freezer. This saves money throughout the year. Sometimes farms require that you make a large purchase, so going in with some friends is helpful.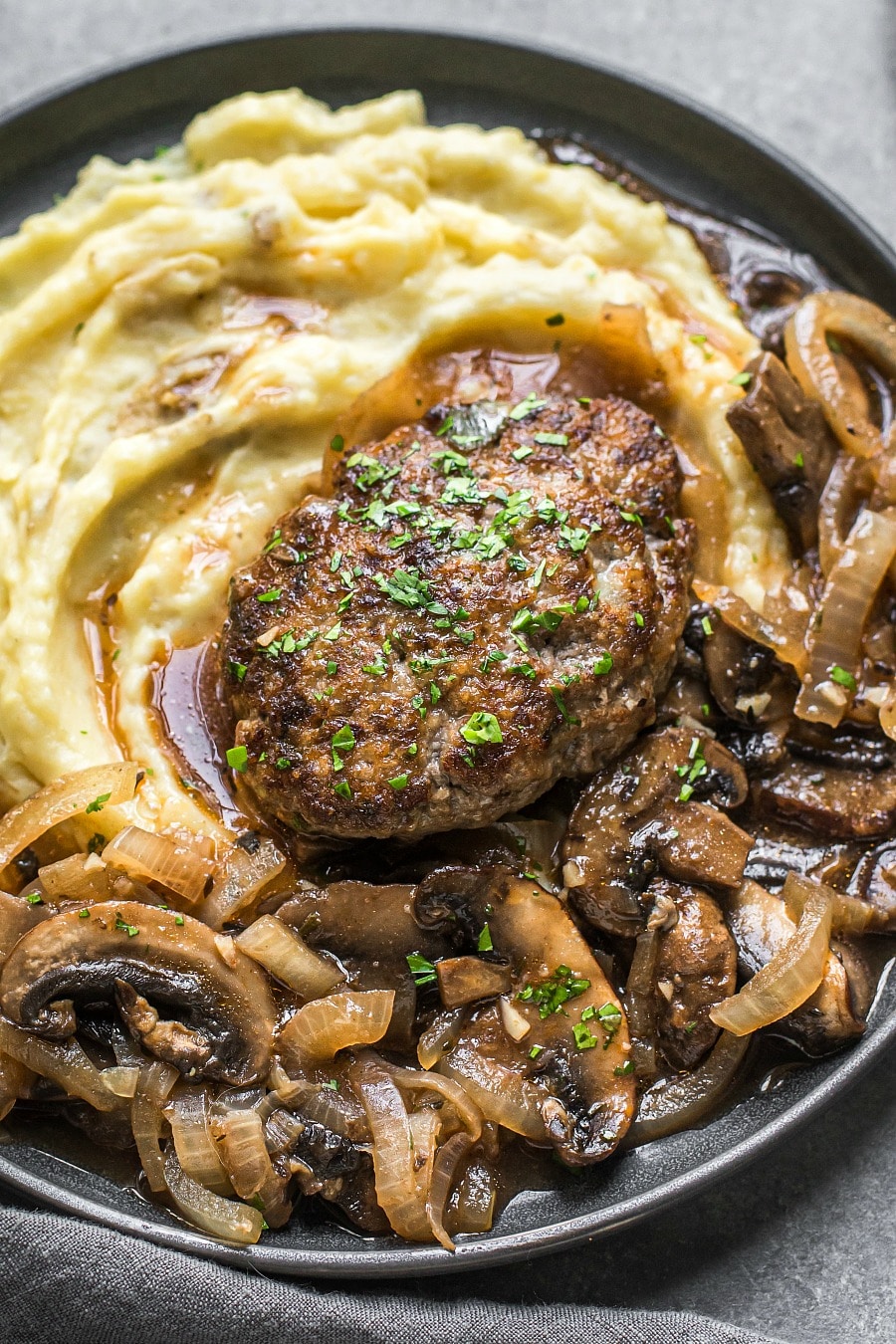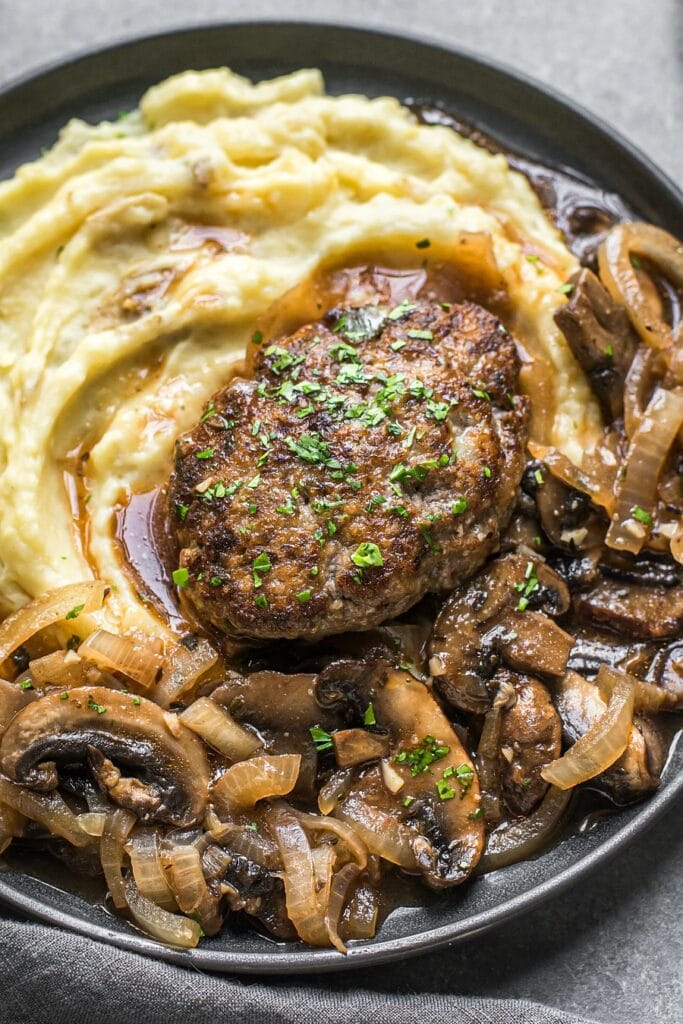 Here are some additional ground beef recipes you might enjoy:
Beef Queso Dip 
Beef Enchiladas 
Pizza Soup 
Slow Cooker Spaghetti Squash and MeatBalls
Print
Salisbury Steak Recipe (Grain-Free)
For the steaks:
16 ounces ground beef
2 tablespoons chopped green onion
1 tablespoon chopped fresh parsley
1/2 teaspoon Celtic Sea Salt
1/8 teaspoon freshly ground black pepper
1 tablespoons coconut flour
2 tablespoons arrowroot flour
2 tablespoons ghee
For the sauce:
1 yellow onion, sliced thin
2 cups cremini mushrooms, sliced (you can use white button if desired)
2 cloves garlic, minced
1/4 teaspoon dried thyme
1 tablespoon tomato paste
1 cup chicken broth
1/2 teaspoon Celtic Sea Salt
Instructions
Place the beef, onion, parsley, sea salt and pepper in a bowl and use your hands to combine. Divide the beef into 4 oval patties.
Place the coconut flour and arrowroot in a pie plate. Dredge each patty in the flour mixture.
Heat the ghee in a sauce pan over medium high heat and swirl the pan to coat. Place the steaks in the pan and cook until browned, about 3 minutes per side. Remove the steaks from the pan and set aside.
Place the onions and mushrooms in the now empty pan, reduce to medium, and cook for about 10 minutes, stirring frequently. Stir in the garlic, thyme and tomato paste and cook for 1 minute, stirring frequently. Stir in broth and salt. Place the steaks back in the pan on top of the onion and mushroom mixture. Reduce the heat to medium-low, cover with a lid, and cook for 10 minutes. Adjust salt and pepper to taste. Serve.
Keywords: Salisbury steak
Photo Credit: Becky Winkler