I grew up in a Baptist church so I'm very familiar with pot-lucks. It always amuses me that there are usually the same dishes, like cheesy hash brown casserole, green bean casserole, deviled eggs, an asian salad with ramen noodles, fruit salad, a jello salad of some sort, gobs of chips, and chocolate chip cookies. Am I right?!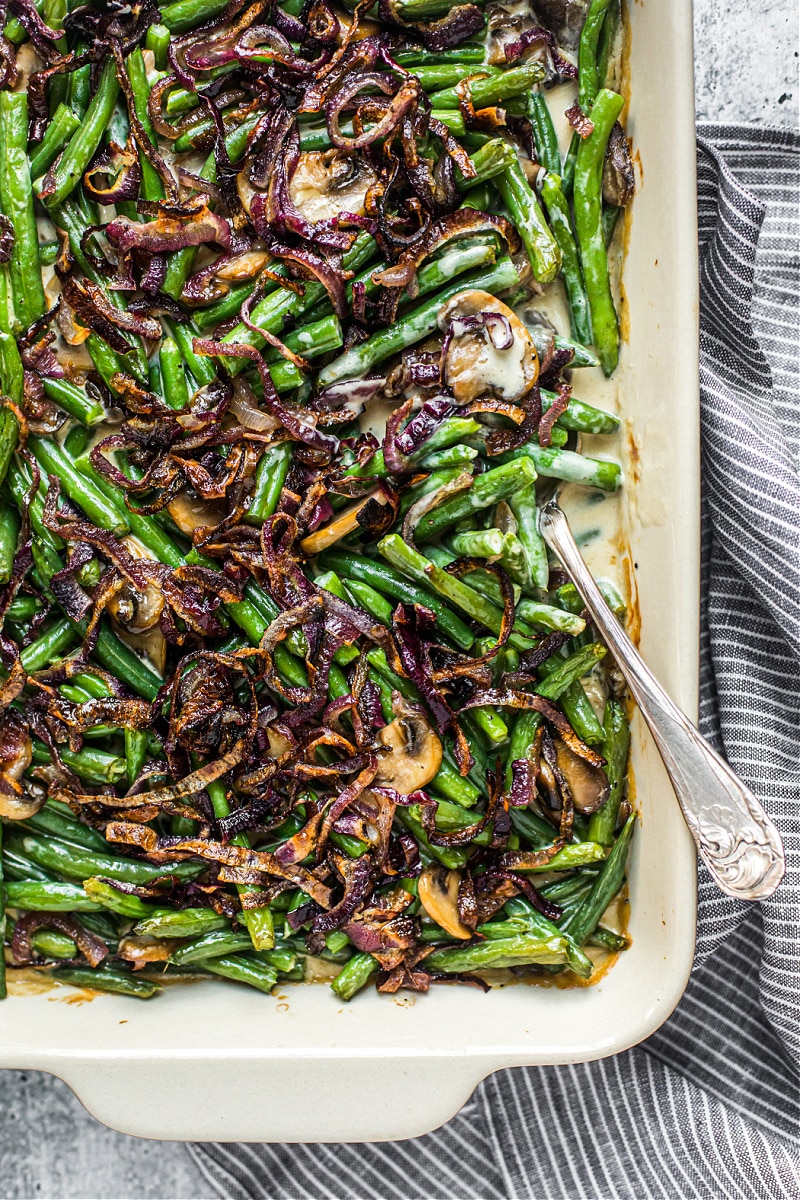 One of the foundations of many, many casseroles is a can of cream of mushroom soup. Condensed canned soups leave much to be desired in taste and also contain many processed ingredients.
If your goal is to cook with real food, but you have recipes in your repertoire that call for cream of mushroom soup, then I encourage you to try and make your own. It only takes about 15 minutes and the flavors in your dish will increase ten-fold!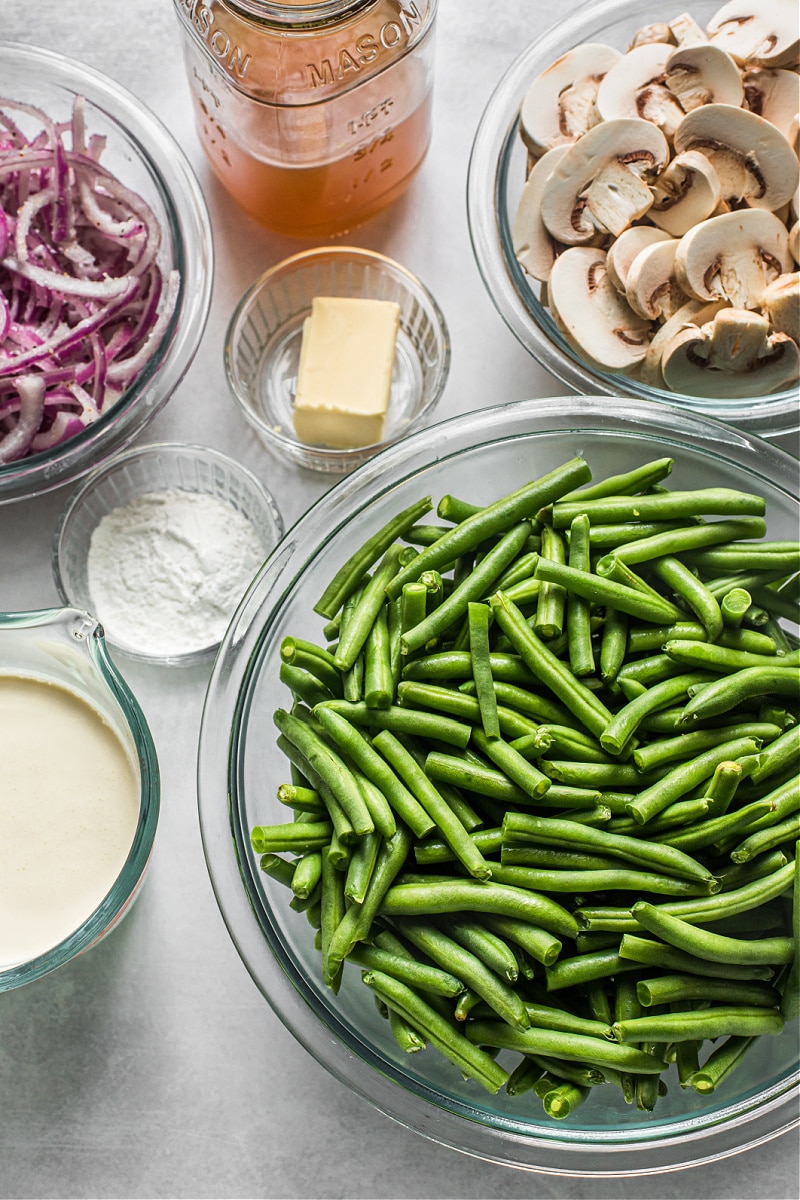 Now is the season for Christmas parties, and if you're like me, you'll be invited to a few potlucks. This is the perfect dish that will please almost anyone, but with extra depth of flavor.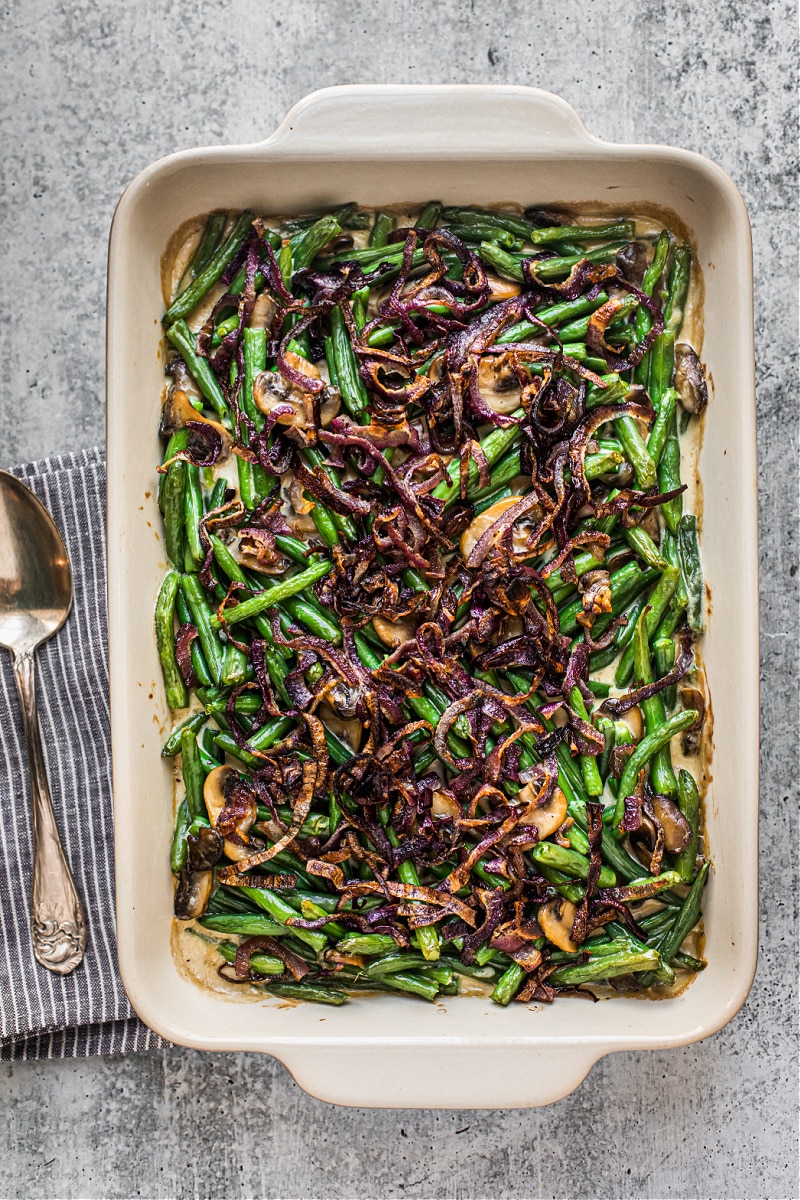 This green bean casserole keeps very well in the fridge and can be made a day ahead of time and then heated in the oven before serving.
Ingredients
For the Onions:

1 red onion, thinly sliced
2 tablespoons coconut oil
Celtic sea salt and freshly cracked pepper

For the Beans:

2 pounds green beans, trimmed and halved

For the Soup:

3 tablespoons unsalted butter (or 1 tablespoon duck fat for a dairy-free option)
1 pound button mushrooms, cleaned and sliced
2 tablespoons arrowroot flour
1 1/2 cups homemade chicken stock
1 1/2 cups heavy cream (or coconut milk for dairy-free option)
Instructions
Preheat oven to 425°F and adjust rack to middle position. In a large bowl, toss together red onion and coconut oil and season generously with salt and pepper. Spread onions out on a large baking sheet and roast for 20 minutes. Stir onions and put back in oven for another 15 minutes or until onions loose most of their moisture and begin to brown. Remove from oven and set aside. Reduce heat in oven to 375°F.
Fill a large pot with water and bring to a boil. Add the green beans to the water and boil for 6 minutes. Drain and rinse with cold water to stop the cooking process. Set aside.
Melt butter over medium heat in a large skillet. When foaming subsides add the mushrooms and season generously with salt and pepper. Saute until mushrooms have released their moisture and the edges begin to turn golden brown, about 10 minutes. Add the arrowroot and stir constantly until incorporated, about 1 minute. Gradually add the chicken stock and then the cream, whisking constantly to avoid lumping. Reduce heat and simmer until sauce thickens, 5-6 minutes.
Toss together mushroom mixture and green beans and then pour into a 13x9 baking dish. Top with red onions and bake until bubbling, about 20-25 minutes.
7.8.1.2
3459
https://deliciouslyorganic.net/green-bean-casserole-and-give-away/
Copyright 2016 Deliciously Organic