Green beans with dates, oranges, and hazelnuts is an easy side dish to whip up for your Thanksgiving dinner.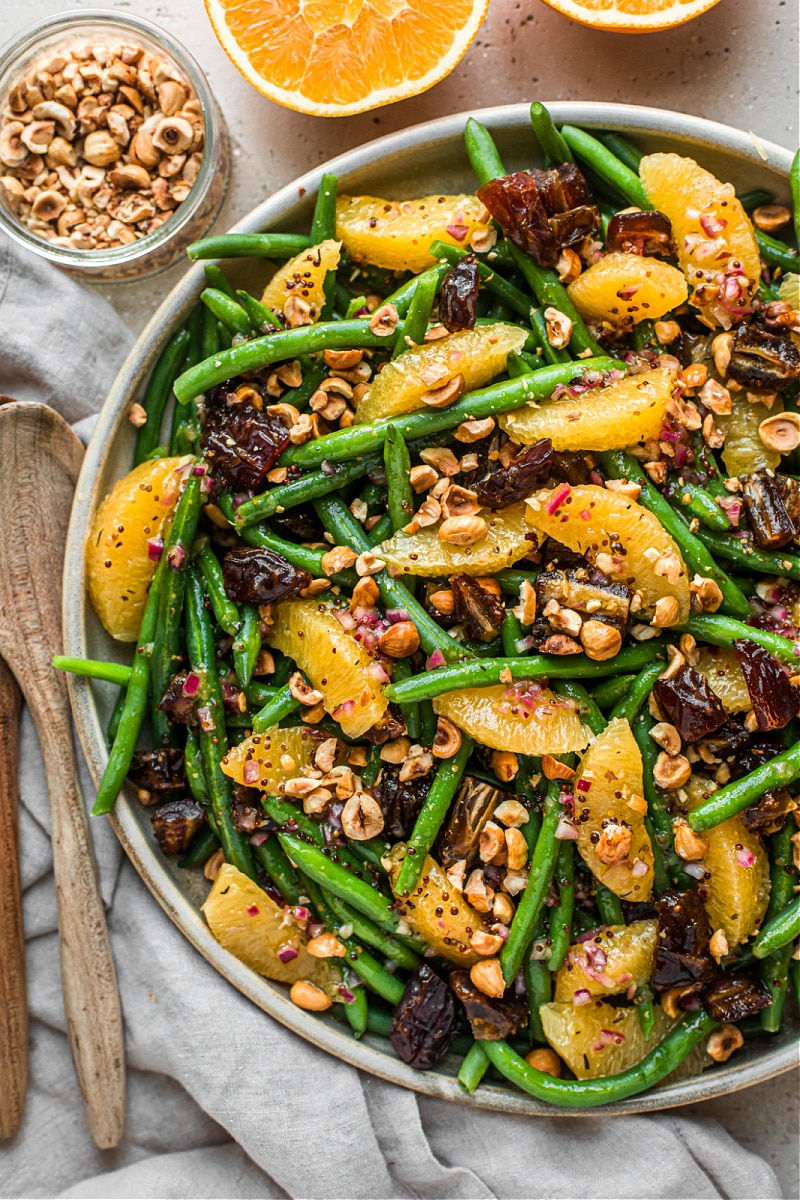 Is it really important to know what's in everything you eat? I think feeding ourselves and our families requires educated decisions, but sometimes we just want to walk blindly and not know.
I like to post different articles and new studies about food on Facebook and Instagram, and sometimes people get upset when they find out what's in their food, and even go so far as scolding me for posting it.
I get it. You might not have thought to turn over the box and read what's in those crackers your toddler loves. You might have a favorite drink or food you love and you simply don't want to know how they get all that taste in "Only 100 calories!".
We've all done that.
When my girls were babies (and before I was eating organic, whole foods), I didn't even think to turn over the can of baby formula and read the ingredients. My youngest was 9 months old when I read the ingredients. I about fainted. Well, I actually cried to be completely honest. I cried because I hadn't thought to read the ingredients and I was so mad that a company would sell a can of baby formula loaded with sugars, corn syrup, preservatives, etc.
At that moment I decided to look at all the labels and find alternatives. (I found out later there are alternatives to baby formula – you can even make your own. Who knew?!)
I'm not here to tell you what to eat or what not to eat, but I hope to help you make educated decisions for you and your family. We all have areas where we indulge. It helps keep us sane. But knowing exactly when and how we're indulging makes a huge difference.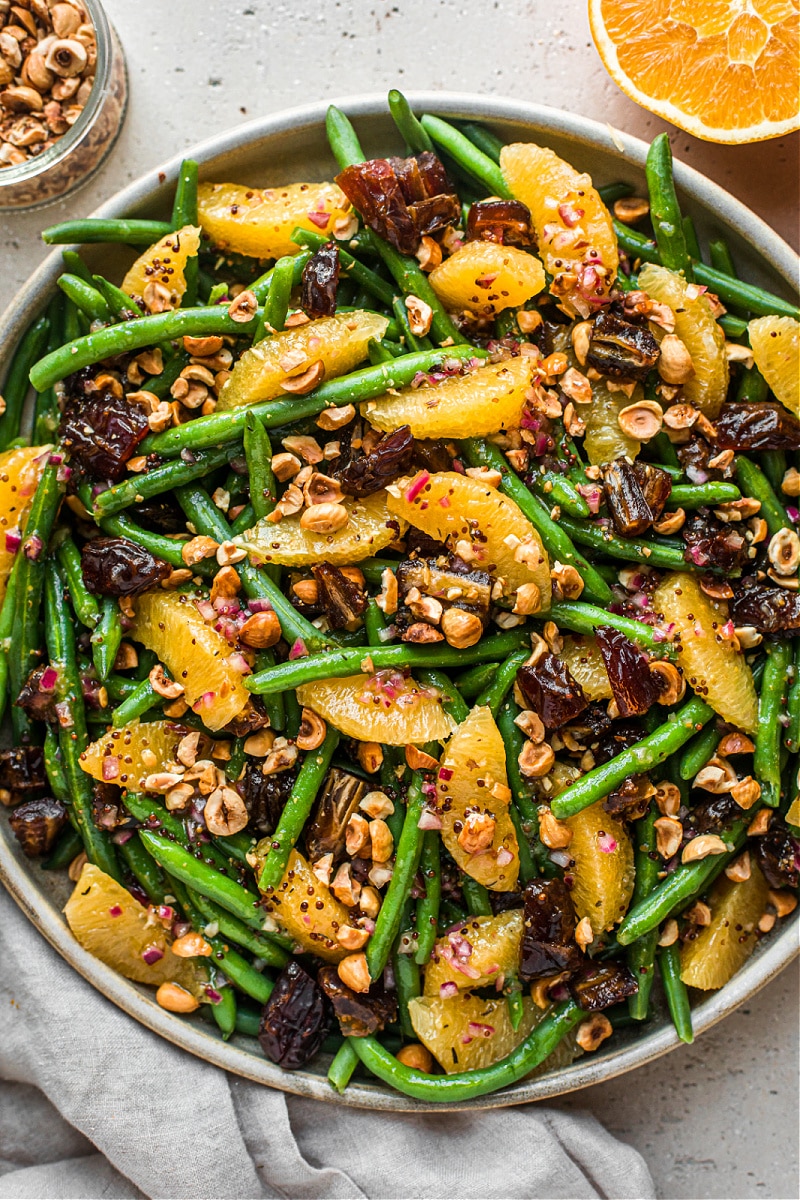 Back to the green beans! This dish is best served at room temperature which means you can make it earlier in the day and leave it until you're ready to serve your Thanksgiving meal. If you just can't have Thanksgiving without a green bean casserole, read the ingredients first or better yet, check out the recipe I posted last year.
Here are a few other green bean recipes that would be great to add to your Thanksgiving table:
Green Beans with Almonds and Thyme from Simply Recipes
String Beans with Prosciutto, Pine Nuts and Meyer Lemon from Food Blogga
Green Beans with Walnuts and Lemon Vinaigrette from The Bitten Word
Green Beans with Dates, Oranges, and Hazelnuts
Adapated from Oprah Magazine.
Ingredients
For the dressing:

1/4 cup white balsamic vinegar
1/2 teaspoon dried thyme
1 tablespoon raw honey
2 teaspoons whole grain mustard
1/4 cup red onion, minced
1/2 teaspoon Celtic sea salt
1/2 cup extra-virgin olive oil
2 pounds green beans, trimmed
3 oranges, segmented
1 cup chopped dates
3/4 cup chopped hazelnuts, toasted or dehydrated
Instructions
Stir vinegar, thyme, honey, mustard, onion, and salt together in a small bowl. Pour in olive oil and whisk until combined.
Bring a large pot of water to boil. Add beans to boiling water and cook for 3 minutes, until bright green. Drain and quickly transfer to a bowl of ice water. Drain again and pat dry. Place cooked beans, oranges, dates and hazelnuts in a large bowl. Pour dressing over beans, toss and serve. Best served at room temperature.
7.8.1.2
3452
https://deliciouslyorganic.net/thanksgiving-green-beans-with-dates-oranges-and-hazelnuts/
Copyright 2016 Deliciously Organic
SaveSave