Today we have Winnie Abramson here to teach us about the benefits of lacto-fermented foods and how to easily prepare them at home, like this El Salvadorian sauerkraut recipe. Winnie has a degree in Naturopathic Medicine and is the writer of a fantastic blog – Healthy Green Kitchen. I believe fermented foods are a staple to a nourishing diet. I serve my family lacto-fermented foods such as sauerkraut and  pickles a few times daily and find it extremely helpful for the digestive system. I'm happy to have Winnie here today to educate us on the importance of fermented foods.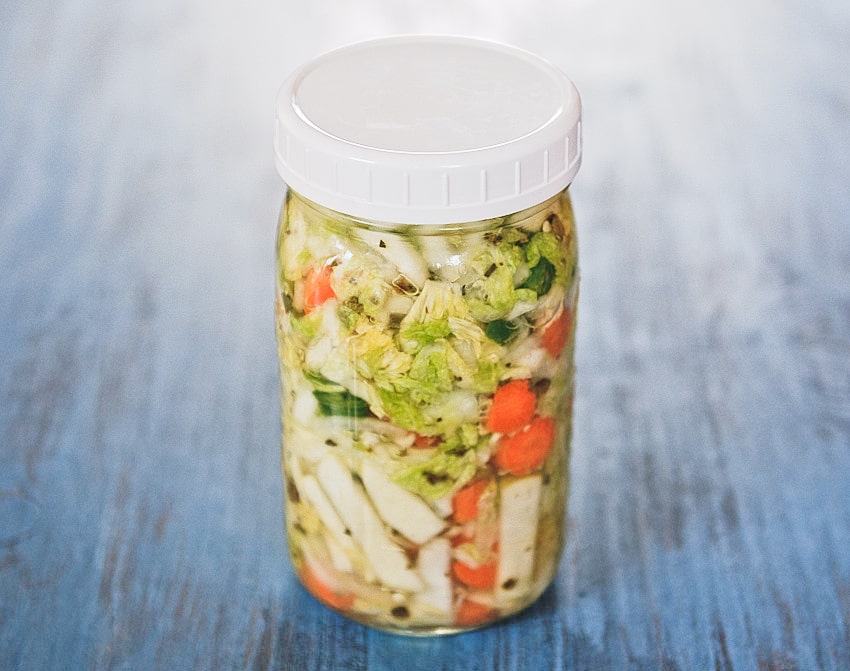 Lacto-fermented (aka cultured) foods have long been enjoyed throughout the world for many centuries. Dairy products like yogurt, and also many cheeses, are the result of culturing milk; miso (fermented soybean paste), kombucha (a fermented beverage made from tea) and vegetable preparations like kimchi, "live" pickles, and sauerkraut are more examples of familiar cultured foods.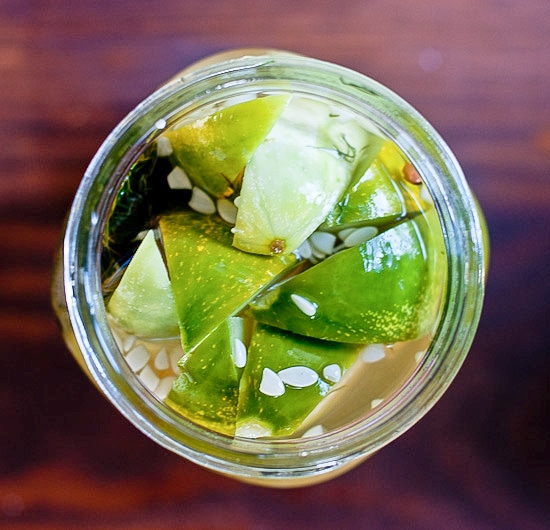 Foods are fermented when lactobacilli bacteria convert their sugars and starches into lactic acid. The proliferation of lactic acid aids in the natural preservation of whatever is being cultured, and results in an end product that's exceptionally nutritious. The process of lacto-fermentation also makes foods more digestible than they were to begin with (which is why many people who cannot tolerate milk do just fine with yogurt, for example).
Fermented foods are healthy for everyone, but the high concentration of natural probiotics they contain makes them particularly beneficial for people who have issues with their digestion. Eating cultured foods may also be helpful for balancing blood sugar and for weight loss and, because your digestive system is closely linked to your immune system (around 75% of your immune system's cells are found in your digestive tract!), consuming copious amounts of cultured foods can make you less prone to illnesses of all kinds. I try to include at least one serving of lacto-fermented foods in my diet each day as part of my healthy lifestyle.
Unfortunately, most of the pickles, sauerkraut, and many brands of yogurt that you'll find at the supermarket aren't lacto-fermented, so from a health perspective they're not very useful (most are made with vinegar and/or sugar, and they're pasteurized, which kills off the beneficial enzymes); if you want to take advantage of their health benefits, you must seek out versions of these foods made in small batches with "live cultures". Or, you can make them yourself! I've been making my own yogurt, as well as a variety of cultured vegetables for many years, and I highly recommend you do so as well.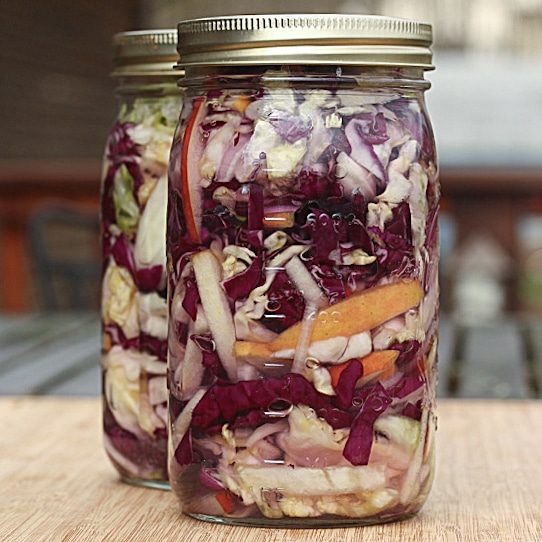 Cortido (aka curtido) is a cabbage salad that hails from El Salvador. It's typically served with a dish there called pupusas. This lacto-fermented version is a variation on sauerkraut, inspired by a recipe that appears in the book Nourishing Traditions written by Sally Fallon. I love it spooned over eggs, salads, and on sandwiches. It's best to use organic produce, if possible.
Nourishing Traditions has tons of great information on all the "the whys and hows" of lacto-fermentation, plus many fantastic recipes. I highly recommend this book if you don't own it already! Another terrific resource is Wild Fermentation by Sandor Katz.
Do you have any favorite lacto-fermented foods? Please share!
Print
Lacto-fermented Cortido (a variation on Sauerkraut)
Prep Time:

10 minutes

Total Time:

2-4 days

Category:

Side Dish

Diet:

Gluten Free
1

head/about

1000 g

of Napa cabbage, cored and outer leaves removed, then shredded by hand or in a food processor

2 tablespoons

fine Celtic sea salt

1 cup

/about

140 g

chopped carrots

1

green apple, peeled and sliced thin

1

onion, peeled and sliced thin

1

fresh jalapeño pepper, thinly sliced

1 tablespoon

dried oregano (use Mexican oregano if you can find it)
Juice of

1

lime

1

sterilized quart size canning jar with a screw-top lid, preferably BPA-free
Instructions
In a large non-metal bowl, mix the cabbage with the sea salt. Use clean hands to really work the salt into the cabbage, and then allow it to rest for 1-2 hours. The cabbage will wilt and brine (salty liquid) will develop.
Add the carrots, apple, onion, jalapeño, and lime juice to the cabbage and mix well.
Spoon the cabbage mixture into the jar, and as you do so, press down very firmly with a pounder (the back of a wooden spoon will also do) until the juices come to the top of the cabbage. Really stuff the cabbage mixture in there: you'll be able to fit more than you think, but don't fill the jar to the very top. The top of the cabbage should be at least 1-inch below the rim of the jar (this is because there will be some expansion while it is lacto-fermenting and you don't want any liquid to overflow out of the jar) so you may have a little of the cabbage mixture leftover that does not fit. If there is not enough liquid, add filtered water until the cabbage is just barely covered.
Screw lid onto the jar and keep on your counter at room temperature for 2-4 days. (Open the jars and see if the liquid is bubbly after 2 days, If it's bubbly, you can transfer your jar to the refrigerator, where your cortido will continue to lacto-ferment at a slower rate. If it's not bubbly yet, leave it on the counter for another day or two). You can eat your cortido right away, or wait a week or so for the flavors to develop further. Lacto-fermented vegetables like this will keep for 3-4 weeks in the refrigerator.
Nutrition
Serving Size:

Makes enough to fill a 1-quart glass jar
Keywords: el Salvadorian sauerkraut

//