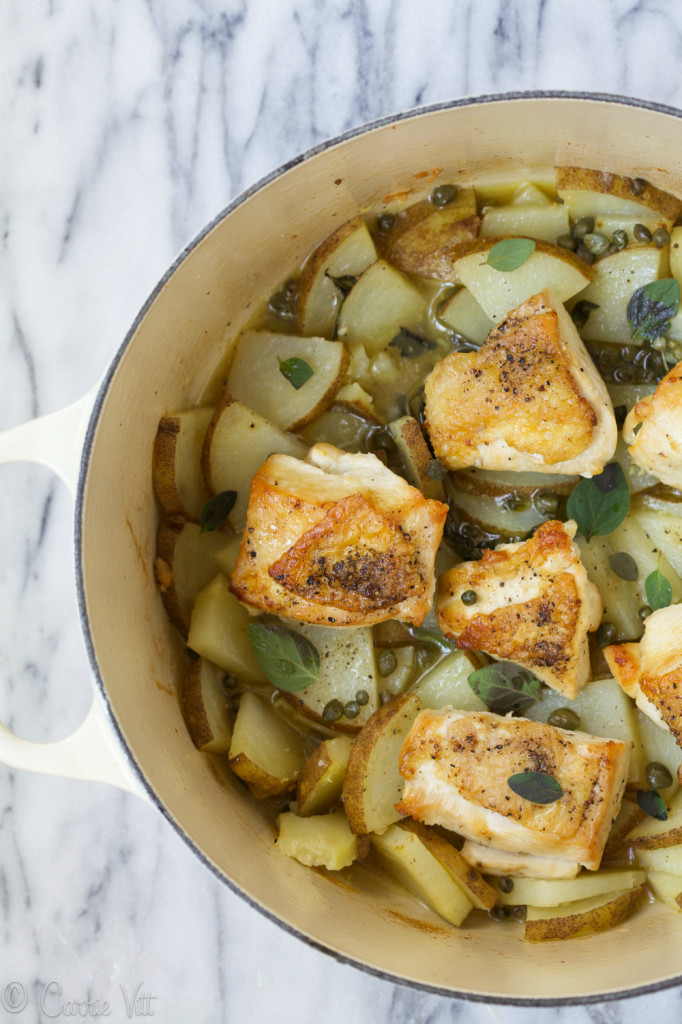 Lately, I've relied on a lot of one-pot meals. We have new, hectic school schedules even as I finish the manuscript and photography for my second cookbook. Our crock pot now stays permanently on the countertop and I fill it with beans and sausage, chickens, roasts and vegetables. This one-pot chicken caught my attention in an old Donna Hay magazine, so I put all the ingredients in a pot and put it in the oven. I was truly amazed at the deeply flavorful results! We loved the bright lemon flavor, salty capers, crisp chicken and creamy potatoes. Thanks to an old issue of a beautiful magazine, I now have another go-to option for a busy week night! What's your favorite one-pot or crock pot meal? Please share links!
One-Pot Chicken and Potatoes
You can make this dish with thighs, breasts or drumsticks - whichever you prefer. Remember, it's best to purchase a pastured chicken if possible as the nutrient content is much greater than their conventional counterparts. ?Adapted from Donna Hay?
Ingredients
3 tablespoons ghee ( click here for an easy homemade recipe)
Celtic sea salt and freshly ground black pepper
8 pieces chicken with skin attached
4 russet (baking) potatoes, sliced into 1/4" slices
1/4 cup capers, drained
5 cloves garlic
1 bunch fresh oregano
1 teaspoon Celtic sea salt
1/2 cup dry white wine (you can substitute with chicken stock)
3/4 cup chicken stock
Juice of 1 lemon
Instructions
Preheat oven to 400ºF and adjust rack to middle position. Heat dutch oven (or a large oven-proof pot) over medium high heat for 2 minutes. Melt ghee in pot and swirl to coat. Season chicken breasts with sea salt and black pepper. Place chicken, skin-side down in the pot and cook until the bottom is golden brown, about 3-5 minutes (the ghee should sizzle when you add the chicken). Using a pair of tongs, remove chicken from the pot and place on a plate (the chicken will not be fully cooked at this point). Place potatoes, capers, garlic, oregano, sea salt, wine and stock in the dutch oven. Scape any brown bits free from the bottom of the pot (these are full of flavor!). Place chicken on top of potato mixture, put lid on pot and place in the oven. Bake for 10 minutes, remove lid and bake for an additional 20 minutes. Remove from the oven, spritz with lemon juice and serve.
7.8.1.2
4221
https://deliciouslyorganic.net/one-pot-chicken-potatoes/
Copyright 2016 Deliciously Organic