I love these pop tarts, especially because you can make them whole wheat or gluten-free.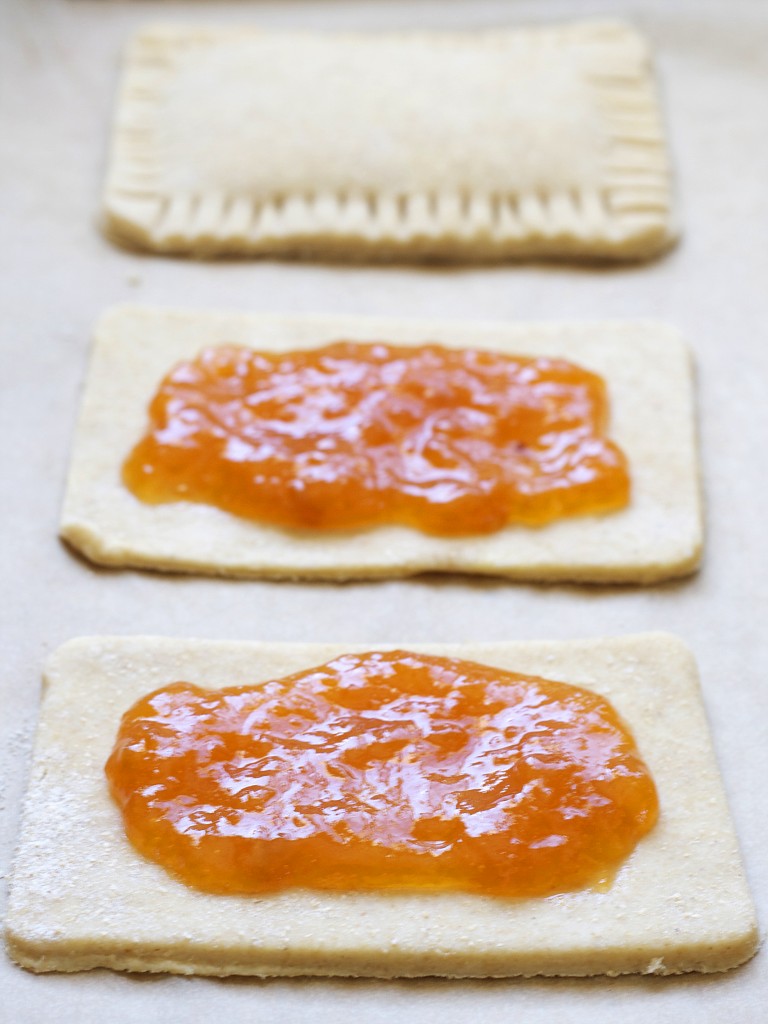 What's the difference between white wheat flour and whole wheat flour?
White wheat flour is ground from hard white wheat. Whole wheat flour is ground from red hard wheat.
White wheat flour (hard white wheat) contains a bit less gluten and a little less protein than whole wheat flour (hard red wheat). So if you bake with white wheat flour, the resulting bread, muffin, or cookie will be a bit less dense than if you bake it with whole wheat flour.
What about whole wheat pastry flour? Whole wheat pastry flour is ground from soft white wheat. This flour has less gluten and less protein than the first two wheats mentioned and will give a much lighter and tender crumb than white wheat flour or whole wheat flour.
Can these flours be used interchangeably? In my experience, no. If you try to trade out whole wheat pastry flour for white wheat flour, your end result will be much tougher and not as light as intended.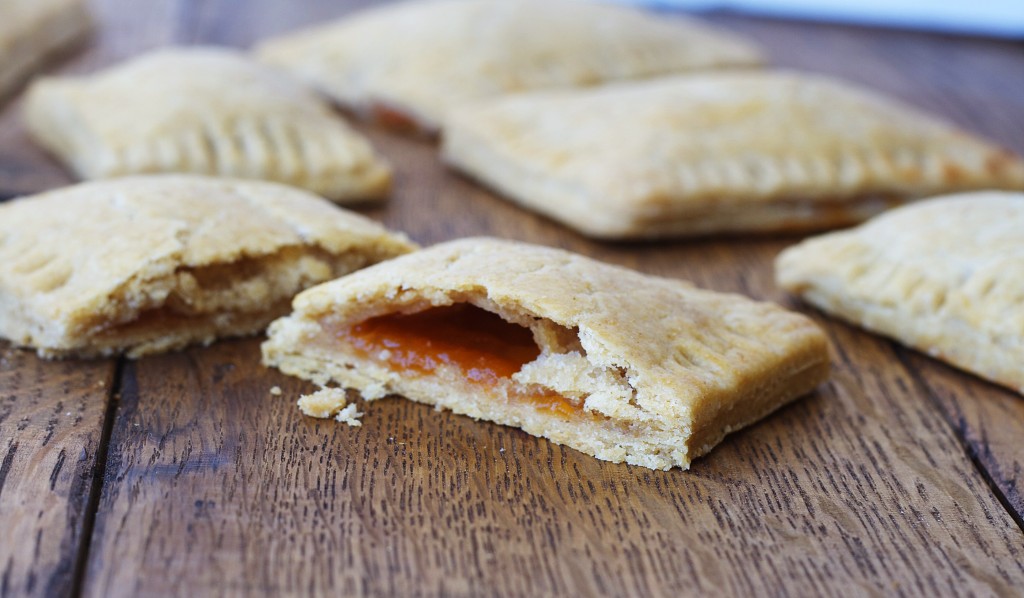 Which flour should you reach for while baking? In my opinion, if you're baking a loaf of bread – go with the whole wheat flour. If you're making pizza crust, crackers, or something with a bit more substance – go with the white wheat flour. If you're baking a cake or muffins – use the whole wheat pastry flour.
Why do I mix the flours in my recipes at times? I do this because I'm trying to achieve a certain texture just one flour can't give me. If you change out the flours called for in the recipe, you'll get a different texture than intended.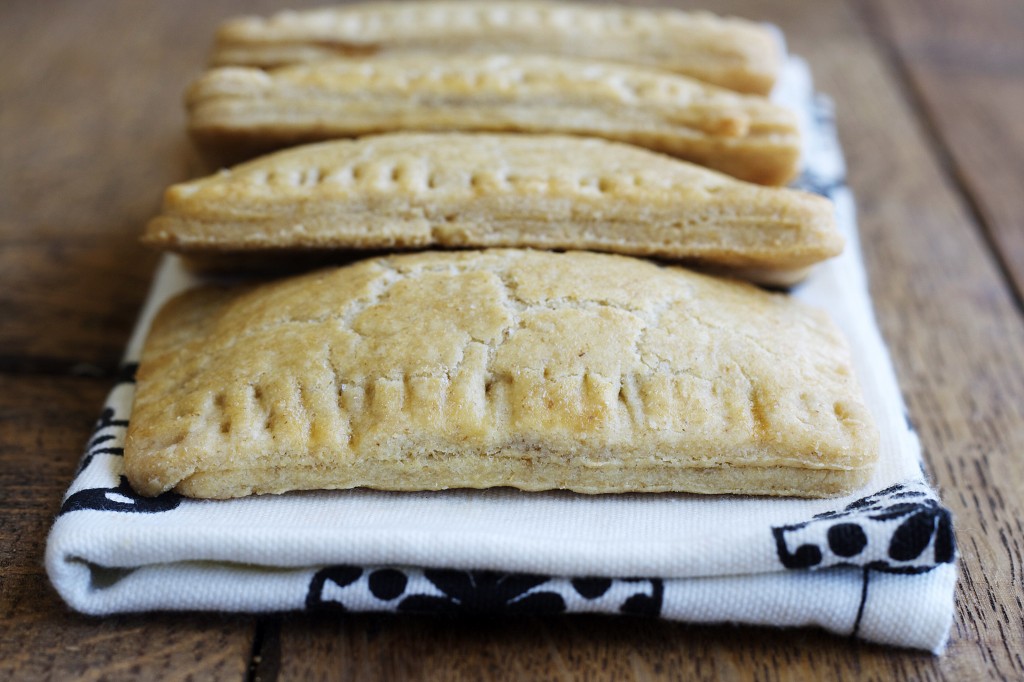 So on to the pop tarts! I've given you two different versions here. One whole wheat and one gluten free. They're incredibly fun to make with kids and can be filled with dozens of sweet things – jam, jelly, marmalade, homemade nutella, chocolate, fruit, etc.
Kids love'em but so do adults. How fun would these be piled on a large platter at the end of a long dinner? Add coffee with whipped cream and honey, and you have a delightful end to your meal.
[amd-zlrecipe-recipe:168]
Serves: Makes about 12 - 4" x 2 1/2" tarts
Apricot Almond Pop Tarts (Whole Wheat or Gluten-Free)
You can choose which dough recipe you'd like to use below. If you'd like to make a grain-free version of these pastries, use this dough recipe .
Ingredients
For the whole wheat dough:

1 1/2 cups whole wheat pastry flour
1 cup brown rice flour, plus 2 tablespoons
1/4 cup arrowroot flour, plus 2 tablespoons
1 1/2 teaspoons coarse sea salt
1 cup plus 3 tablespoons unsalted butter, cold
10 tablespoons ice water
For the Gluten-Free Dough:
1 1/2 cups gluten free flour mix (I used Bob's Red Mill )
1 cup brown rice flour
1/2 cup oat flour (make sure it's gluten free)
1 teaspoon unflavored gelatin (I prefer Bernard Jensen gelatin )
1 1/2 teaspoons sea salt
1 cup (16 tablespoons) unsalted butter, cold, cut into tablespoons

For the filling:

3/4 cup apricot preserves
1/2 teaspoon almond extract (omit if nut-free)
1 egg beaten with 1 tablespoon of water (if you're egg-free you can use water to bind the dough)
Instructions
Place flours and salt in a food processor. Pulse a few times to combine. Add butter and pulse until it looks like wet sand, about 8 (1-second) pulses. Add 10 tablespoons of ice water, 1 tablespoon at a time, and pulse after each addition. Pulse until dough gathers into larger clumps. The dough should not be crumbly. If it is, add a tablespoon or two of water. Divide dough into 2 portions and wrap plastic wrap around each piece, pressing firmly to form into a disk. Refrigerate for 30 minutes.
Preheat oven to 350ºF and adjust rack to middle position. Remove 1 disk of dough from the refrigerator place on a floured surface. Roll it into a rectangle about 1/8" thick. Cut rectangles that are 4-inch x 2 1/2 inch. (I used a rectangle cookie cutter for this step.)
Place half of the rectangles on a baking sheet lined with parchment paper. Brush the egg wash over the entire surface of each piece of dough (This helps seal the filling inside. Again, if you're egg-free then use water to seal the dough). Place a heaping tablespoon of filling in the center of each rectangle, keeping about 1/2-inch perimeter. Place a second piece of dough on top of the first and gently press around the pocket filing, sealing the dough. Using a fork, press the tines around the edge of the tart. Repeat with remaining tarts. After all tarts are assembled, brush each with egg wash. Bake for 25 minutes, or until golden brown. Cool for 10 minutes before serving. Repeat process with second disk of dough.

Storage:

The tarts will keep in the refrigerator for 2-3 days. To reheat, place in a 350ºF oven for 10 minutes. The pop tarts can also be frozen. To reheat, place on a baking sheet in a 350ºF oven for 20 minutes.
7.8.1.2
219
https://deliciouslyorganic.net/pop-tarts-two-ways-whole-wheat-or-gluten-free/
Copyright 2016 Deliciously Organic
This post is linked to Simple Lives Thursday