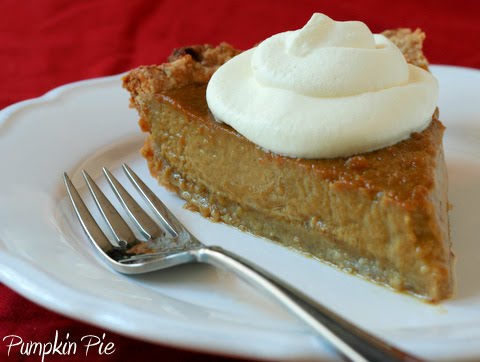 I can hardly believe Thanksgiving is just next week! Our family is moving to Southern California the week before Christmas (yes, I know, not the best timing) so due to thinking so much about our move (and testing recipes, and finishing up the manuscript for my cookbook) it finally dawned on me yesterday that I need to start thinking about what I am going to make for Thanksgiving dinner.
I am a huge fan of making as much of my Thanksgiving dinner in advance, and my pumpkin pie recipe can be made many months ahead of time. So many pumpkin pies I've tried are cloyingly sweet, heavy, and stick to the roof of your mouth, but this pie is light with a custard-like filling. The filling freezes very well, so you can make it and freeze it up to 3 months in advance. The pie crust can also be frozen so all you have to do the night before is: set your filling out on the counter to thaw, let your pie crust thaw in the fridge, roll out the dough the following morning, pour in the filling, and bake!
My husband loves to eat hard sauce with his pumpkin pie. Unfortunately, due to the extreme processing of the ingredients it would be down-right shameful to post the recipe (it's a mixture of powdered sugar and amaretto) but I will at least admit that it is eaten in our house on Thanksgiving. It's fun to have him in the kitchen stirring and tasting for about an hour until it's just the way he likes it. He puts the bowl in the fridge and then comes in the kitchen every 30 minutes or so to eat another spoonful. I, on the other hand, prefer to eat my pie with a large dollop of whipped cream…and I can post those ingredients.
Pumpkin Pie
Keep in mind that the pie crust recipe makes two 9-inch crusts.
Ingredients
1 unbaked pie shell (click here for pie crust recipe )
3/4 cup organic whole cane sugar or sucanat (to read more about this sugar click here )
2 tablespoons maple syrup
1 tablespoon soft wheat flour
1/2 teaspoon ground cinnamon
1/4 teaspoon ground nutmeg
pinch of sea salt
3/4 cup pureed pumpkin
2 large eggs
1 1/4 cups whole milk
3/4 cup canned coconut milk
Instructions
Preheat oven to 450°F and adjust rack to middle position. Whisk together whole cane sugar, maple syrup, flour, cinnamon, nutmeg and pinch of salt together in large bowl. Pour in pumpkin and whisk. Add eggs and milks to mixture and whisk until combined. Pour into unbaked pie shell. Bake at 450 degrees for 15 minutes. Turn oven down to 350°F and bake for an additional 30 minutes until edges of pie are set. Cool to room temperature before serving.
7.8.1.2
3420
https://deliciouslyorganic.net/pumpkin-pie/
Copyright 2016 Deliciously Organic