Pork Chops with Apples and Onions is one of my most favorite fall meals!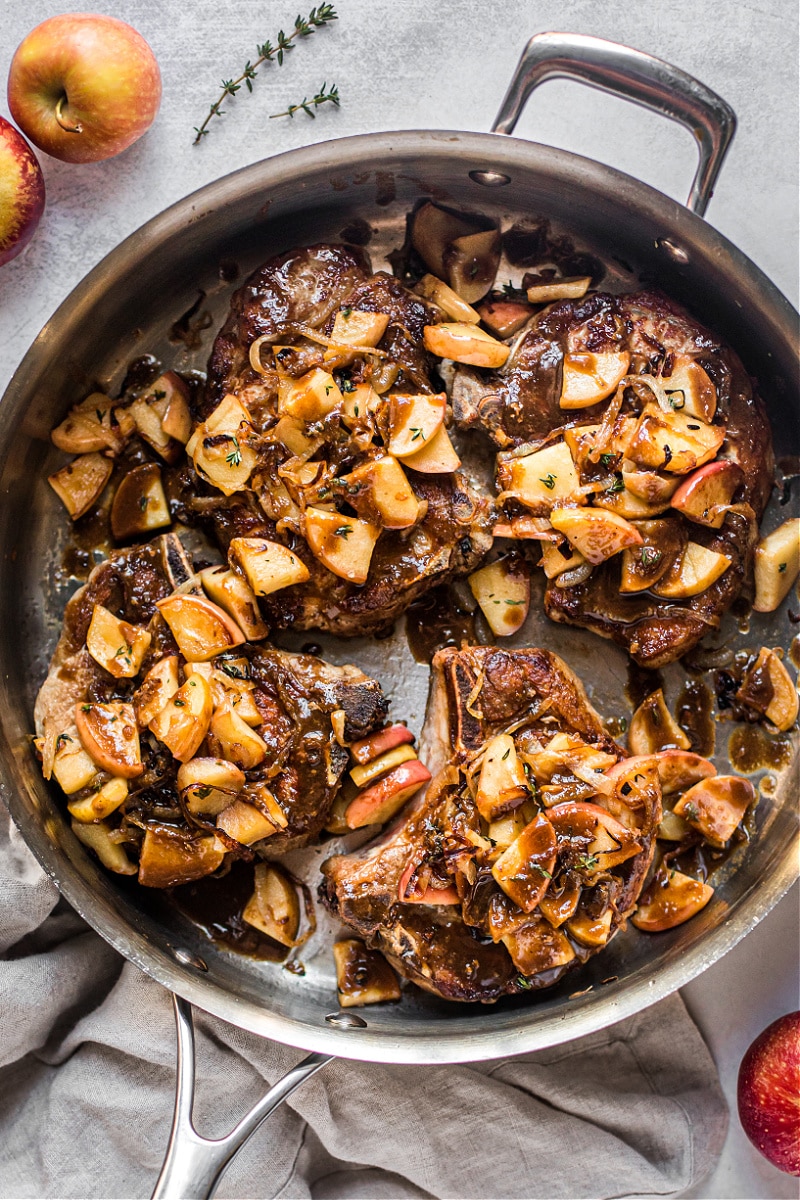 The apples and onions are slowly cooked in butter until they turn soft and almost caramelized. Then the pork chops are seared and a sauce is made with a bit of coconut flour, balsamic, chicken stock or meat stock, and a bit more butter at the end. The combination is divine!
I recommend serving the pork chops with apples and onions with some Slow-Cooked Greens with Garlic and some White Dinner Rolls or slices of Fermented Sourdough with butter to round things out.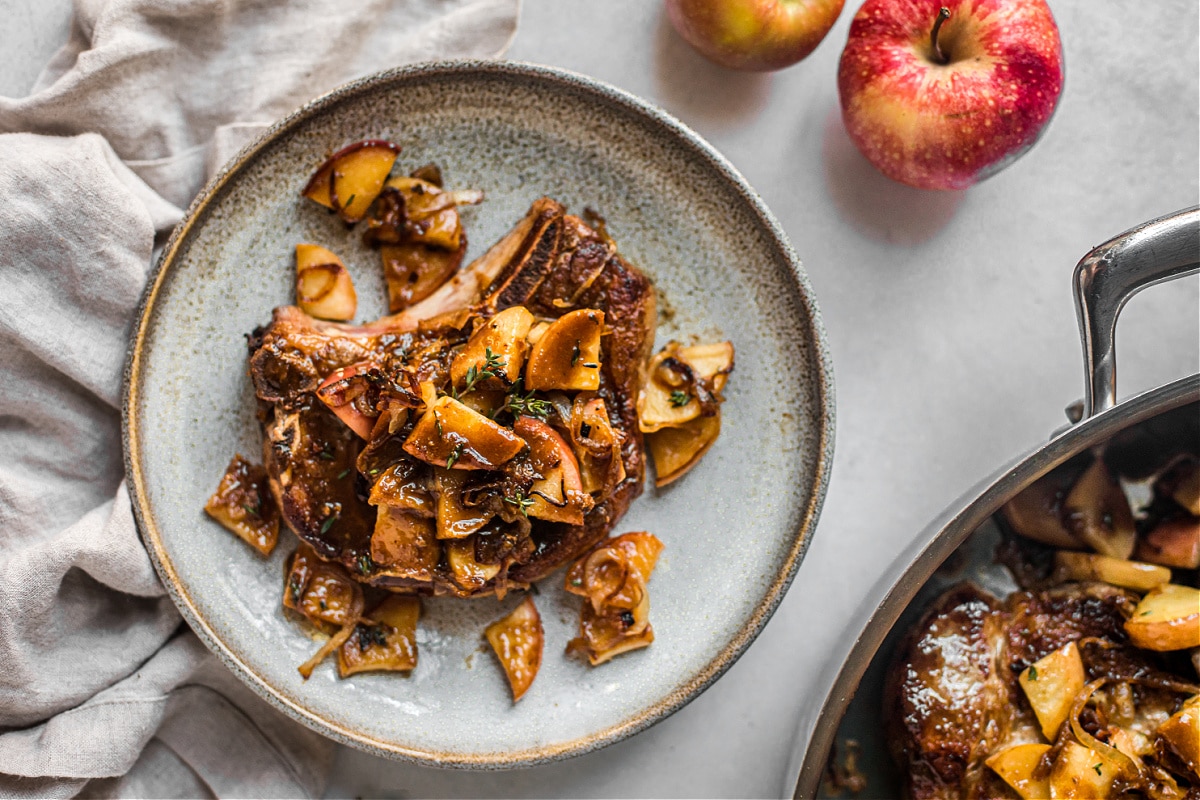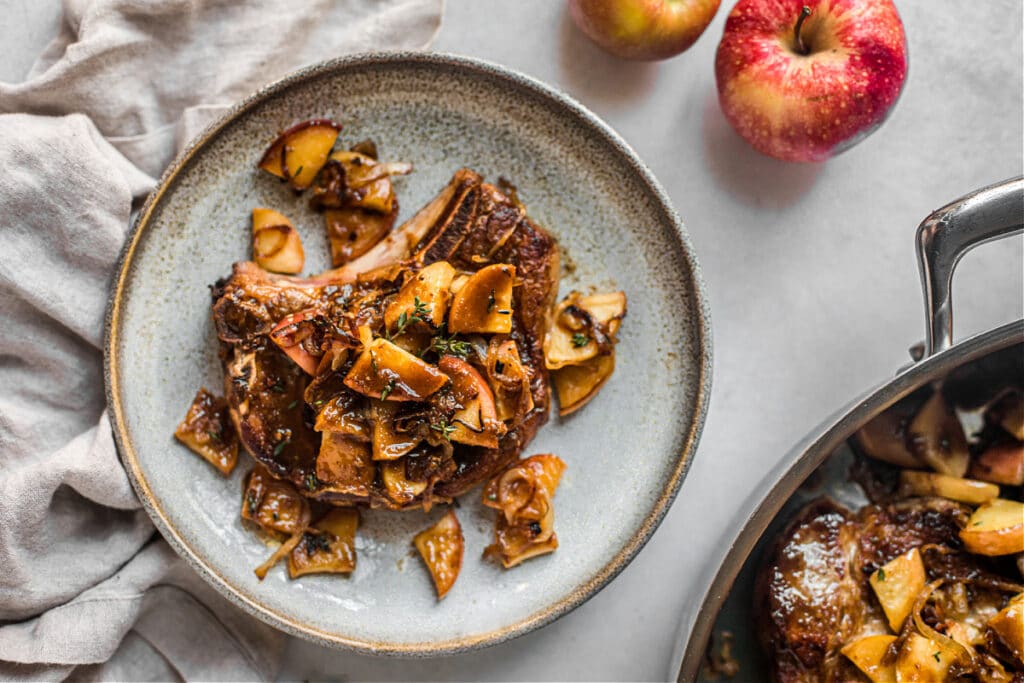 Here are some other fall-favorite main dishes that you might enjoy!
Butternut Squash Soup 
Chili Cornbread Pie 
Braised Chicken Thighs with Squash and Kale 
Roasted Cauliflower Soup
Stuffed Acorn Squash 
Print
Pork Chops with Apples and Onions
Author: Carrie Vitt
Prep Time:

15

Cook Time:

30

Total Time:

45

Yield:

Serves 4

Category:

main dish

Diet:

Gluten Free
For the apples:
2 tablespoons unsalted butter
1 yellow onion, sliced thin
2 cups of chopped apple (I used Honeycrisp)
1 tablespoon fresh thyme leaves
1 tsp Celtic sea salt
For the pork chops:
2 tablespoons ghee or palm shortening
4 pork chops (pastured preferred – I purchase pork from 1915 Farms)
1 teaspoon Celtic sea salt, divided
1/2 cup chicken stock (aka bone broth)
1/2 teaspoon coconut flour
1 teaspoon balsamic vinegar
1 tbs unsalted butter
Instructions
Heat a large oven-safe skillet over medium-low heat. Add the butter to the pan and swirl the pan to coat the bottom. Place the onion and apples in the skillet and cook for 15-20 minutes, stirring occasionally until edges are turning golden brown. Stir in the thyme leaves. Continue cooking for about 1 minute. 
Meanwhile, heat another large sauté pan on the stove over medium-high heat for 2 minutes (the pan will have nothing in it while it heats). Add 2 tablespoons of ghee or palm shortening to the pan and swirl the pan to coat. Season the pork chops with sea salt on both sides and place all four chops in the sauté pan. Let the chops cook for about 3-4 minutes until the bottom side is golden brown (don't move the pork chops around while cooking). Using a pair of tongs, flip the pork chops over and cook until the second side is golden brown and chops are cooked through about 3-4 minutes. Using a pair of tongs, place the pork chops on a plate. In the now empty pan, pour in the chicken stock, and scrape up any of the bits that are stuck in the pan using a wooden spoon. Bring the stock to a simmer. Whisk in the coconut flour and vinegar. Add 1 tablespoon butter and stir until melted. Pour the sauce over the apples, onions and pork chops. Season with the remaining sea salt. Serve immediately.
Keywords: pork chops with apples and onions