Braised Chicken is a comforting dish to make during the winter months. Other dishes I love to prepare in the winter are Lentil Soup with Swiss Chard and Sausage, Butter Chicken (always a hit!), and White Beans and Sausage in the Crock Pot.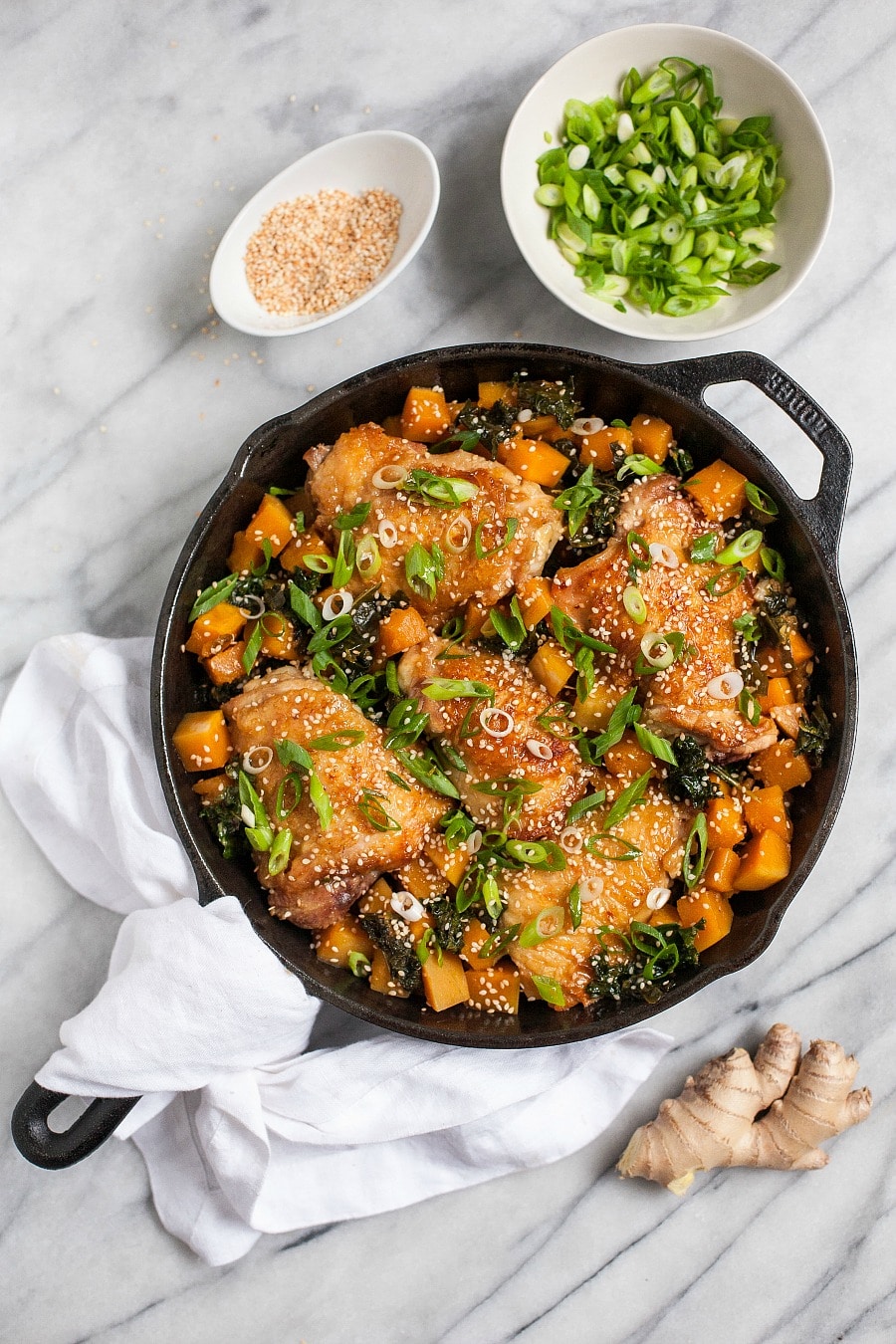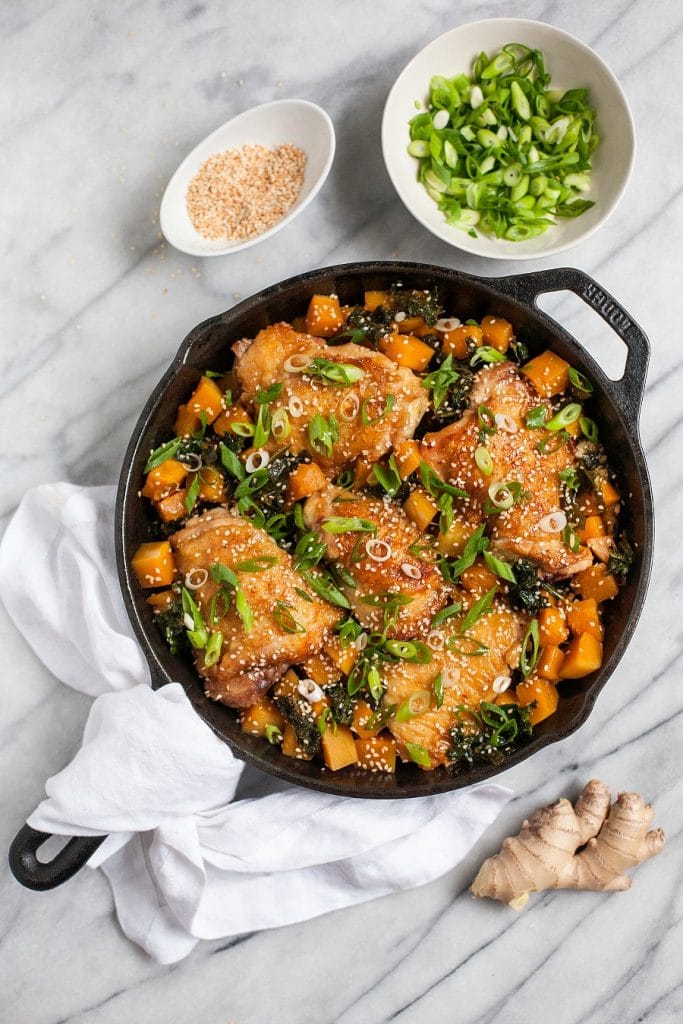 While I love using white meat, a braised dish usually works much better with dark meat. In this recipe, I braise chicken thighs with broth, ginger, chiles, scallions, and tamari to create deep, rich flavors. The leftovers are fabulous! 
I added some butternut squash and kale to the recipe, but you can switch those out with other squashes or leafy greens if you prefer.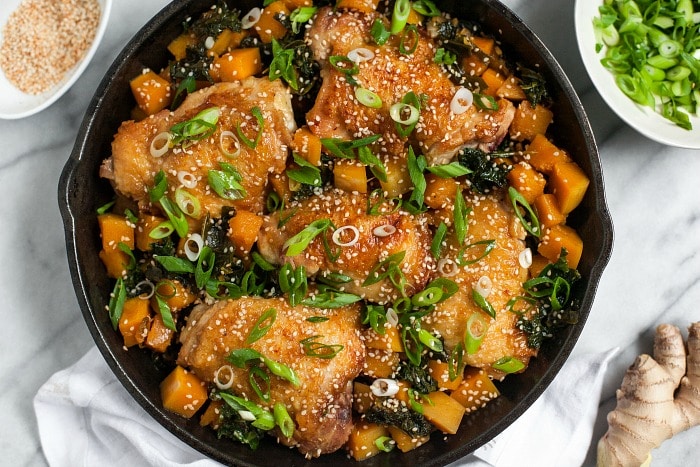 I like to serve this dish with mashed or Duchess potatoes and a green salad. Enjoy!  
Print
Braised Chicken Thighs with Squash and Kale (Grain-Free)
Adapted from Bon Appetit.
4

pounds skin-on, bone-in chicken thighs (about 12), patted dry
Freshly ground pepper

2 tablespoons

ghee

1

bunch scallions, sliced into

1

-inch pieces

1

dried chiles de árbol

2 tablespoons

chopped ginger

3 cups

chicken broth, divided

1/2 cup

fermented gluten-free tamari or coconut aminos

2 tablespoons

coconut sugar (or raw honey for GAPS)

2 tablespoons

sesame oil

1

butternut squash, cut into bite-size pieces

1

bunch kale, chopped and steamed (this is why I prefer to cook the greens first, but if you'd like to add them raw, that will work as well)

1 tablespoon

coconut vinegar

2 teaspoons

toasted sesame seeds
Instructions
Lightly season the chicken thighs with sea salt and pepper. Heat the ghee in a large Dutch oven or other heavy pot over medium-high. Working in 2 batches, cook chicken, skin side down, until skin is browned and crisp, about 8–10 minutes. Transfer the chicken to a plate, placing skin side up (the chicken will not be cooked through at this point).
Keep the heat at medium-high (keep any leftover ghee, chicken fat, etc. in the pot) and place the scallions, chiles, and ginger in the pot to cook, stirring frequently until onions are just turning golden brown on the edges, about 3 minutes.
Add 1 cup of chicken broth, bring to a simmer, and cook until reduced to about 3 tablespoons. This will take about 5 minutes. Add the tamari, coconut sugar, sesame oil, and remaining broth and bring to a simmer, stirring to dissolve sugar. Place the butternut squash and kale in the pot. Place the chicken, skin-side up on top of the squash and kale, and, using a pair of tongs, nestle each piece of chicken down into the liquid mixture so the bottom of each piece of chicken is in the liquid. Partially cover the pot, reduce the heat to medium-low, and simmer until the chicken and squash are cooked through, about 20 minutes.
Remove the chicken, increase the heat to medium, and continue to cook until liquid is reduced by about two-thirds and has the consistency of thin gravy, about 10–15 minutes.
Remove the pot from heat and drizzle the vinegar over the squash and kale mixture. Add the chicken back to pot, turning to coat in sauce, and sprinkle sesame seeds over top.
This recipe can be made 2 days ahead. Let cool; cover and chill and then reheat covered over low heat.
Photo Credit: Becky Winkler