Haagen-Dazs Rum Raisin Ice Cream was always a favorite flavor in our house growing up. I'd actually never made a homemade version until recently, and since it's summertime, now is the perfect time to share!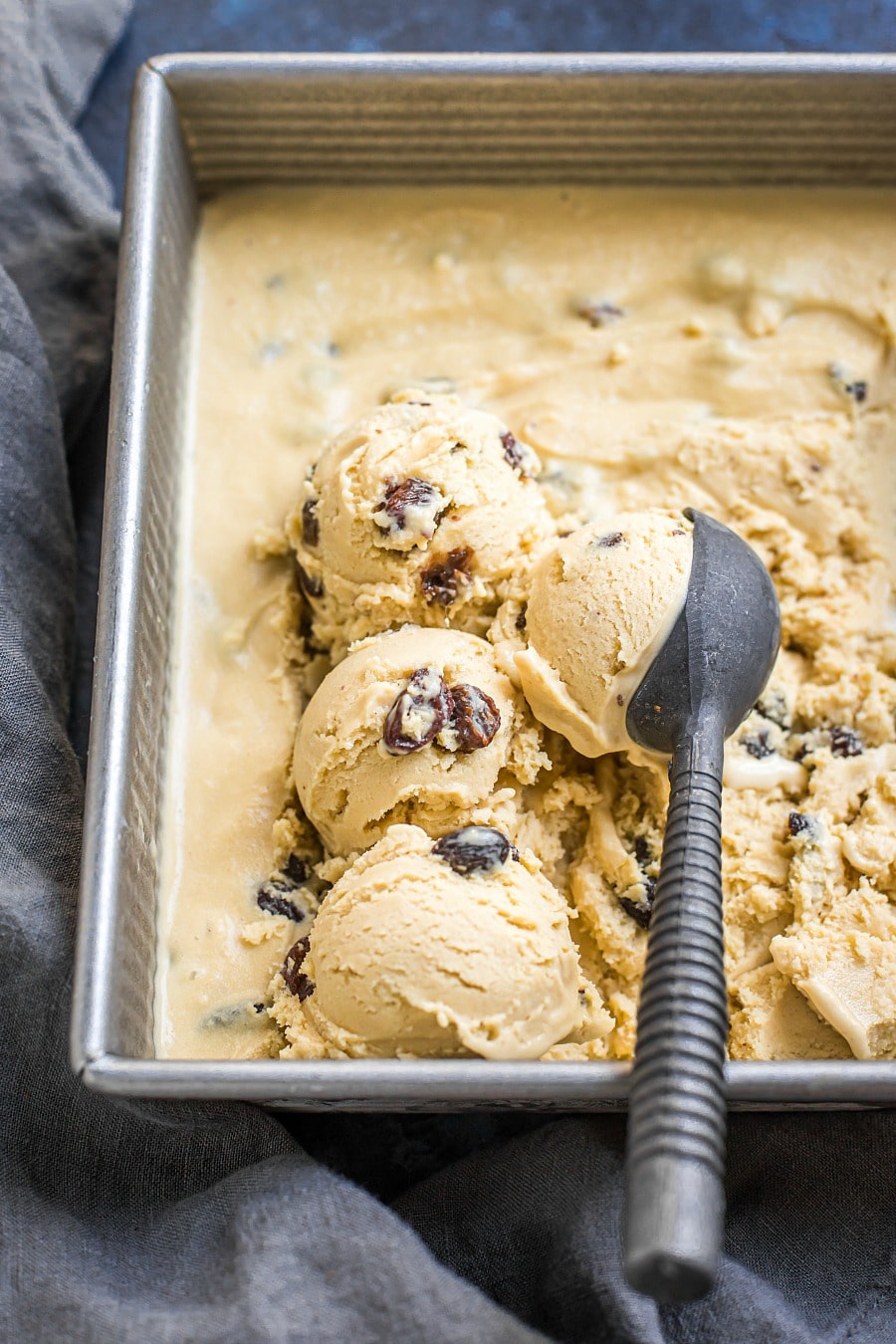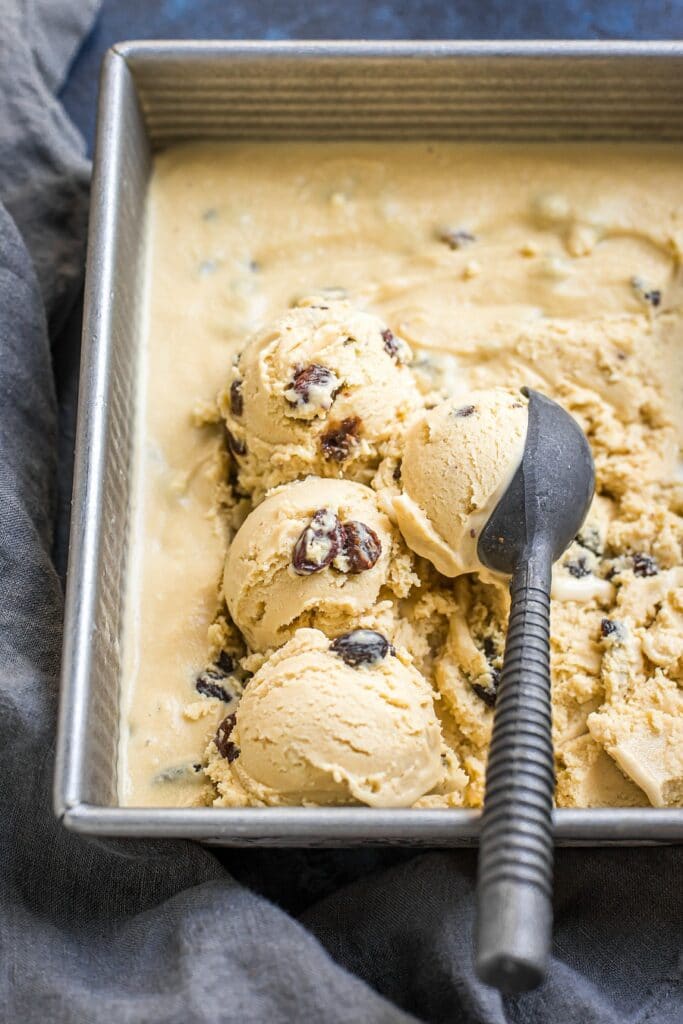 If you're avoiding all alcohol, here are a couple of tips if you don't want to use rum in the ice cream base recipe:
1. Go ahead and plump the raisins in the rum (that's what gives the raisins that amazing burst of rum flavor, and the amount of alcohol in the end recipe is minimal).
2. Drain the raisins as recommended in the recipe, but substitute the 3 tablespoons of rum for 1 tablespoon of good vanilla extract. You won't have as much of the rum flavor, but the added vanilla along with those plumped raisins will make the ice cream really flavorful.
3. If you absolutely don't want any rum in the recipe (even to plump the raisins) you can plump them with 1/3 cup of water plus 1 tablespoon of vanilla extract. Then, instead of adding the 3 tablespoons rum to the custard mixture, you can add 1 tablespoon of vanilla extract.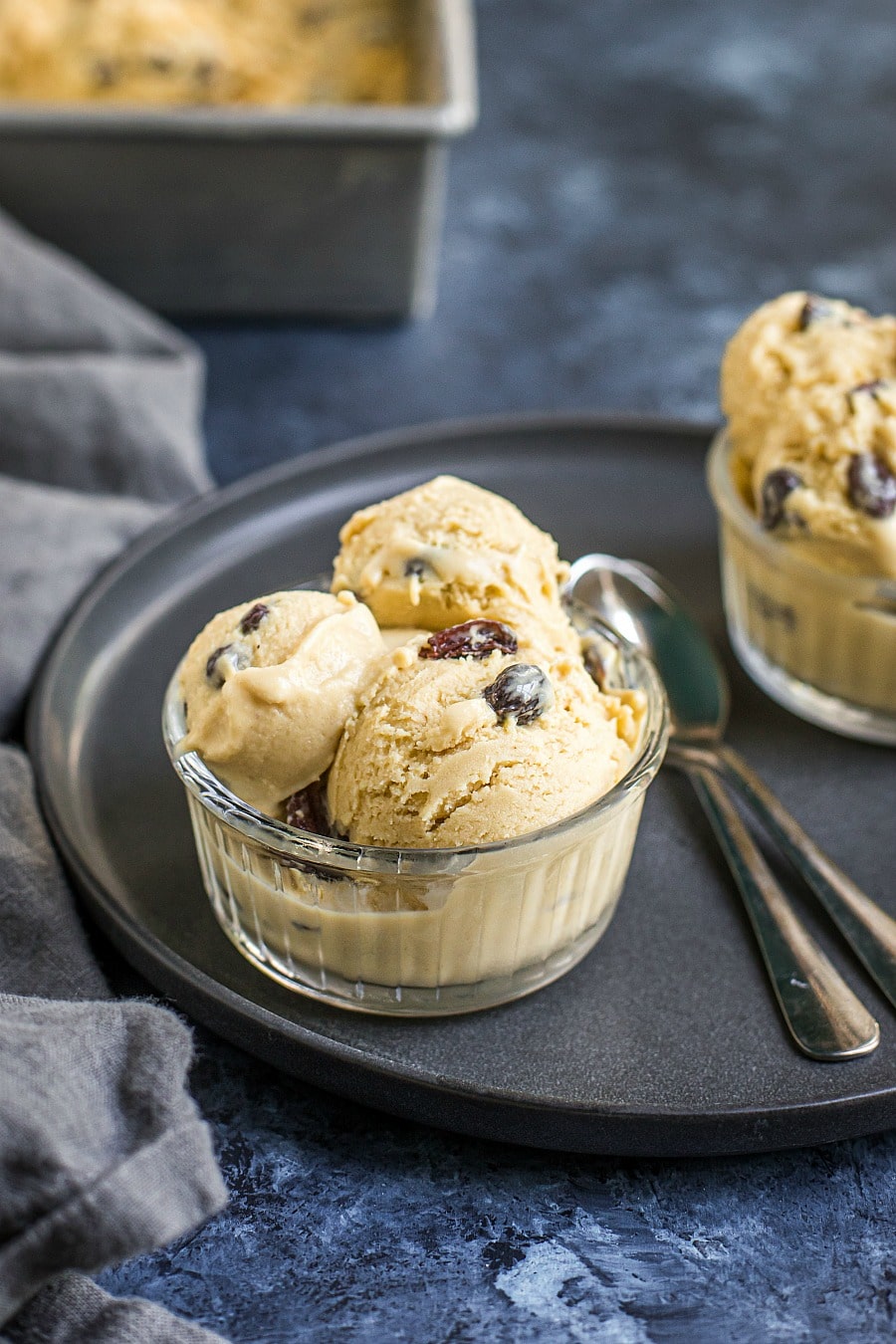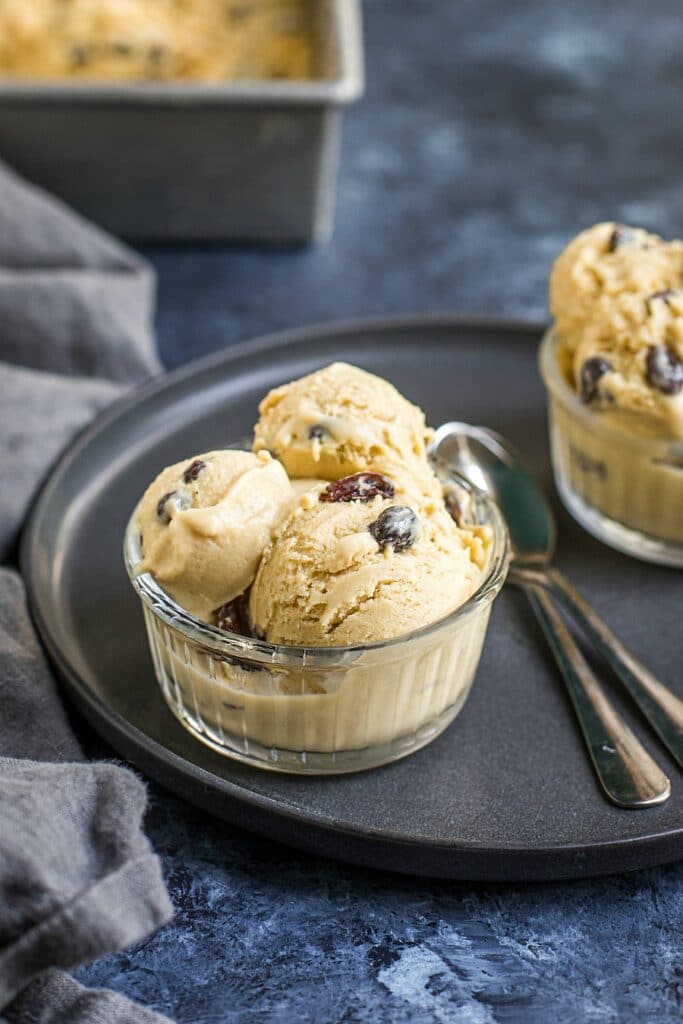 If you're looking for a good ice cream maker, I highly recommend the Cuisinart. I've had one for over 20 years and it's still running strong! And, for the picture above, I used a gluten-free ice cream cone, but if you're looking for a grain-free ice cream cone recipe, check out the waffle cone recipe in my cookbook!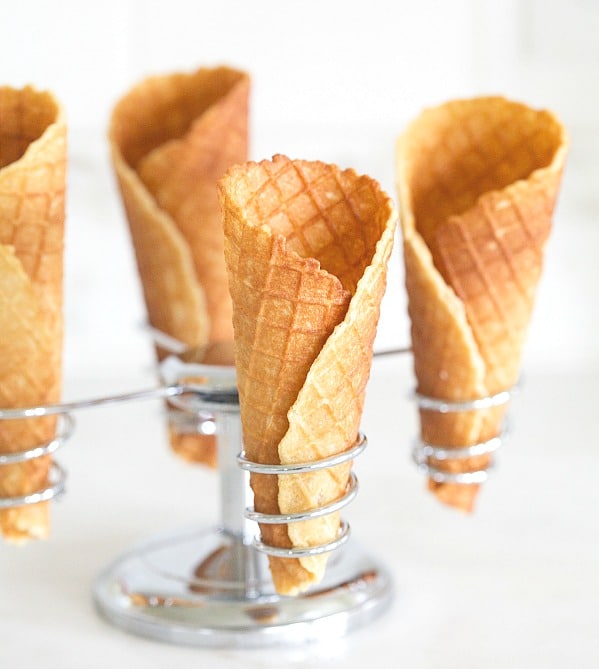 Here are some additional summertime ice cream recipes you might enjoy:
Paleo Chocolate Chip Cookie Dough Ice Cream
Chocolate Peanut Butter Ice Cream
Apricot Ice Cream
Dairy-Free Vanilla Ice Cream
Almond Butter Chocolate Fudge Chunk Ice Cream
Print
Rum Raisin Ice Cream (Grain-Free, Dairy-Free)
Yield:

Makes about 1 quart
For the Ice Cream:
1/2 cup

raisins

1/3 cup

rum (see notes in above post to reduce the rum in the recipe if needed)

1 1/2 cups

coconut milk (or raw cream)

1/2 cup

coconut cream (or raw milk)

1/2 cup

maple syrup

4

egg yolks
Instructions
Place the raisins and rum in a small saucepan and bring to a simmer over low heat. Remove from the heat and let the mixture stand for 1 hour. (You can do this step one day in advance.)
Place the milk, cream, maple syrup and egg yolks in a medium saucepan and whisk until combined. Heat over medium-low and whisk constantly, until the mixture thickens and coats a wooden spoon when dipped into the mixture. Pour the mixture through a stainer and cool over an ice bath. Cover and place in the refrigerator until throughly chilled, about 3-4 hours. When you're ready to freeze the ice cream, drain the raisins over a bowl and measure the drained rum. You'll want a total of 3 tablespoons of rum, so add more rum if needed. Stir the rum into the milk mixture.
Freeze the mixture according to your ice cream maker manufacturer's instructions. During the last few minutes of churning, add the rum-soaked raisins.
Photo Credit: Becky Winkler