My Grandma has been serving strawberry jello pretzel salad at Christmas dinner ever since I was a little girl and it's one of the most requested dishes each year.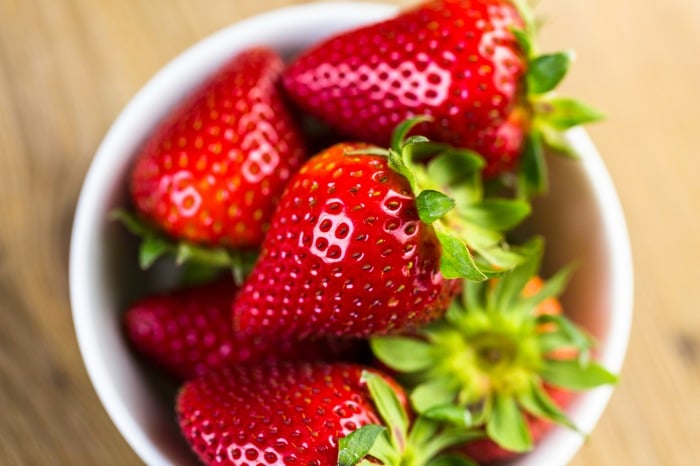 The traditional recipe is made with cool whip, loads of white sugar and of course, a packet of jello. Last year while having a plate-full at my Grandma's house, I decided I was going to figure out a way to re-vamp the recipe to use all organic ingredients. The jello was the most difficult for me. I laughed at myself as I made 8 or so batches one afternoon until I got just the right consistency. Don't ask me why, but I've always had a problem cooking with gelatin. The end result was worth all of the trouble though. The salad has a sweet-salty crust, a smooth sweetened layer of cream cheese and homemade jello with strawberries to top it all off. It's a plate of gooey yumminess. Who could resist?
Strawberry Jello Pretzel Salad
Ingredients
2 3/4 cups crushed pretzels (I like to use spelt pretzels)
1 1/4 cups melted butter
3 tablespoons organic whole cane sugar or sucanat (to read more click here )
12 ounces cream cheese, preferably cultured
1 cup maple syrup
1 1/2 cups sour cream, preferrably cultured
1 1/2 teaspoons vanilla
1 1/2 cups whipped cream
10 ounces frozen strawberries, thawed and chopped
1 1/2 cups pomegranate juice
1/4 cup orange juice
2 tablespoons unflavored gelatin (I prefer this brand)
1/2 cup chopped pecans (optional)
Instructions
Preheat oven to 350 degrees. Mix crushed pretzels, melted butter and whole cane sugar together in a large bowl. Press into bottom of a 13x9 baking dish. Bake for 10 minutes. Let cool completely.
Cream cream cheese, maple syrup, sour cream, and vanilla together. Fold in whipped cream. Spread 2/3 of mixture on cooled pretzel layer.
Sprinkle gelatin over 1 cup pomegranate juice, and let sit for 5 minutes. Pour remaining 1/2 cup pomagranate juice and orange juice into a saucepan and heat until 100 degrees (it is very important that the juice does not get too hot or it will kill the gelatin). Pour heated juice into gelatin mixture and stir until gelatin has dissolved. Add strawberries, cover and place in the refrigerator for about 1 hour until just beginning to set. When gelatin is just beginning to set, pour it over the cream cheese mixture to create a third layer. Cover and refrigerate overnight.?Before serving top with remaining cream cheese mixture and sprinkle with pecans.
7.8.1.2
3503
https://deliciouslyorganic.net/strawberry-jello-pretzel-salad/
Copyright 2016 Deliciously Organic