Skillet-Roasted Chicken with Lemon is a great meal for any night of the week!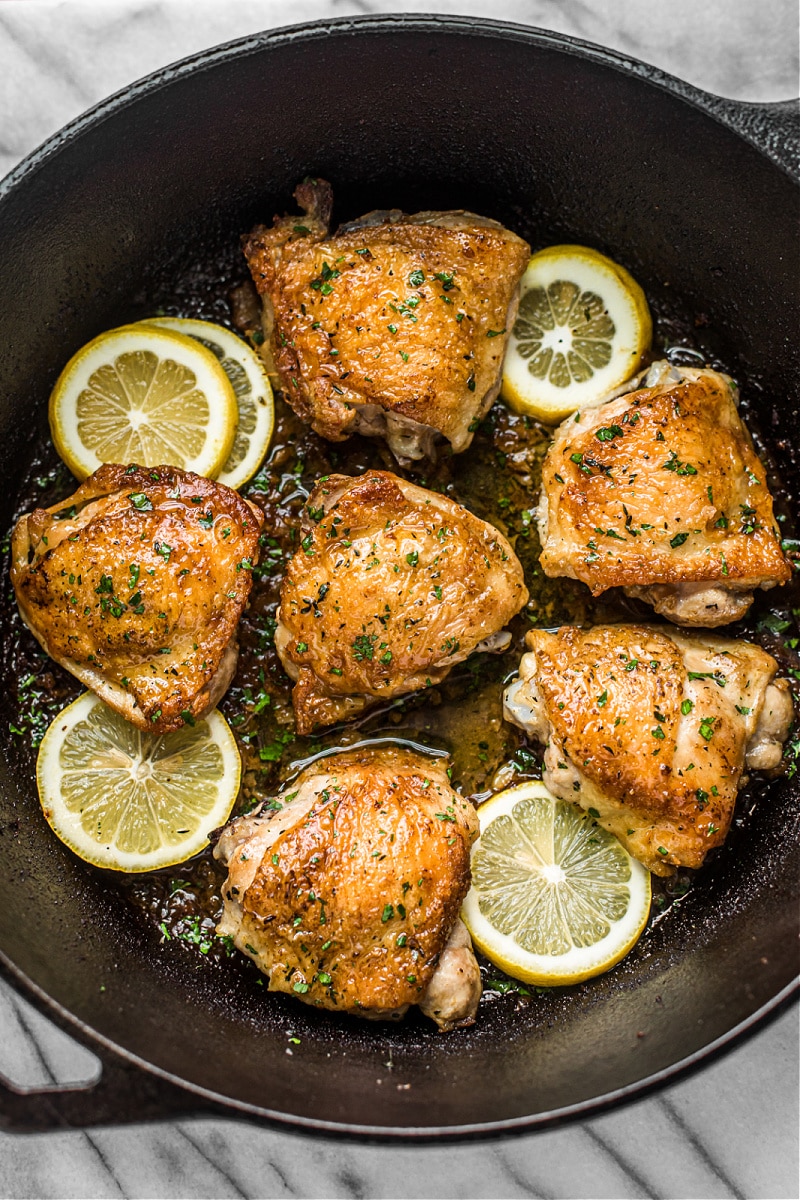 For this recipe, chicken is pan fried until the skin is golden brown and crisp. Then the shallots and garlic are added along with coconut flour to thicken things up, and some broth and lemon juice are stirred in. It's all put in a hot oven to roast until the chicken is cooked through and it's topped with parsley and thyme. It's a fantastic combination and it makes for great leftovers!
You'll need a large skillet that can go in the oven. A cast iron or stainless steel 12″ skillet is a good choice.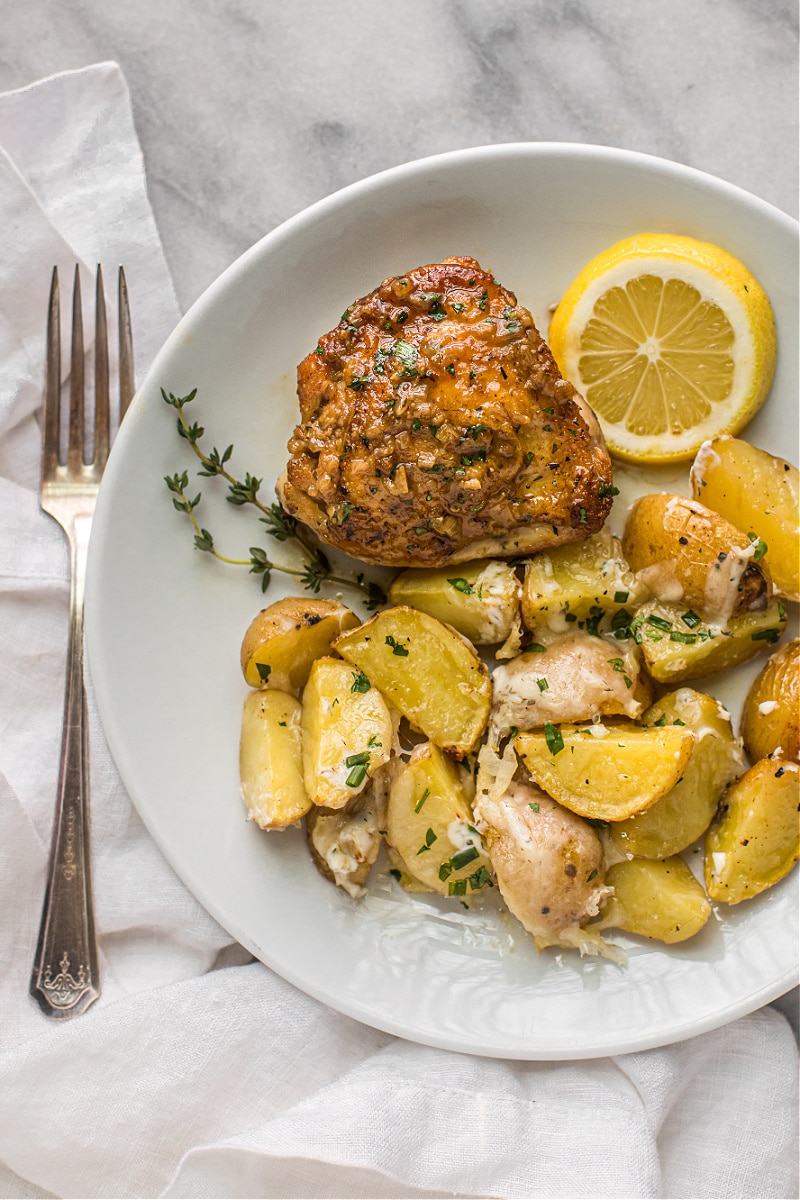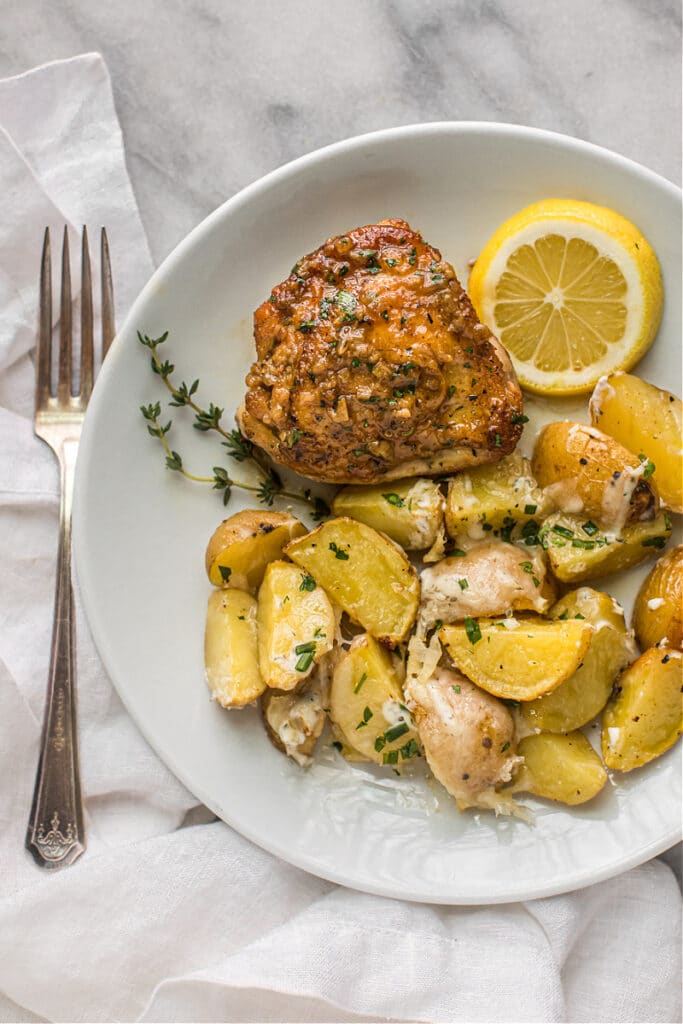 Here are some sides that you can serve with the skillet-roasted chicken with:
Creamy Mashed Potatoes
Slow-Cooked Greens with Garlic
Copycat Olive Garden Salad
Scalloped Potatoes
Vegetable Tian
Print
Skillet-Roasted Chicken with Lemon
Author: Deliciously Organic
Prep Time:

15

Cook Time:

35

Total Time:

50 minutes

Yield:

Serves 4-6

Category:

main dish

Diet:

Gluten Free
For the Chicken:
3 pounds bone-in chicken pieces (breasts or thighs)
Celtic sea salt
For the sauce:
2 tablespoons ghee, divided (use lard or duck fat for dairy-free)
1 shallot, chopped
2 garlic cloves, chopped
1 teaspoon coconut flour
1 cup bone broth or meat stock
1/2 teaspoon Celtic sea salt
1/4 lemon juice
Zest from 1 lemons
2 tablespoons fresh parsley, chopped
1 teaspoon fresh thyme, minced
Instructions
Preheat oven to 475F and adjust the rack tot he middle position. Sprinkle each chicken thigh with sea salt. Place 1 tablespoon of the ghee in a 12" oven-proof skillet over medium high heat, swirling the pan to coat. Place the chicken skin-side down in the skillet and cook until the skin is browned and crisp, about 8 minutes. Flip the chicken pieces and continue to cook until browned on the second side, about 5 minutes. Transfer chicken to a plate.
Reduce the stove temperature to medium and add the remaining 1 tablespoon ghee, shallot and garlic and cook until fragrant, about 45 seconds. Sprinkle the coconut flour over the garlic mixture, stirring constantly and cook for about 1 minute. Slowly stir in the broth, sea salt and lemon juice, scraping the bottom of the pan to release any browned bits. Bring to a simmer. Stir in the zest and remove from the heat. Place the chicken, skin-side up, in the pan with the garlic mixture and place in the oven. Roast for about 10 minutes until chicken is cooked through.
Let chicken rest for 5 minutes, sprinkle with parley and thyme. Season to taste with sea salt and serve.
Keywords: skillet-roasted chicken