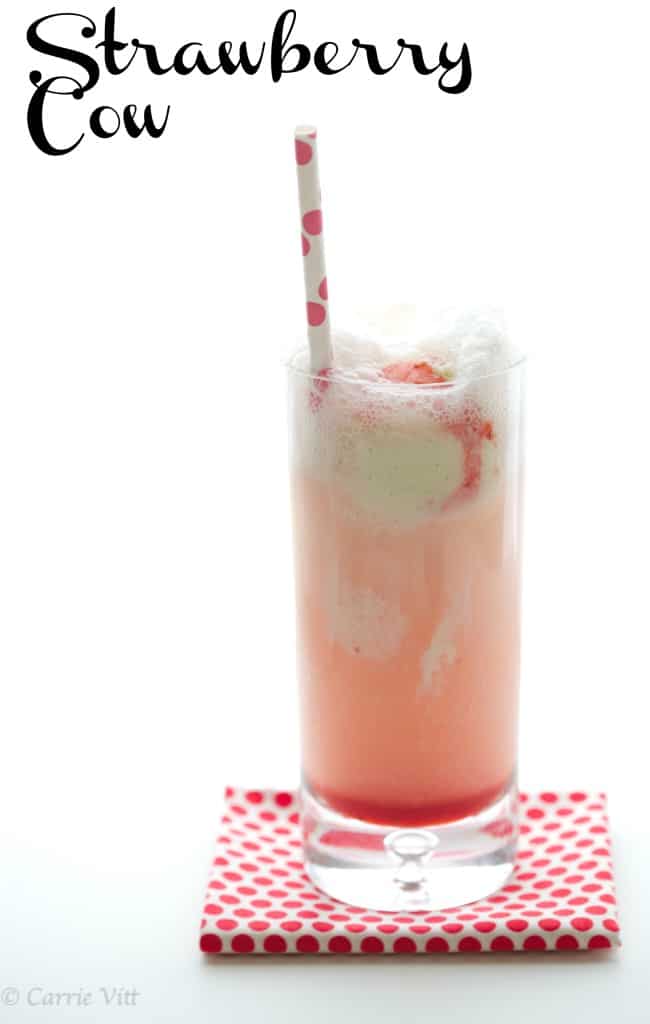 Unhealthy beverages can undermine a great diet. If you're eating vegetables, healthy fats, meats, and cultured dairy but add a couple of chemically processed drinks each day, you may wreak havoc on your health.
There are many better alternatives, and if you want something fun to drink, why not add some probiotics, vitamins or minerals to the mix? For the purpose of this post, I won't be discussing dairy and other milk products. We'll cover that topic in a few weeks.
Juice
Sadly, most juices on the market aren't quite what they appear. Unless they say "unpasteurized," they've probably been heated which can damage many of the nutrients in the fruit juice. Many don't realize that it's legal for the companies to add "flavor packets" to the juice to help heighten the flavors. These packets contain chemical ingredients such as ethyl butyrate and terpene compounds. Also, many labels deceive. For instance a bottle of Naked Orange Juice says on the front label that it's "100% fruit and Veg Smoothie". When you turn the bottle over the label says the juice contains ingredients like pyridoxine hydrochloride and cyanocobalamin. Those ingredients don't sound like "100% fruit and vegetable" to me.
If you can't juice some fruit or vegetables yourself, then it's best to look for one that says "unpasteurized" on the label. This means it was juiced and poured into the bottle. These raw juices usually come with a warning label. I understand that there are laws, but these labels make the laugh. If I eat an orange off of the fruit stand, it's considered "safe", but if I take that same orange and squeeze the juice out all of a sudden we need a warning label? Do you see where I'm going with this?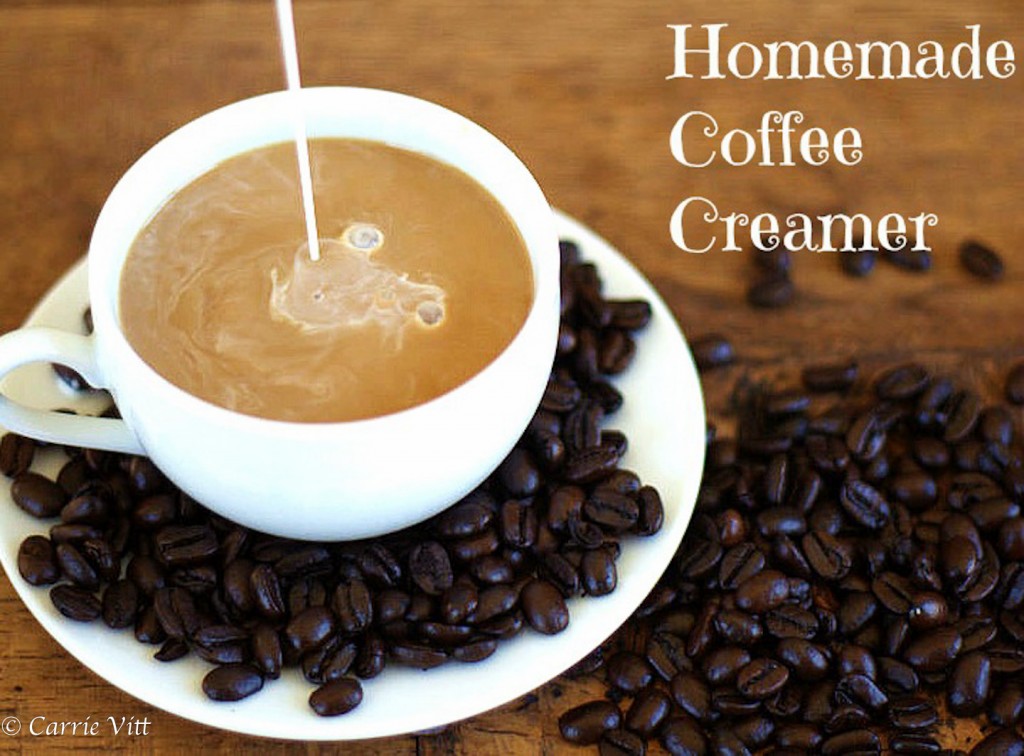 Coffee and Coffee Creamers
The first thing many people start their day with is a cup of coffee and some chemically-processed coffee creamer. If you're going to have some coffee, it's a good idea to pick an organic coffee or try an herbal coffee so you don't drink extra pesticides and chemicals with your cup of joe. Regarding coffee creamers, I have recipes for those! You can make them in minutes and you can easily control the amount of sweetness.
Check out these recipes:
Vanilla Coffee Creamer
Pumpkin Spice Coffee Creamer
Cinnamon Streudal Creamer
Chocolate Almond
Peppermint Mocha
Caramel Coffee Creamer
Honey Vanilla Creamer 
Dairy Free/Paleo Coffee Creamers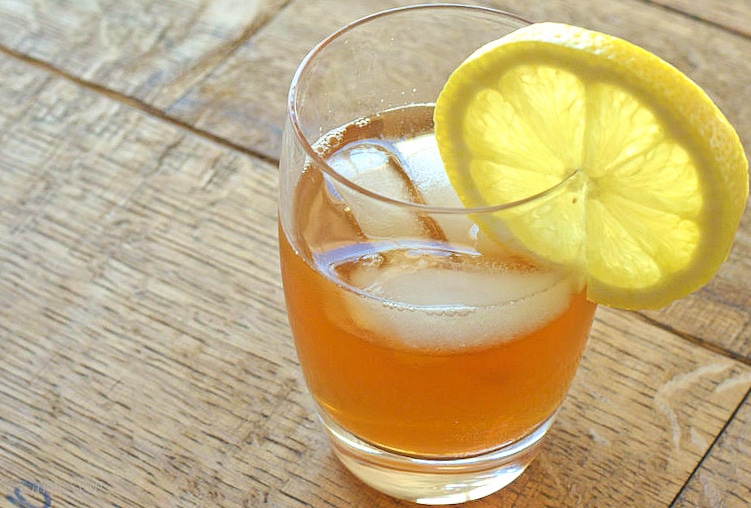 Kombucha
One of my very favorite beverages is kombucha. It's a sweet, naturally effervescent fermented tea which is loaded with probiotics and other nutrients. I make a batch of it once a week. It might sound scary, but it's very easy. Check out this post to read more about making your own kombucha.
Teas
Most ready-made teas contain preservatives, additives and extra sugars, so it's best to make your own tea. There are dozens of great organic teas out there.
Here are a few of my favorites:
Chamomile TeaClassic Earl GreyHibiscus High Tea
Green Iced Tea with Honey
Water
I mostly drink water each day and my nutritionist recommends drinking half of your weight in water each day. That's quite a bit! Make sure the water you drink most often is free of chemicals such as bleach and flouride. Many of the chemicals added to our water systems are detrimental to our health so it's important to make sure you drink clean water.
Soda
Whether it's regular or diet, industrially produced sodas are full of sugars, and man-made ingredients. It's very easy to make your own effervescent drinks. Just mix soda water with another liquid such as teas or fresh fruit juice. If you're hooked on extra-sugary drinks, I recommend cutting back very slowly. Many years ago, before beginning my organic, unprocessed journey, I used to have a tablespoon of sugar in my coffee. (Yikes!) When I decided to cut back, I reduced the sugar in my coffee each week by half a teaspoon a week. When I got down to just having one teaspoon of sugar in my coffee, I then started using raw honey instead. It was a slow process, but this way I was able to change my taste as I went along. Now I can't handle much sweetness in my food or drink.
Last week I thought I'd make something fun for the kids. A strawberry cow was fun to sip through straws and the girls loved it. I pureed some strawberries, added some homemade coconut milk/honey-sweetened ice cream and added some sparkling water on top. Fizzy, fun and a lot less sugar than a soda.
Here are some great posts that Vani over at Food Babe has written about beverages:
The Secret Behind Gatorade and How to Replenish Electrolytes Naturally
Is Your Protein Shake Safe?
Coca-Cola's Low Calorie Beverages
What's your favorite beverage? Any fun recipes? Please share!
Coconut Milk Vanilla Ice Cream
You can omit the vanilla bean if needed.
Adapted from The Perfect Scoop (If you're looking for a great ice cream book - this is a great one!)
Ingredients
3 cups coconut milk
1/3 cup honey or maple syrup
1 vanilla bean, split in half lengthwise
6 large egg yolks
1 teaspoon vanilla extract
Instructions
Place coconut milk, honey and vanilla bean in a medium saucepan. Bring to a simmer. Remove from heat and let steep for 30 minutes. Remove vanilla bean. Place coconut mixture back on the stove over medium heat. Whisk egg yolks in a small bowl. Carefully ladle some of the warm coconut mixture into the egg yolks while whisking constantly (be careful, you don't want scrambled egg yolks). While whisking, slowly pour egg yolk mixture into coconut milk mixture. Continue to cook, whisking constantly, until mixture becomes thick and will coat the back of a spoon. Remove from heat and add vanilla extract. Chill the mixture in the refrigerator, at least 3 hours. Freeze according to ice cream maker instructions.
7.8.1.2
3430
https://deliciouslyorganic.net/the-unprocessed-kitchen-beverages-and-a-strawberry-cow/
Copyright 2016 Deliciously Organic