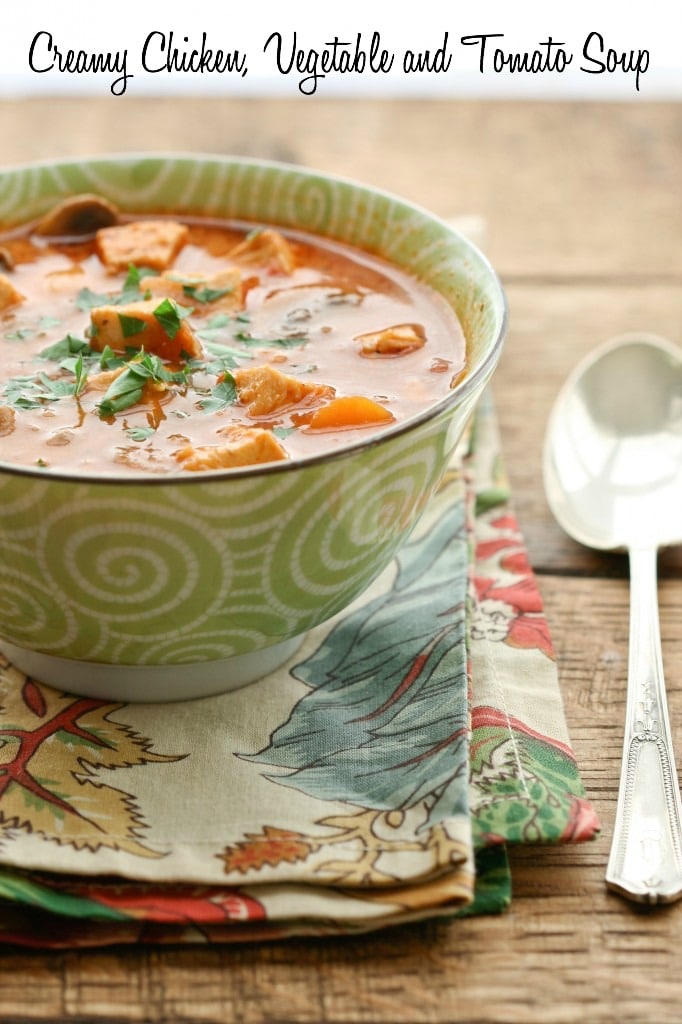 I have a secret for all my soups – sweat the vegetables. It's amazing how you can transform the flavor of a soup with such a simple technique. I usually chop up some carrots, onions, celery and garlic, then throw them into a large pot with a few tablespoons of melted butter (remember, you want to eat your vegetables with a healthy amount of butter so your body can assimilate the nutrients properly). I put the lid on, lower the heat as low as it will go, and leave it to cook for thirty minutes. This creates a smooth, buttery base layer for your soups and stews.
I created this soup out of necessity – I needed to make dinner and hadn't been to the store. I found a few vegetables, some meat from the freezer, homemade chicken stock (I always keep some on hand), and a bit of cream. Pete loved it so much, I made it again just two days later.
I'm headed to New York City this weekend to attend the International Association of Culinary Professionals Conference. It should be a great time of learning, meeting new people, and finding some great eats. On Sunday, I will be signing books at the IACP Book and Blog Festival in Soho. If you're in the area please stop by – I'd love to meet you!
Creamy Chicken, Tomato and Vegetable Soup
Ingredients
4 tablespoons unsalted butter (or 3 tablespoons coconut oil for a dairy-free option)
4 large carrots, chopped
1 large leek, chopped
2 ribs celery, chopped
4 cloves garlic, minced
8 ounces mushrooms, sliced
2 teaspoons Celtic sea salt , divided
2 teaspoons dried Italian seasoning
4 cups chicken stock or meat stock
3 boneless, skinless chicken breasts
1 (24-ounce) jar crushed tomatoes
1/2 cup heavy cream (or canned coconut milk for a dairy-free alternative)
Instructions
Melt butter in a large pot . Add carrots, leek, celery and garlic. Stir. Cover pot and reduce heat to low. Cook for 30 minutes. Add mushrooms and 1 teaspoon sea salt to pot. Stir and cook for 10 minutes. Stir in Italian seasoning and cook for 1 minute. Add stock, chicken, tomatoes and remaining 1 teaspoon salt. Bring to a simmer and cook until chicken is cooked through, about 10 minutes. Remove chicken from pot, chop into bite-size pieces and add back to the soup. Pour in cream and season to taste. Serve.
7.8.1.2
3160
https://deliciouslyorganic.net/creamy-chicken-tomato-and-vegetable-soup-recipe/
Copyright 2016 Deliciously Organic