Lemon Chicken and Vegetable Soup is so comforting and chock-full of nutrients!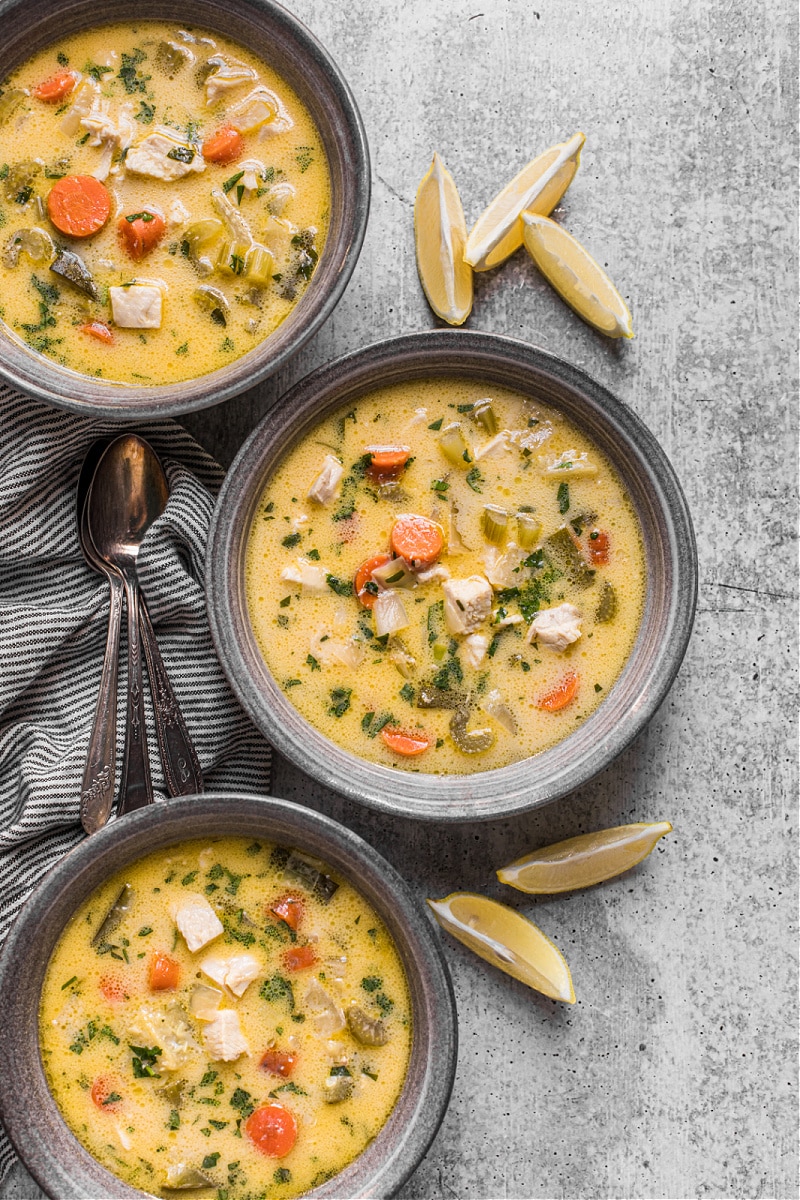 In this recipe, the vegetables are cooked with butter and then combined with bone broth (you can also use meat stock), and to finish, the yolks and lemon are whisked in to give it a bright and creamy flavor!
You can add soaked rice or quinoa to the soup if you'd like, or even add other various in-season vegetables.
I like to serve this with jalapeño cornbread or white dinner rolls. So delicious!
Here are some other popular soup recipes you might enjoy!
Creamy Tomato Soup
Shrimp and Potato Chowder
White Bean and Ham Soup 
Cream of Vegetable Soup 
Lentil, Carrot and Kale Soup 
Print
Lemon Chicken and Vegetable Soup
Author: Carrie Vitt
Prep Time:

20

Cook Time:

50

Total Time:

1 hour 10 minutes

Yield:

Serves 4

Category:

soup

Diet:

Gluten Free
4 tablespoons unsalted butter or 3 tablespoons ghee or coconut oil for dairy-free
4 carrots, cut into coins
4 celery stalks, cut into bite-size pieces
1 onion, chopped
2 zucchini, cut into 1" thick pieces
4 cloves garlic, sliced
3 boneless, skinless chicken breasts
6 cups bone broth or meat stock
1 1/2 tbs grey Celtic sea salt
1/4 tsp freshly ground black pepper
4 large egg yolks
3 tablespoons fresh lemon juice
1/2 cup parsley, chopped
Instructions
Place the butter in a large pot over low heat and melt. Add the carrots, celery, onion, zucchini and garlic to the pot. Stir and then put the lid on the pot and let sweat for 30 minutes. 
Add the chicken breasts, broth, salt and pepper and bring to a boil over high heat. Reduce heat to medium-low and continue to simmer until chicken is cooked through, about 8 minutes. Using a pair of tongs, remove the chicken and place on a cutting board. Cut the chicken into bite-size pieces and then add back to the broth mixture. 
In a small bowl, whisk together the egg yolks and lemon juice. Slowly add 1/2 cup of the hot liquid to the egg yolks while whisking constantly. Then, slowly add the yolk mixture to the soup while whisking constantly. 
Add the parsley, season with additional sea salt and pepper if needed, and serve. 
Keywords: lemon chicken and vegetable soup