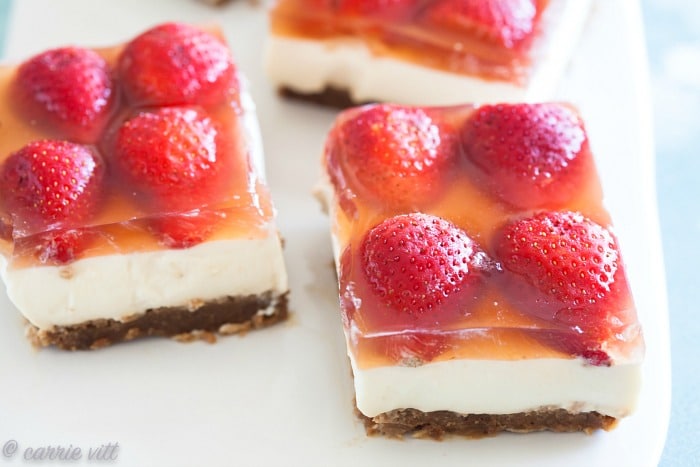 Honey-sweetened panna cotta is a favorite spring dessert, so I thought it would be fun to layer it with a cookie crust and strawberry kombucha jello!
To be honest, I was a bit crunched for time last week so I used Simple Mills grain-free pecan cookies for the crust. They are made with all wholesome ingredients and taste fabulous! You can change out the pecan cookie crust for a graham cracker crust if you prefer.
The middle layer is panna cotta and then I topped it all off with homemade kombucha jello. I chose strawberry, but you can change out the flavor of kombucha or the berries on top depending on your taste.
Here are some other springtime desserts you might enjoy:
Tres Leches Cake
Strawberry Sherbet
Angel Food Cake
Frozen Yogurt
Chocolate Berry Tart
Carrie Vitt
Panna Cotta and Strawberry Kombucha Slice (Grain-Free)
Ingredients
Instructions
Preheat the oven to 350ºF and adjust the rack to the middle position. Place the cookies and butter in a food processor and pulse until crumbled and moist. Press the cookie mixture into an 11x7" baking dish lined with parchment paper. Bake for 11 minutes. Cool and then put in the freezer for 30 minutes.
Meanwhile, pour 1 cup coconut milk into a medium saucepan and sprinkle evenly with the gelatin. Let the milk sit for 5-10 minutes to allow the gelatin to soften. Heat the milk and gelatin over medium heat, stirring constantly, until gelatin is dissolved and milk begins to steam. Stir the remaining 3 cups coconut milk and honey into the warm milk and whisk until all the ingredients are dissolved. Remove the pan from the heat and stir in the vanilla. Let the mixture cool to room temperature. When cooled, pour all but 1/2 cup of the panna cotta mixture over the cold cookie crust. (Pour the remaining 1/2 cup panna cotta mixture into a small bowl and enjoy it by itself later) Put the baking dish into the refrigerator and chill for 2 hour until mostly set.
Meanwhile, combine 1/2 cup kombucha and gelatin in a measuring cup and let sit for 5 minutes (this allows the gelatin to bloom). Heat over low while stirring constantly until the gelatin is dissolved, about 2 minutes. Slowly whisk in the remaining kombucha. Cool completely. When cooled, pour it over the chilled panna cotta and top with berries. Place in the refrigerator and let chill for at least 5 hours until set. Slice and serve cold.
7.8.1.2
4588
https://deliciouslyorganic.net/panna-cotta-and-kombucha-jello-slice-grain-free/
Copyright 2016 Deliciously Organic