Homemade Meatballs with Marinara is a comforting dish that's packed with nutrients such as healthy saturated and monounsaturated fats, protein, carnitine, zinc, B vitamins, selenium and heme-iron.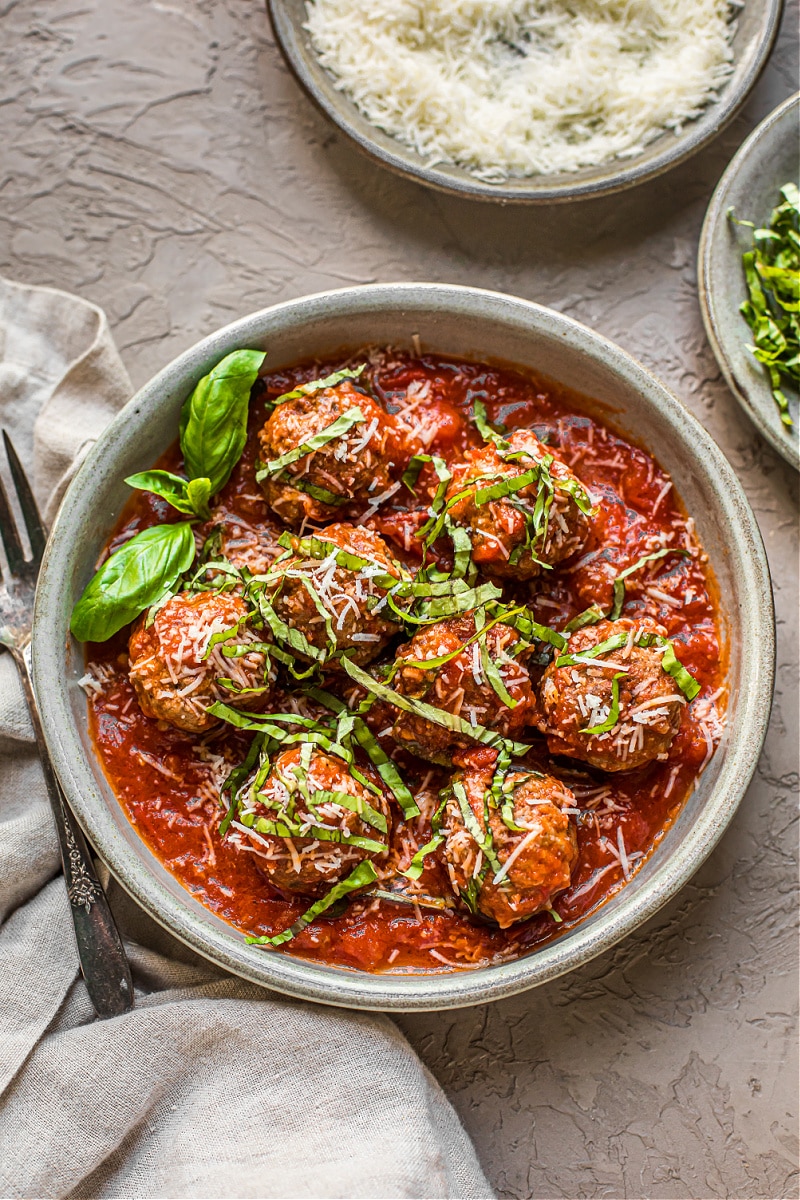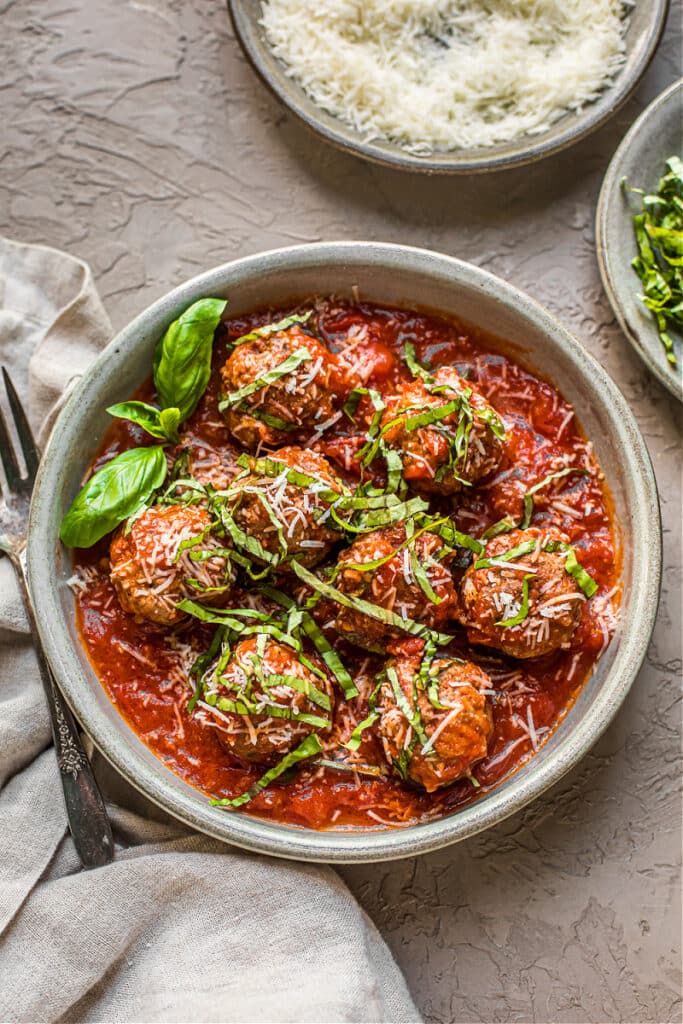 Ground beef is such a versatile ingredient, is packed with nutrients and is one of the cheaper meats at the grocery store. I use it all the time in my cooking!
I recommend buying organic and grass-fed when possible, but if that's not in the budget, lean ground beef is a fantastic option. Here are some of my top tips for eating real food on a budget.
Meatballs usually contain breadcrumbs, so for this recipe I omitted them to keep things simple. If you have a favorite meatball or meatloaf recipe that calls for breadcrumbs here are some substitutions that I've found work really well: blanched almond flour, coconut flour (you usually only need 1-2 tbs. to replace 1 cup of breadcrumbs), or ground plantain chips.
This recipe uses fresh tomatoes, which is a great option during the summer months. You can also use this marinara recipe as an alternative that uses jarred crushed tomatoes.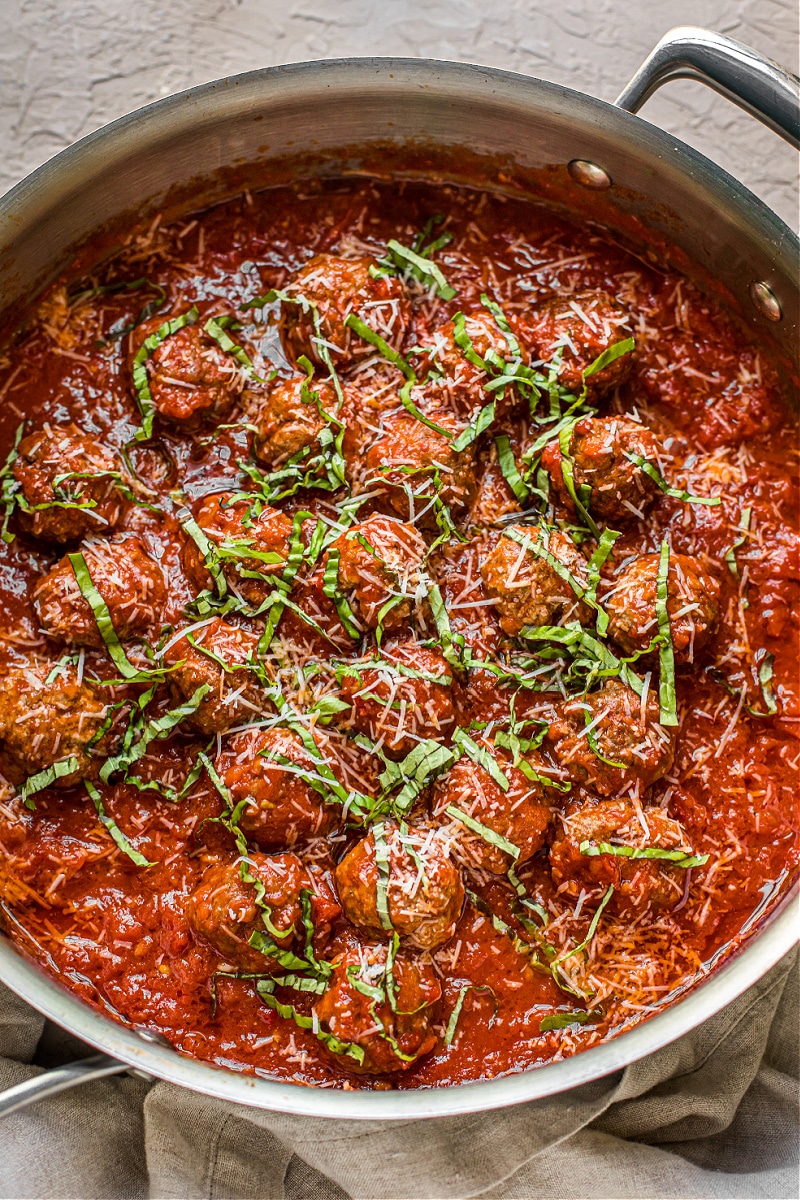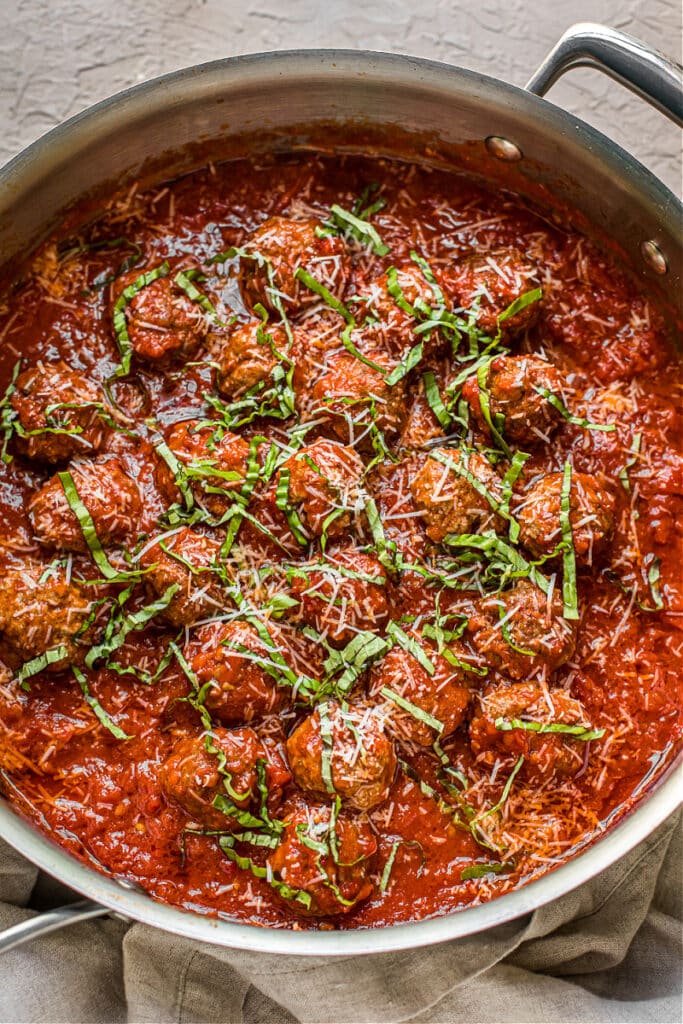 I like to serve meatballs with marinara alongside blanched green beans with butter and sprinkled Pecorino Romano cheese or a Caesar salad.
Here are some additional ground beef recipes to enjoy:
Salisbury steak 
Pizza Soup 
Greek Meatballs with Tzatiki Sauce
Cottage Pie
Bacon-Wrapped Meatloaf
Print
Homemade Meatballs with Marinara (grain-free)
Prep Time:

15 minutes

Cook Time:

25 minutes

Total Time:

40 minutes
For the marinara:
2

cloves garlic, minced

2 tablespoons

extra-virgin olive oil

4

large tomatoes, chopped

1 teaspoon

sea salt
For the meatballs:
1 1/2

pounds ground beef

2 tablespoons

tomato paste

1 1/4 cup

shredded Pecorino Romano cheese

1 teaspoon

dried Italian seasoning

1 teaspoon

sea salt

1/4 teaspoon

freshly ground black pepper

1/4 cup

shredded basil leaves
Instructions
Place garlic and olive oil in a large sauce pan over medium-low heat. Cook until garlic begins to sizzle and is fragrant. Add tomatoes and salt. Simmer the sauce for 10 minutes.
Place beef, tomato paste, 1 cup cheese, seasoning, salt and pepper in a large bowl. Using your hands, massage the meat until ingredients are incorporated. Form meat into golf-size balls and place on a large baking sheet. When all of the meatballs have been formed, place the meatballs into the simmering sauce. Cook for about 10 minutes, until meatballs are cooked through. Top with basil and remaining cheese. Serve immediately.