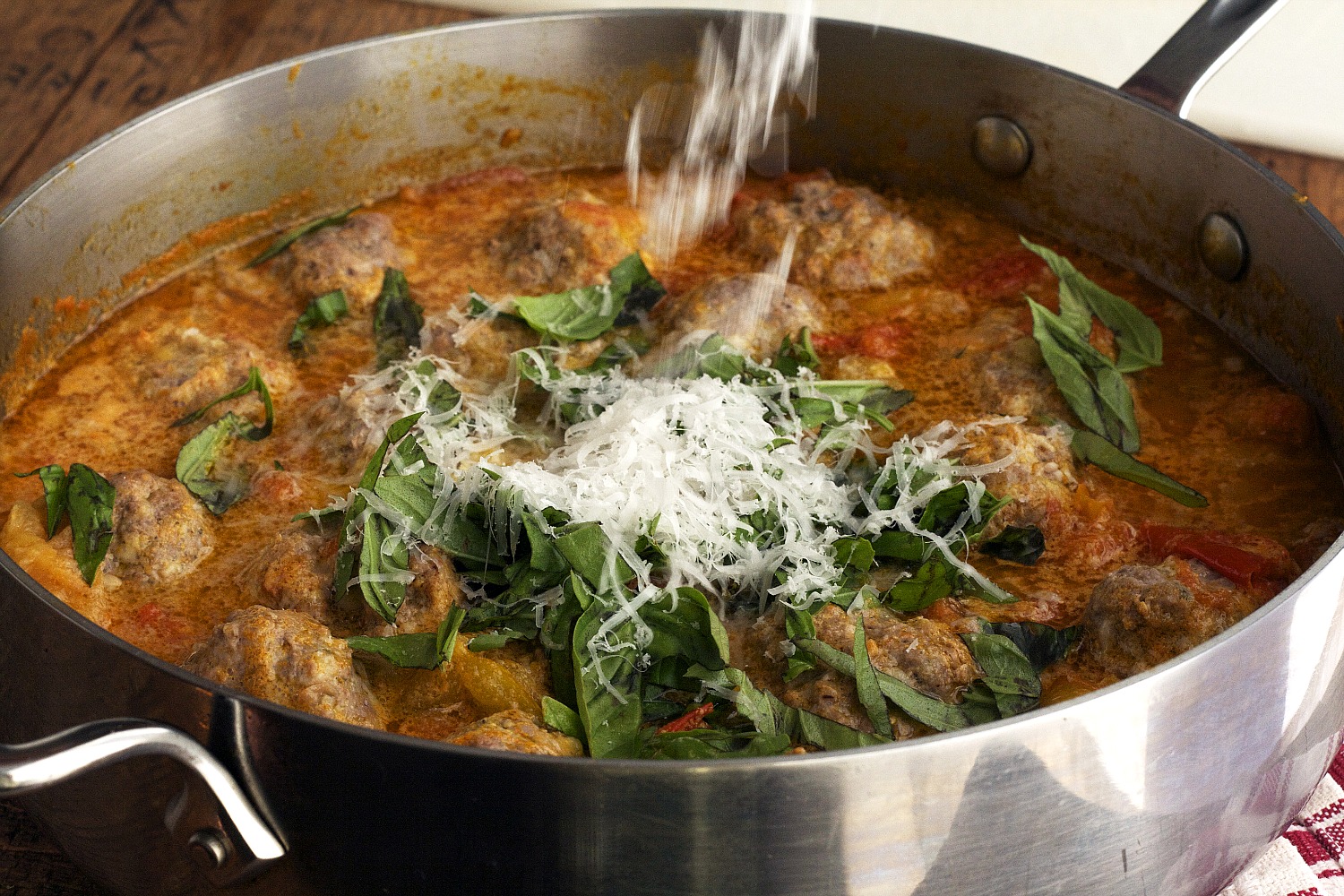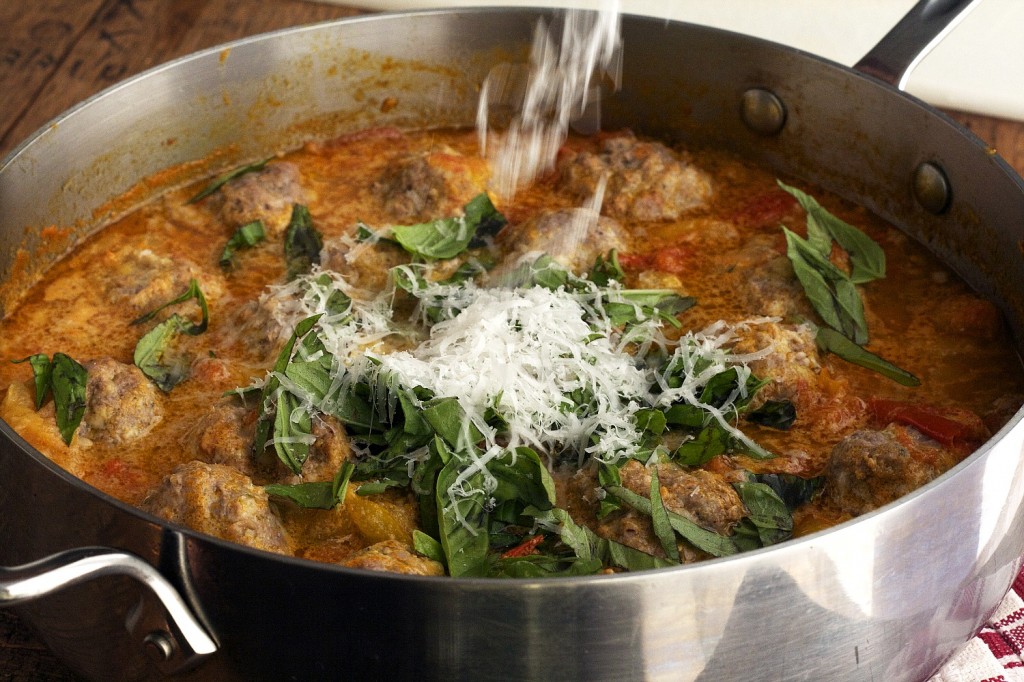 Sunday we loaded the kids in the car and drove out of the desert to the beautiful Apricot Lane Farms. My dear friend Molly and her husband John run the farm. They were hosting a party for everyone to gather and enjoy some California sunshine. The kids swam, ran through the gardens and orchards and made googly eyes at the goats, sheep, and puppies. Grass-fed hamburgers and all-beef hot dogs were grilled and served alongside fresh vegetables, great salads, and washed down with Molly's homemade raw honey lemonade.
Just before leaving, Molly pointed to some baskets overflowing with heirloom tomatoes, handed me a bag and told me to take as many as I wanted. My heart leapt a little.
Some of the tiny tomatoes were so cute, I actually kissed a few of them. Today I spent time cooking up homemade marinara. The house smelled of garlic and fresh tomatoes. I made some meatballs (without bread crumbs) and simmered them in the sauce until tender. I served it alongside blanched green beans with butter and sprinkled Pecorino Romano cheese. I'm beginning to realize living grain free can be pretty darned delicious!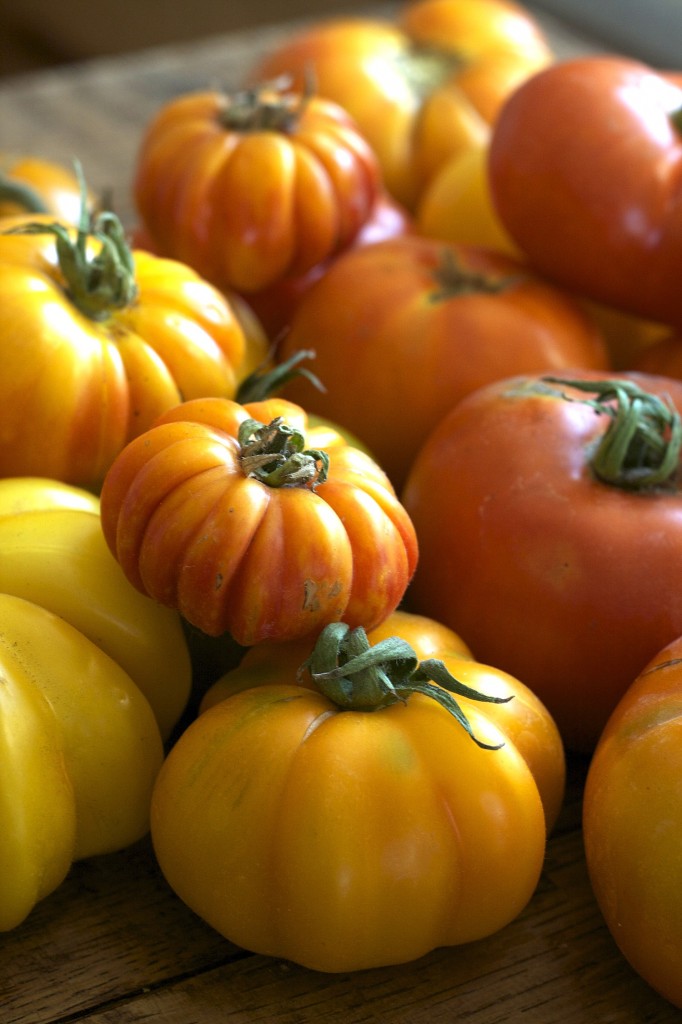 Homemade Meatballs and Marinara
Ingredients
For the marinara:

2 cloves garlic, minced
2 tablespoons extra-virgin olive oil
4 large tomatoes, chopped
1 teaspoon sea salt

For the meatballs:

1 1/2 pounds ground beef
2 tablespoons tomato paste
1 1/4 cup shredded Pecorino Romano cheese
1 teaspoon dried Italian seasoning
1 teaspoon sea salt
1/4 teaspoon freshly ground black pepper
1/4 cup shredded basil leaves
Instructions
Place garlic and olive oil in a large sauce pan over medium heat. Cook until garlic begins to sizzle and is fragrant. Add tomatoes and salt. Simmer sauce for 10 minutes.
Place beef, tomato paste, 1 cup cheese, seasoning, salt and pepper in a large bowl. Using your hands, massage the meat until ingredients are incorporated. Form meat into golf-size balls and place on a large baking sheet. When all of the meatballs have been formed, place the meatballs into the simmering sauce. Cook for about 10 minutes, until meatballs are cooked through. Top with basil and remaining cheese. Serve immediately.
7.8.1.2
3169
https://deliciouslyorganic.net/homemade-meatballs-and-marinara-recipe-grain-free-challenge/
Copyright 2016 Deliciously Organic
SaveSave